Backlink audits play a pivotal role in the world of SEO, acting as the backbone for a successful link-building campaign.
Backlink audits are integral to effective SEO because they are like a health check-up for your site's link profile.
For any business striving to optimize its online presence, understanding the current health of the site's backlink profile is of paramount importance.
This knowledge not only helps in discerning potential vulnerabilities but also provides insight into areas of growth.
We routinely conduct a link audit for our clients and will share our observations around the transformative effects of regular backlink audits on web pages' search ranking.
Our backlink audit guide will explain the process and tools like the Google Search Console and Vazoola's free backlink checker that can make the task more effective.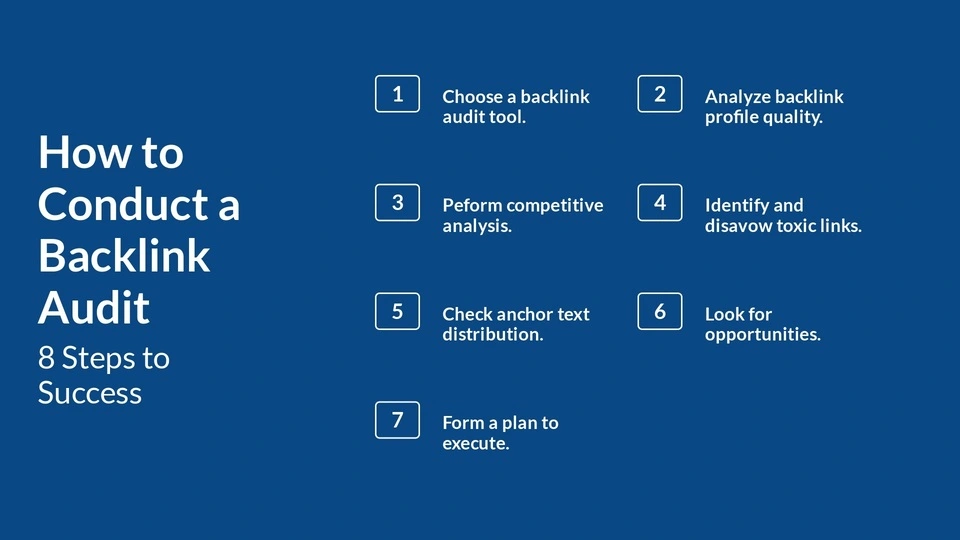 Key Takeaways:
Backlink audits are crucial for maintaining a healthy link profile and optimizing SEO efforts.

Regular audits offer insights into growth opportunities, vulnerabilities, and areas of improvement.

Analyzing anchor text diversity ensures a balanced and relevant link profile, enhancing search visibility.

Addressing toxic and spammy backlinks pointing to a site preserves reputation and search rankings by eliminating harmful associations.

Competitive analysis aids in refining link-building strategies and identifying untapped opportunities.

Effective backlink audits require clear objectives, the right tools, and proactive collaboration.

Documenting findings and actions enables tracking progress and informs future audit strategies.
Table of Contents
What is a Backlink Audit?
At its core, a backlink audit is an analysis of the external links pointing to a website aimed at evaluating the quality, relevance, and potential risks of each link.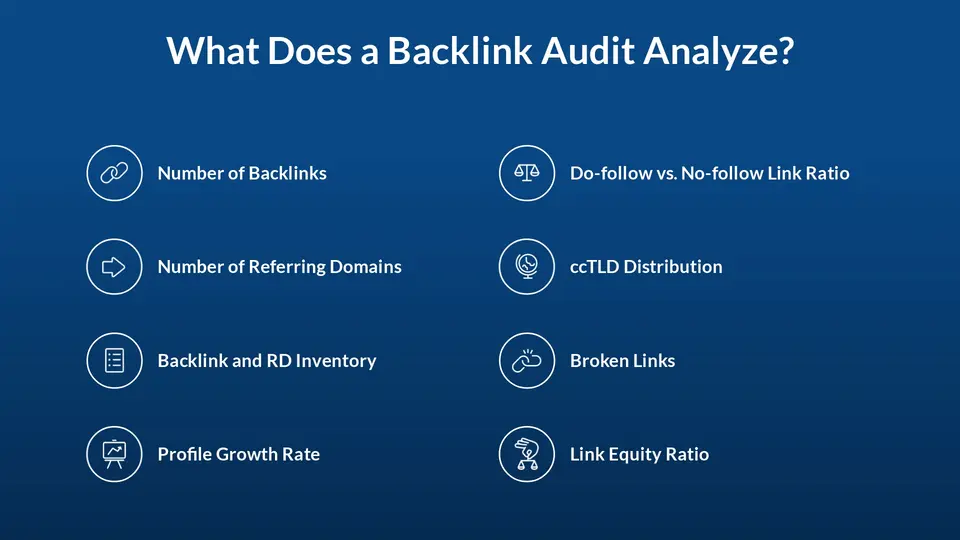 A thorough backlink audit provides a holistic view of a website's link profile, revealing key information about link juice that can help inform broader link schemes and SEO strategy. If you have ever wanted to learn details about your link juice there is is a lot to be learned through an audit.
Consider the specific backlink data points we've gathered when conducting backlink audits that help you get a clearer picture of a website's backlink profile. Later in this guide we'll show you how to find each of them but for now here is a brief overview:
Number of Backlinks and Number of Referring Domains
Within an audit, professionals assess the total number of backlinks and number of referring domains linking to a website. Ahrefs conducted this search traffic study and found the following data: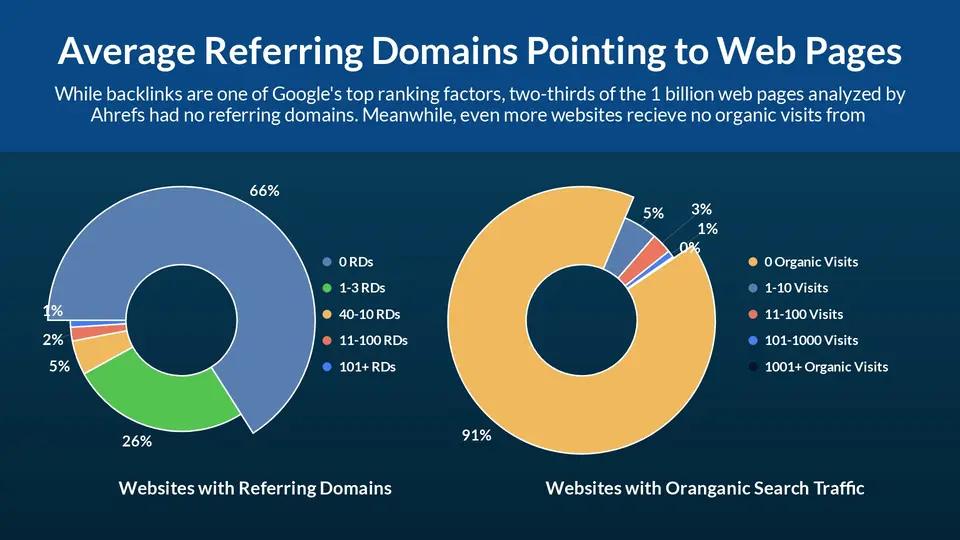 List of All Backlinks and Referring Domains
This component focuses on creating a comprehensive inventory of all backlinks and the referring domains linking to a site, offering insights into their sources and nature.
Rate of Profile Growth
Understanding the pace at which the site's link profile expands or contracts can yield significant insights into the health of a website's link-building activities.
DoFollow Links versus NoFollow Links
A well-rounded link profile audit parses out dofollow links versus nofollow links to better understand how much link equity is flowing into the site from such links.
While links tagged as nofollow or paid links tagged as sponsored used to provide little link juice to a website's profile of backlinks, recent algorithmic updates have somewhat evened the playing field. Google's Search Central Blog highlights some key points on nofollow links pictured below: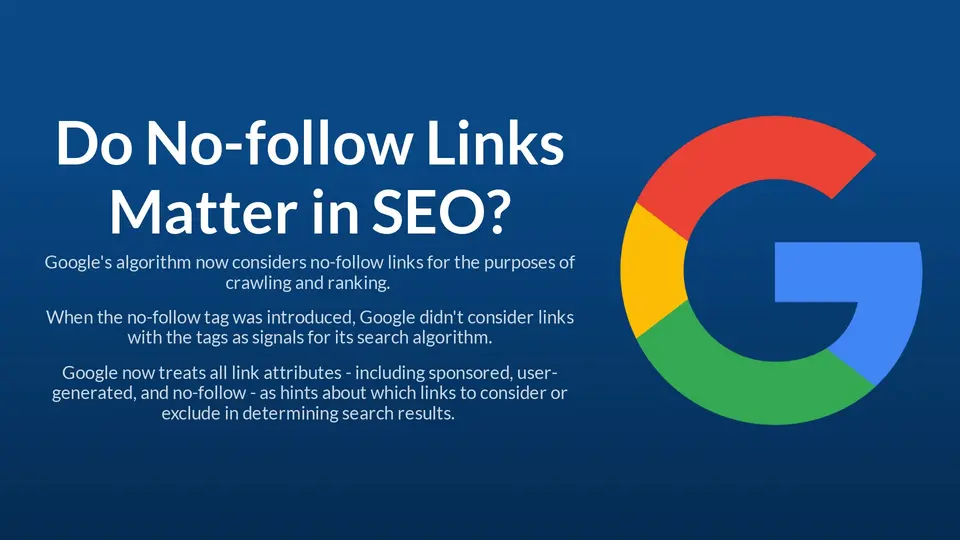 ccTLD Distribution
By evaluating the distribution pattern of country-specific links, businesses can gauge their website's international influence.
Pro Tips:
Expand your reach by seeking link-building opportunities across diverse ccTLDs. By leveraging country-specific referring domains, you can enhance your global link profile and reach a broader audience.

Broken Links
It's vital to identify dead backlinks that can hamper a website's integrity and user experience.
Link Equity Ratio
By comparing inbound links with outbound ones, businesses can ascertain the value proposition of their link profiles.
Pro Tips:
Examine your link equity ratio to benchmark your own site against competitors and to determine the value of link prospects.
When Should You Audit Backlinks?
The timing of a backlink audit can make or break an SEO strategy. Ideally, this link audit isn't a one-off process but an integral and recurrent component of a broader digital marketing strategy.
Scheduled backlink audits are essential for businesses at various stages – those initiating a link-building campaign, those witnessing a drop in website rankings, or simply for ensuring a healthy link ecosystem.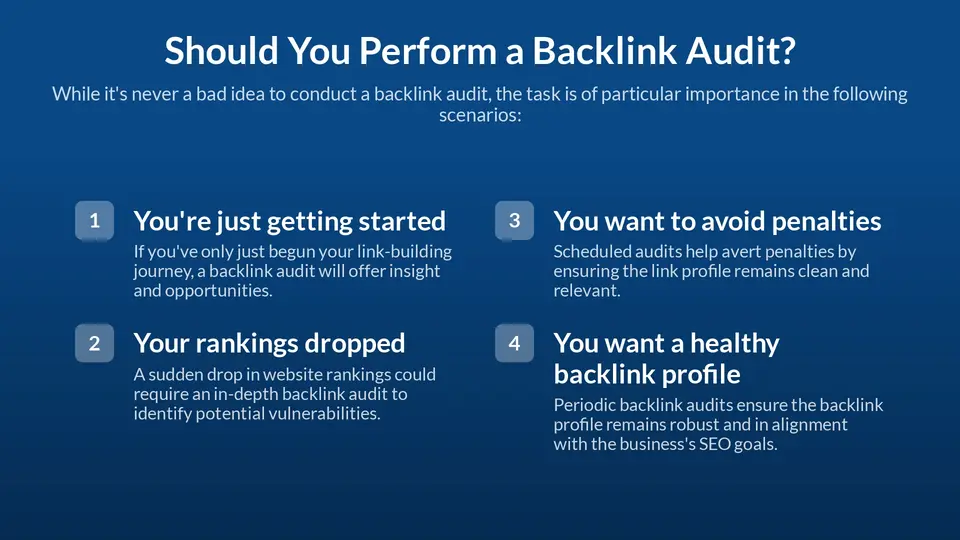 Website operators should consider conducting a backlink audit in the following circumstances:
Just Starting Link Building: When charting a new link-building roadmap, it is vital to begin with an audit to lay a robust foundation.

Assessing Website Rankings Drop: A sudden drop in website rankings often necessitates an in-depth backlink audit to discern potential vulnerabilities.

Maintenance to Avoid Link Penalties: Scheduled audits are critical in averting potential link penalties by ensuring that the link profile remains clean and relevant.

Ensuring Healthy Link Profile: Periodic checks via audits ensure that the profile remains robust and in alignment with the business's SEO goals.
Why Do a Backlink Audit?
Beyond merely identifying potential problems, backlink audits can provide a wealth of information.
They give a bird's-eye view of the entire backlink landscape, enabling businesses to learn from successful link-building strategies and highlight growth areas.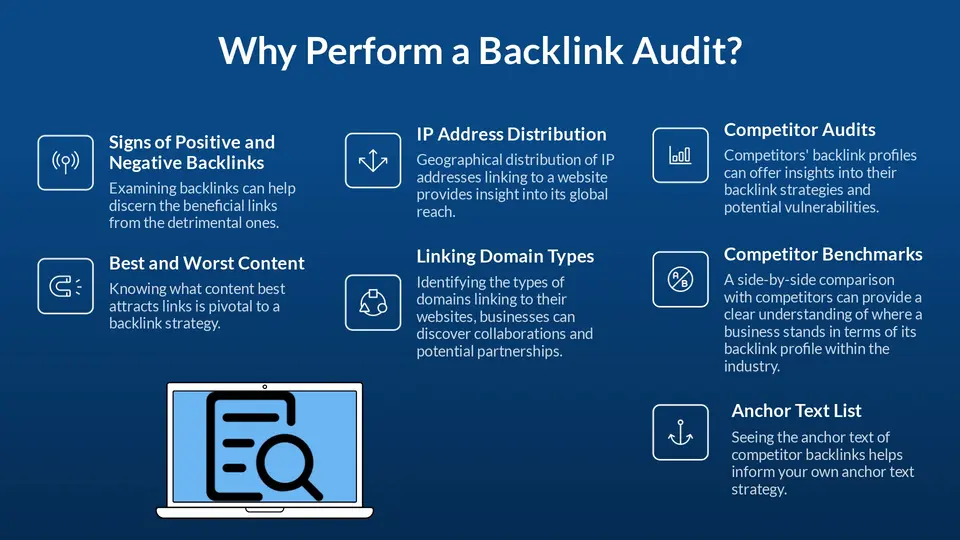 Through our work as a link building service, we have seen first hand the transformative power of periodic backlink audits. A few of the reasons we consider them indispensable include:
Signs of Negative and Positive Backlinks: Examining backlinks can help discern the beneficial links from the detrimental ones, allowing for timely interventions. It even can alert website operators of issues with any number of referring domains, paid links and other valuable backlink data.

Best and Worst Types of Content That Attract Links: Such insight is instrumental in formulating a content strategy that aligns with the desired link building efforts.

Anchor Text List: A list of anchor texts offers insights into how various websites across the web refer to your content.

IP Address Distribution: Understanding the geographical distribution of IP addresses linking to a website can offer valuable insights into its global reach.

Types of Referring Domains That Link to Your Content: By identifying what sorts of referring domains link back to their websites, businesses can discover avenues for collaborations and potential partnerships. leading to more backlinks.

Audits on Competitors: Analyzing competitors' backlink profiles can offer unparalleled insights, revealing their backlink strategies and potential vulnerabilities.

Benchmarking/Comparing to Competitors: A side-by-side comparison with competitors can provide a clear understanding of where a business's backlink profile compares within the industry.
Pro Tips:
Treat regular backlink audits not only as remedial actions but also as performance metrics. By tracking improvements in link quality, organic traffic, and search ranks, you can fine-tune your strategy.

How Do You Do a Link Audit? (7 Steps)
The process of conducting a link profile audit might appear daunting initially, but with the right tools, such as the Google Search Console, and a methodical approach, it can be streamlined.
Pro Tips:
When conducting your audit, pull multiple links coming from various sources, including Google Search Console, ahrefs, and others to get a comprehensive list. One tool alone may not have all of your backlinks recorded.

At Vazoola we've worked on thousands of backlink audits to help clients develop strong strategies and improve rankings with mindful link building. Drawing from this experience, we've delineated a step-by-step guide to conducting a complete link audit.
1. Find a Backlink Audit Tool
A substantial part of the audit process's success hinges on the selection of the right tool tailored to cater to specific audit requirements.
Our team of link builders is plugged in to many of the industries top SEO tools and work with data from a variety of sources. In this guide we'll walk you through conducting a backlink audit using Ahrefs, one of the leading SEO tools, but some of the most popular SEO tool options include:
Google Search Console
This Google Search Console offers an elementary yet insightful snapshot of a website's backlink profile.
Ahrefs
Renowned in the industry, Ahrefs is a powerhouse, providing granular details on backlink profiles and offering insights into competitor strategies.
SEMrush
A versatile tool, SEMrush provides a plethora of SEO insights, including exhaustive backlink tracking capabilities.
Majestic
Majestic stands out with its distinctive Trust Flow and Citation Flow metrics, offering deep dives into link profiles.
Moz
Balancing user-friendliness with granular backlink analysis, Moz is a popular choice among many SEO professionals.
Vazoola
Vazoola's offers a free backlink checker, a link profile audit tool that allows you to view and analyze your site's backlink profile, including how many backlinks pointing to web pages, bad backlinks and other link data.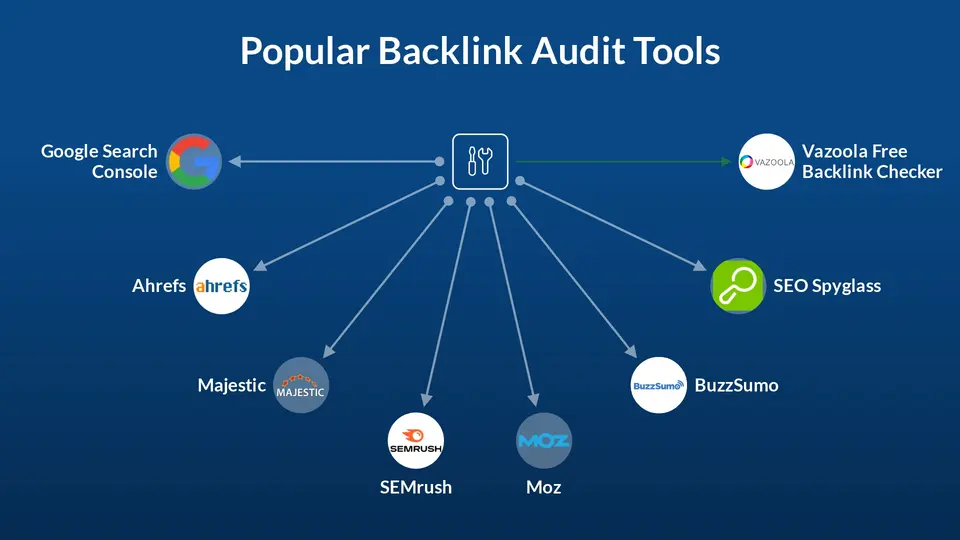 2. Analyze SEO Backlink Profile Quality
When we perform SEO backlink audits for client websites we do a qualitative analysis of the backlink profile and note down some key data points. It entails evaluating backlinks individually and the profile as a whole to assess low-quality links versus high-quality links, as well as their potential impact, relevance, and overall contribution to the SEO objectives.
What should you look for when analyzing the quality of your backlink profile? Remember the following guidelines:
Analyze the Right Link Data
The process of backlink analysis resembles solving a complex puzzle, with each piece contributing to the overarching picture.
Consider multiple facets, relevance to the website's niche, the authority of the linking page or referring domain, the positioning of the backlink on any referring domains' pages, and the context in which the link is embedded.
Quantify Link Trustworthiness
Backlinks from authoritative sources serve as a trust signal to search engines. Statistics indicate that websites with high-quality backlinks have a significantly lower risk of being affected by algorithm updates, showcasing the protective shield that a healthy backlink profile provides.
Examine Relevance and Anchor Text Alignment
A backlink's relevance extends beyond the mere link itself – it also involves the content it's anchored to.
Relevant anchor texts play a pivotal role in search engine algorithms, with data showing that sites utilizing relevant anchor texts witness a higher click-through rate and improved organic ranking.
Balance Link Diversity
Much like a diverse investment portfolio, a diverse link profile is more resilient to market fluctuations, or in this case, algorithm updates and competition.
Research indicates that websites with a balanced distribution of backlinks across different referring domains tend to maintain more stable search ranking over time.
By dissecting each backlink, considering its context, and evaluating its potential impact, businesses can transform their backlink profiles into dynamic and influential assets that supports long-term SEO success.
Total Number of Backlinks
A good place to start is by determining the total number of backlinks pointing to your site which can be useful for comparison against competitors.
To find the total number of backlinks pointing to your site in Search Console, go to the Links report in the left navigation column and simply look at the External links total number displayed.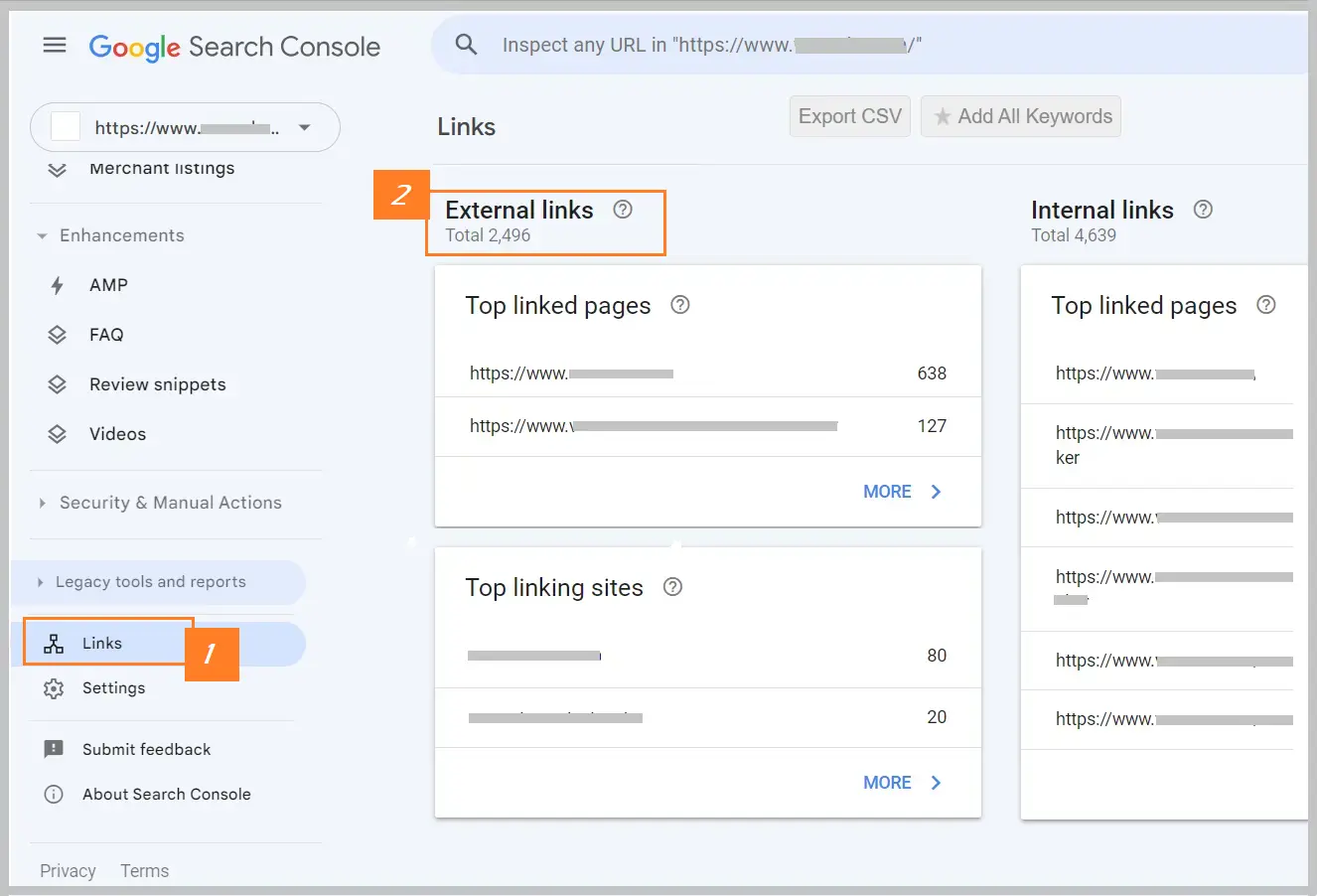 To find the total number of backlinks in Ahrefs along with more detailed information on each link, go to site explorer and paste in your domain, making sure the subdomain option to the right of the URL input field is chosen. Click search and then look to the Backlinks number shown in the report.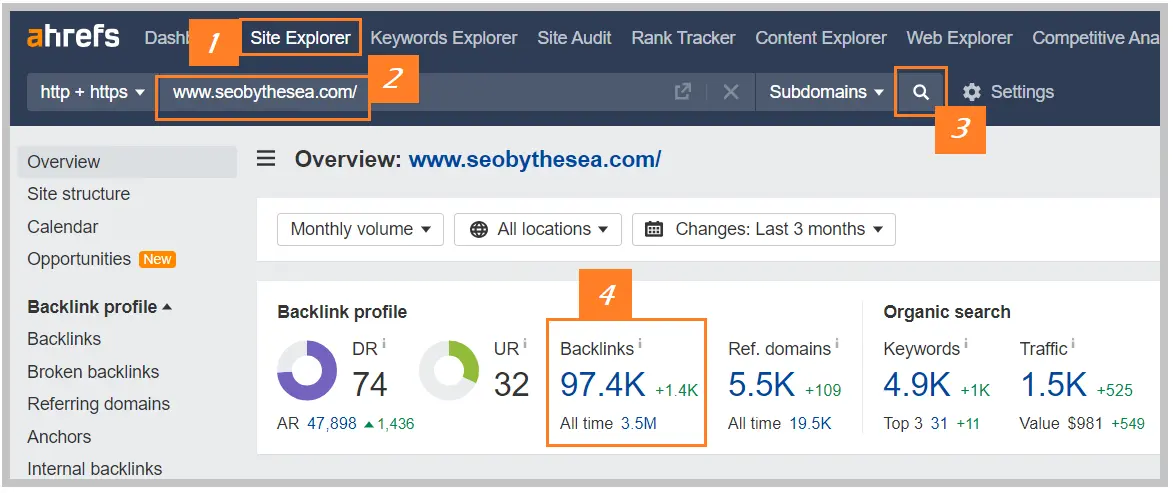 The total number of backlinks is not the only number to focus on. Quality, relevance and unique referring domains are more important. Sites with more backlinks are sometimes outranked by others without the most backlinks with Moz toolbar in SERPs.

Take a look at this example for the query "custom golf clubs". We can see that the top result only has 55 links pointing to it and is outranking the page below that has 86 backlinks.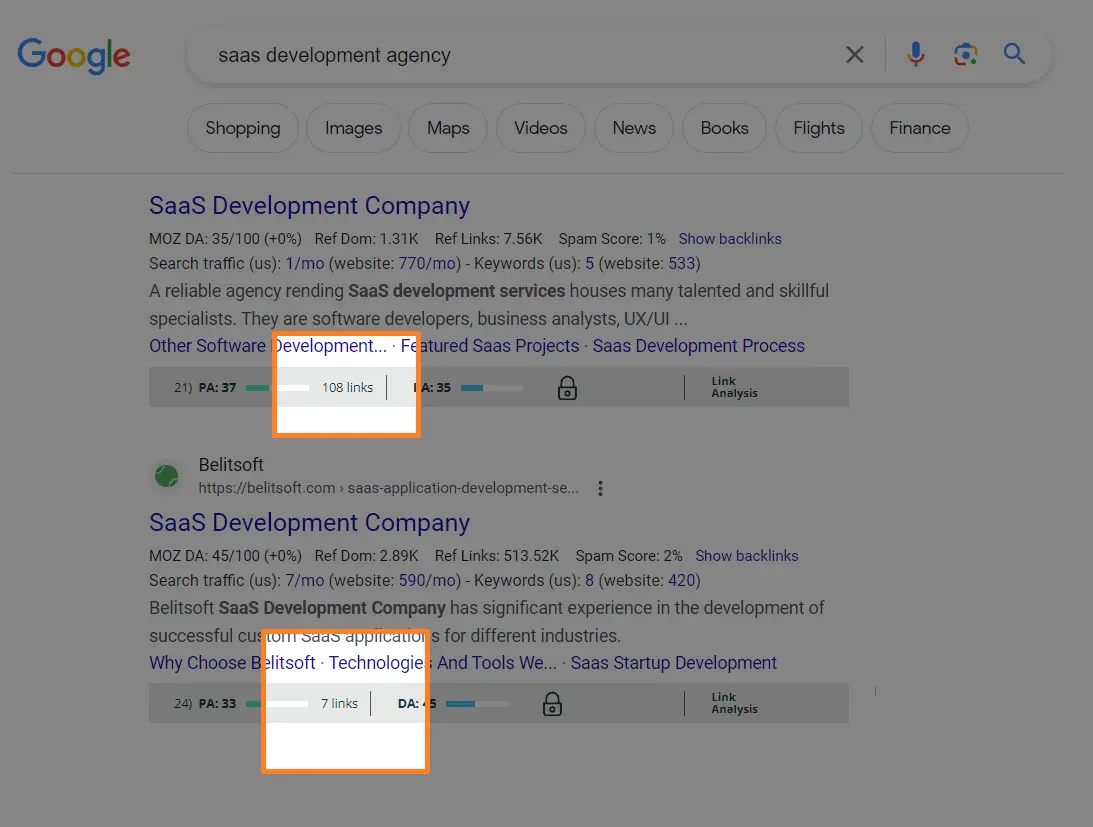 Dofollow Links and Nofollow Links
From here we also want to look at how many of your backlinks are dofollow. Dofollow links are most important because they pass link equity, or the signal that helps improve your rankings, from the linking site to yours.
Click on the 97.4K backlinks number pictured above to view the Backlinks report. Then at the top choose Dofollow and you will be shown the total number of dofollow backlinks pointing to all pages of your domain.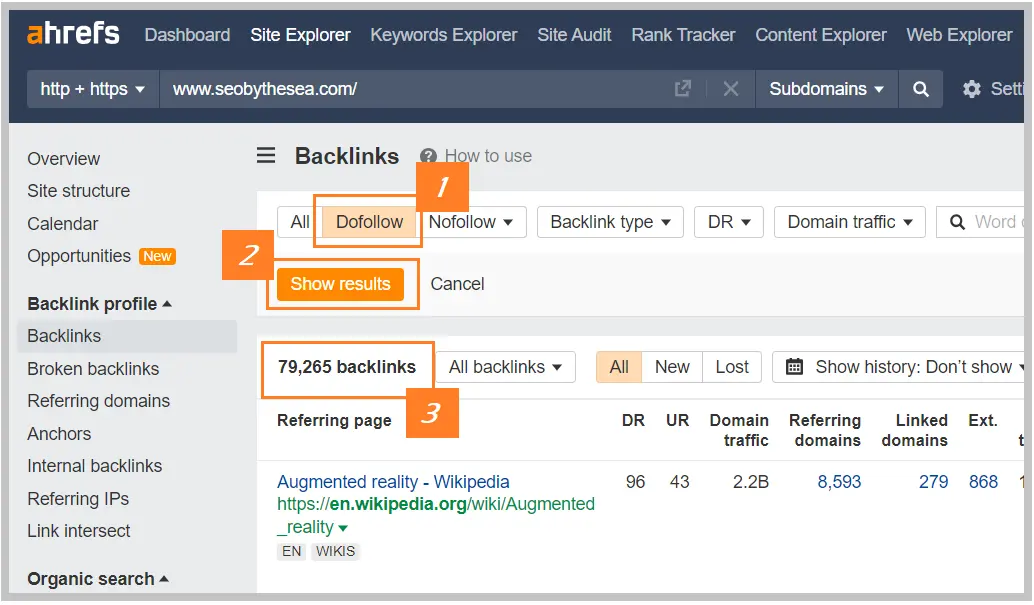 While on this screen you can scroll through your list of backlinks and review them individually. You can view all relevant details about each backlink including anchor text, linking page traffic, and more. See below for a comprehensive list.

The list of backlinks is sorted by Domain Rating so you can see the strongest sites first. Reverse this sorting to then see the weakest or potentially low quality referring domains that point to your site. This is a good way to look for spammy and toxic backlinks that potentially need to be removed. Replacing those with white hat backlinks is a logical next step as well.
Pro Tip:
Create a strategy for building links that not only focuses on dofollow backlinks but also considers the evolving SEO landscape, allowing for nofollow links and building a robust link profile.

Dofollow Referring Domains
Next it's important to drill down into the referring domains report. Referring domains are the total number of unique referring domains that link back to your site. This is important because the second and all subsequent backlinks from the same referring domains do not provide nearly as much link equity as the first backlink from the same referring domains does. Therefore, you want as many unique referring domains voting for your site with at least one backlink as possible.
To find this data point for your own backlink profile in Ahrefs, search for your site in the Site Explorer like before.
Then choose the Referring domains report in the left navigation column, chose Dofollow and click on show results to see the total number of unique websites that send at least one do follow link to your site.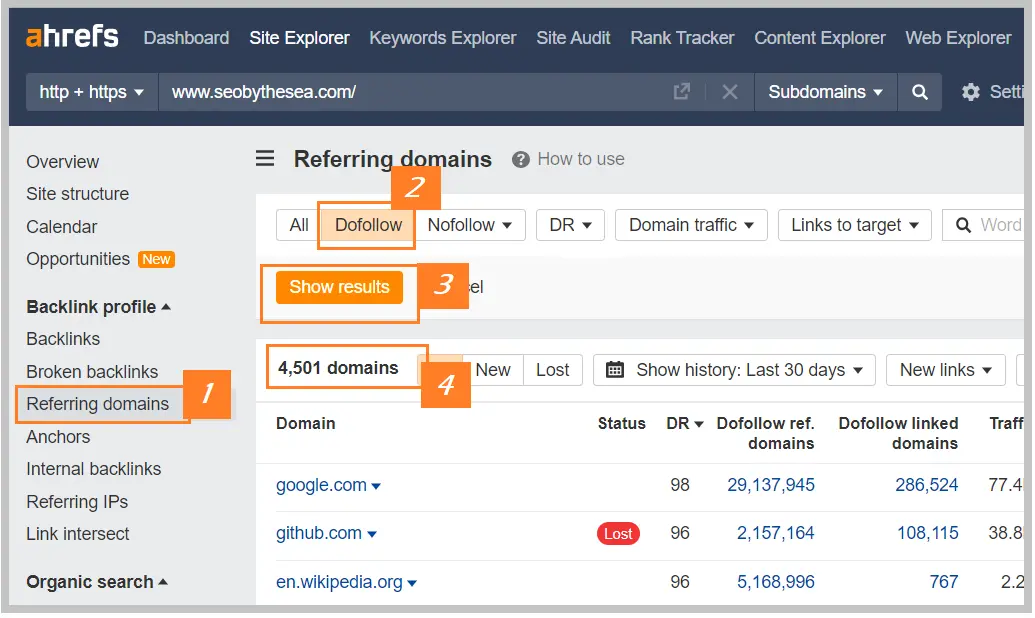 Link Velocity (Rate of Backlink Growth)
Link velocity is the measure of new backlinks over time a website gains. There is debate over the importance and relevance of this metric in SEO, but at Vazoola, we've seen how increasing link velocity for our clients' websites have led to increased rankings and SEO performance.
This is why you should check your link velocity and compare it to your closes competitors during a backlink audit. The easiest way to do this with Ahrefs is to search for your domain in the Site Explorer and then refer to the Backlink profile tab to see a graph of new referring domains over time.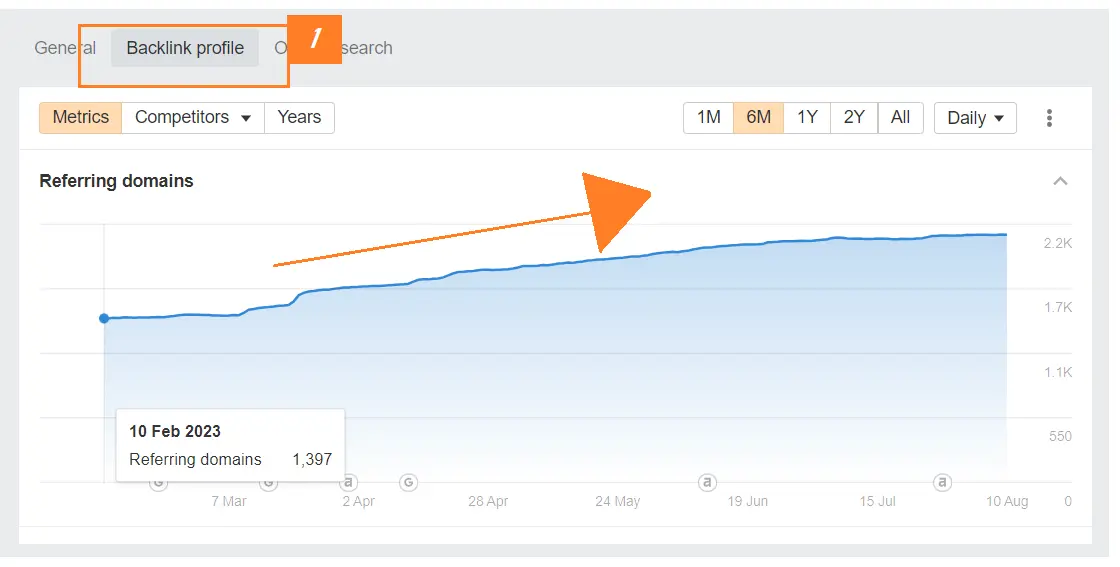 ccTLD Distribution
Another very basic item to take note of during an SEO backlink audit is the number of backlinks you have coming from each country, otherwise known as Country Code Top Level (ccTLD) Distribution.
Backlinks that come from the countries that you target or operate in are preferential, and referring domains ending in .xyz or .biz for example are often known to be spammy. Also, .com, .net, and .org domains are always solid choices.
Ahrefs has a simple map in their legacy Overview report that can be found in the left navigation after searching for your domain in Site Explorer.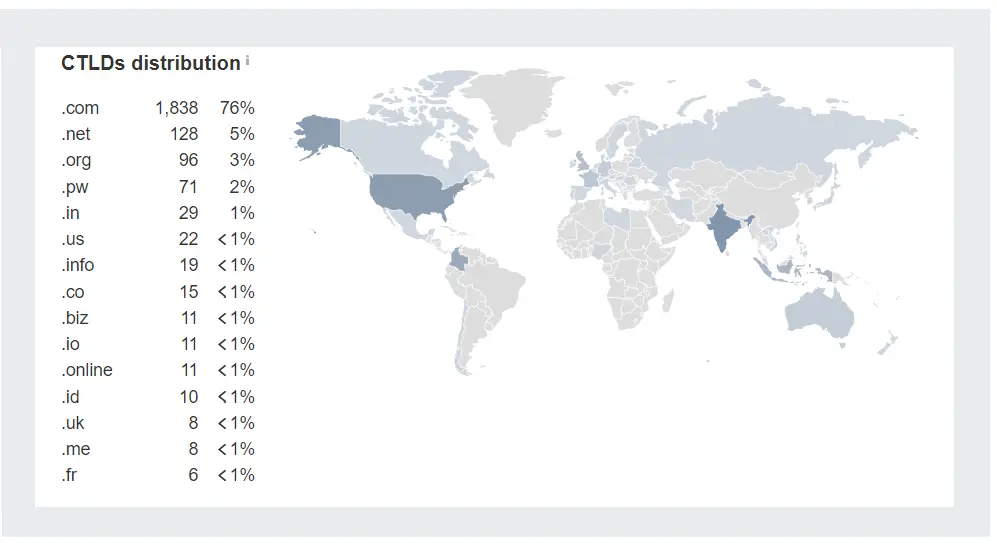 Pro Tip:
Curate anchor text diversity that mirrors natural linking patterns. Avoid over-optimization and ensure that anchor text aligns contextually with the linked pages' content, enhancing user experience and organic search visibility.

3. Perform a Competitive Analysis
Understanding how a website's backlink profile stacks up against its competitors can offer valuable insights akin to a chess player studying their opponent's moves. All of the data points we walked you through in the steps above can be applied to your competitors as well and then the data can be compared to get a better understanding of the state of your backlinks.
As mentioned before, these data points from above can also found at the domain level or the page level and both will be relevant.
Noting down all of this data periodically is a good way to benchmark and track progress of you and your competitors over time. Wondering how many backlinks you need each month? Take a look at your competitors link velocity from the steps above.
Estimating Number of Backlinks Required to Rank
One of the first things we look for when a client comes to us with a page they want to rank higher for is the content on the page itself. If the page is well optimized around a specific keyword with high quality content, then it is time to see how the backlink data on competition looks.
We use the Moz Toolbar and SERP tools to easily get an estimate on how many backlinks the top 10 competitors for the pages main keyword are getting. See this example of the top result having many more backlinks than the following results, holding a competitive lead.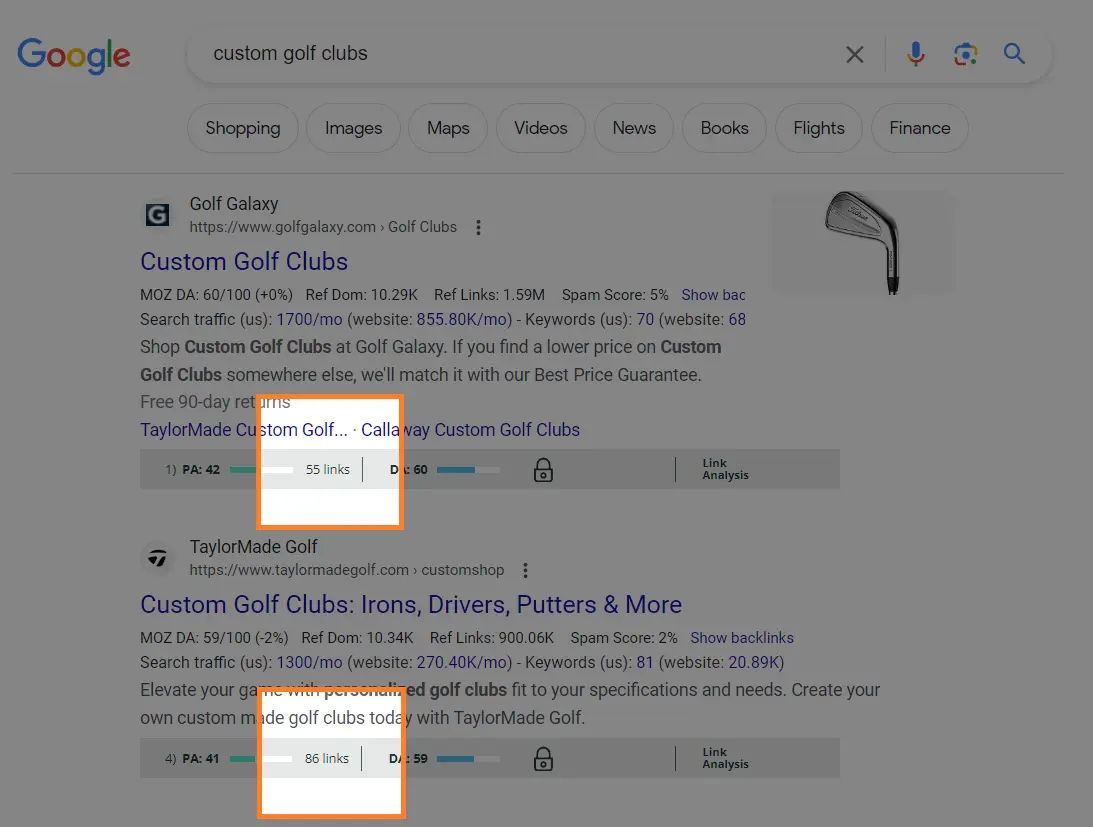 We also look to see how many backlinks Ahrefs estimates are required to rank in the top 10 for the target keyword. The image below continues our Saas example using the Keywords Explorer.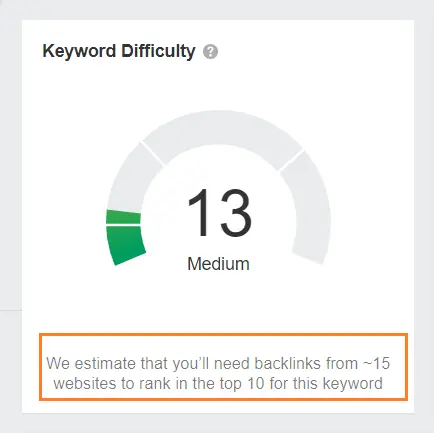 A competitive analysis, especially through tools like Ahrefs, can help businesses identify gaps, discover opportunities, and fine-tune their link-building strategies for optimal results.
Benchmark Your Backlink Audit Against Competitors: Utilizing specialized tools like Ahrefs is akin to having a strategic map that outlines your journey against others in the race. With this tool, businesses can draw a direct comparison between their backlink profiles and those of their competitors.
Reveal Potential Areas of Improvement: Much like a skilled detective uncovering hidden clues, a competitive analysis unveils areas where your backlink profile might be lacking.

Identify New Opportunities for Growth: In the same way explorers search uncharted territories for hidden treasures, businesses can uncover untapped linking opportunities by studying their competitors' backlink profiles. This approach often yields unique insights and potential collaboration avenues.

Fine-Tune Strategies Based on Competitor Insights: Businesses can fine-tune their link-building strategies using competitor insights. In fact, when companies incorporate competitor analysis into their SEO tactics they can experience significant improvements in their backlink acquisition efficiency.
4. Identify and Remove or Disavow Links That Are Toxic
Uncovering and addressing toxic links is a vital part of a SEO link audit, akin to removing weeds from a well-tended garden.
Such bad links also can damage a website's reputation and adversely affect search engine rankings, highlighting the importance of maintaining a healthy backlink ecosystem.
In the intricate dance of SEO, addressing toxic links is akin to ensuring that your partner on the dance floor has smooth moves. When addressing toxic links, keep in mind:
Identifying Toxic Links
Websites strive to uphold their digital reputation by identifying and eliminating toxic links. Tools like SEMrush offer specialized features for detecting harmful links that might be affecting a website's SEO health.
A staggering 67% of domains evaluated by Ahrefs in the past 10 years now have at least one toxic backlink, emphasizing the prevalence of this issue.
Here are some ways to recognize these detrimental or dangerous links. Some hallmarks of negative links include:
Spammy Backlinks or Links From Low-Quality Sites: These are the links originating from websites with thin content, abundant ads, or those involved in questionable practices.

Links from Irrelevant Niches: Links from sites that have no connection to your industry or target audience can dilute your site's relevance.

Over-Optimized Anchor Text: If a link uses a specific keyword excessively as its anchor text, it can appear manipulative to search engines.

Links from Penalized Websites: Receiving links from sites that have been penalized by Google or other search engines can have a negative impact on your site's rankings.

No organic traffic: when a website has no organic traffic its a sign they aren't providing value in Google's eyes.

Home Page Links: Home page or sidebar linking is a spammy tactic that should be a red flag.

Spammy Content: Sites regularly posting casino, pharma, or pay day loan content are typically known to be low quality

Insecure Domains: If a domain doesn't have an HTTPS security certificate, you don't want it associated with your website.
Finding and addressing these negative and toxic backlinks is a vital process. Tools like Google's disavow tool can be utilized to inform search engines to ignore these bad links and dead backlinks.
Here at Vazoola, we have seen the profound effect that cleaning up a site's link profile can have on its overall SEO health and performance.
Removing or Disavowing Links
Once a toxic link is detected, the next step involves a strategic response.
For example, if an e-commerce business discovered multiple spammy links originating from unrelated forums, it not only can prevent potential link penalties by disavowing these spammy links now, but it even might witness a significant improvement in its organic search traffic within weeks.
Requesting Removal
Similar to addressing a customer complaint promptly, website owners can reach out to the host site and request the removal of toxic links.
This proactive approach can lead to a cleaner and more credible backlink profile. In fact, when businesses proactively request the removal of toxic links after receiving a Google penalty, they can hasten their recovery, which otherwise could take 6 months or longer.
Impact on Website Reputation
Just as negative reviews can tarnish a brand's reputation, toxic links like spammy backlink examples, dead backlinks, and a negative SEO attack can cast a shadow on a website's credibility.
Studies show that 95% of consumers read online reviews before making a purchase decision, highlighting the weight of reputation in the digital age.
Removing each spammy backlink, fixing dead backlinks, and general addressing toxic links not only safeguards a website's SEO health but also bolsters its overall reputation in the eyes of both search engines and users.
Mitigating Ranking Drops
If a website experiences a sudden drop in search ranking due to toxic or spammy backlinks from questionable websites, this could be the result of a negative SEO attack.
The site potentially could recover its rankings within just a few months and restore its position as a reliable source by promptly identifying spammy links, so it can disavow links that could result in negative SEO attacks.
Hallmarks of low quality backlinks
Website owners must maintain a clean backlink profile to navigate the competitive online landscape successfully.
Addressing low quality and spammy links is a crucial step in this journey, enabling websites to stay afloat in the ever-changing seas of SEO. Maintenance like this is important for keeping a strong profile, as shown by this statistic by Ahrefs.
5. Check Anchor Text Distribution
Analyzing anchor text distribution is like deciphering the language that search engines use to understand your website's relevance.
Just as a well-composed symphony requires a harmonious blend of instruments, a website's anchor text distribution should create a balanced and melodious link profile that resonates with both users and search algorithms.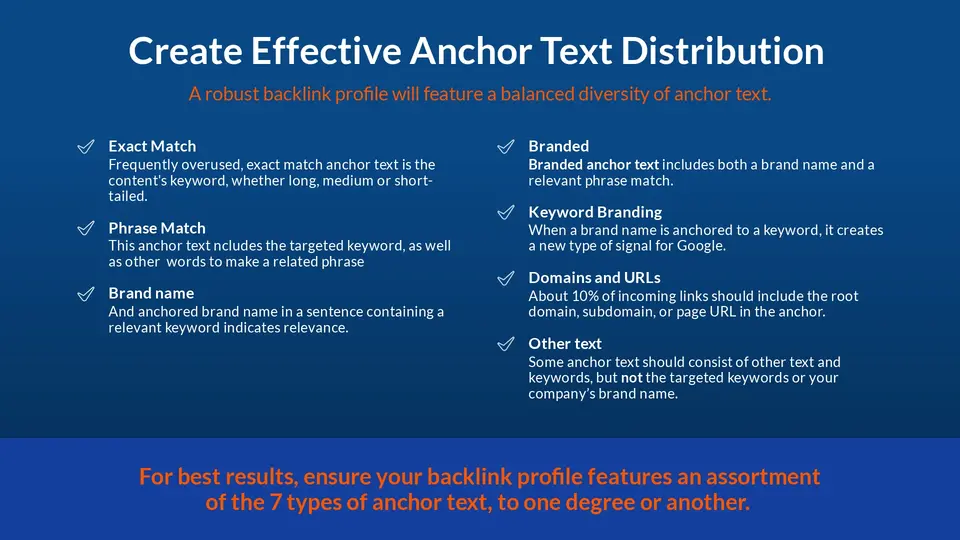 When monitoring anchor text distribution, don't forget to look at:
Assessment of Anchor Text Variations: When using multiple links, evaluating anchor text variations ensures a diverse and balanced link profile. Websites with overly optimized anchor text have a higher chance of being penalized by search engines. In fact, almost 50% of penalized domains studied by SEMrush used money anchors – links using exact match anchor text for keywords a website is trying to rank for.

Use of Tools for Anchor Text Analysis: In the world of backlink audits, tools like Ahrefs or Moz act as the conductor's baton, helping websites analyze the intricacies of their anchor text distribution. These specialized tools provide a detailed overview of anchor text diversity, allowing businesses to identify patterns, anomalies, and potential areas for improvement.

Semantic Relevance and User Intent: Anchor text should reflect the semantic relevance of the linked content. Search engines prioritize websites that align anchor text with user intent. It's no wonder why 70% of search queries are long-tail keywords. Crafting anchor text that matches user queries not only enhances the user experience but also improves the website's search engine visibility.

Navigating the Penguin Algorithm: The evolution of Google's Penguin algorithm has made anchor text distribution a critical consideration. Google's algorithm updates now penalize such practices, emphasizing the importance of maintaining a natural and diverse anchor text profile that aligns with high-quality content.

Coherence and Consistency: A website's anchor text distribution should seamlessly align with its content themes. Websites that achieve this balance often enjoy higher search engine rankings and user engagement. It's no surprise that should an e-commerce website ensure its anchor text for product pages includes both the product name and relevant attributes, it could significantly boost its click-through rates from search results.

Link Earning vs Building Links: Websites should aim to earn backlinks through valuable content rather than simply building them. Links earned naturally tend to have diverse and contextually relevant anchor text.

Navigating the Competitive Landscape: Analyzing anchor text distribution enables businesses to navigate the competitive landscape of SEO. Competitors often provide valuable insights.

Balancing Brand and Keywords: Websites must strike a balance between brand-related and keyword-rich anchor text. For example, some experts recommend using branded anchor text for 70% of all anchor text, signifying search engines' recognition of brand authority.
6. Search for Opportunities
Backlink audits aren't just about identifying what's working or what's wrong. They're also an incredible treasure trove of opportunities to enhance your site's performance. This statistic by Ahrefs highlights that if your site is linking to another, there is a good chance they would be willing to link back to you if they haven't already.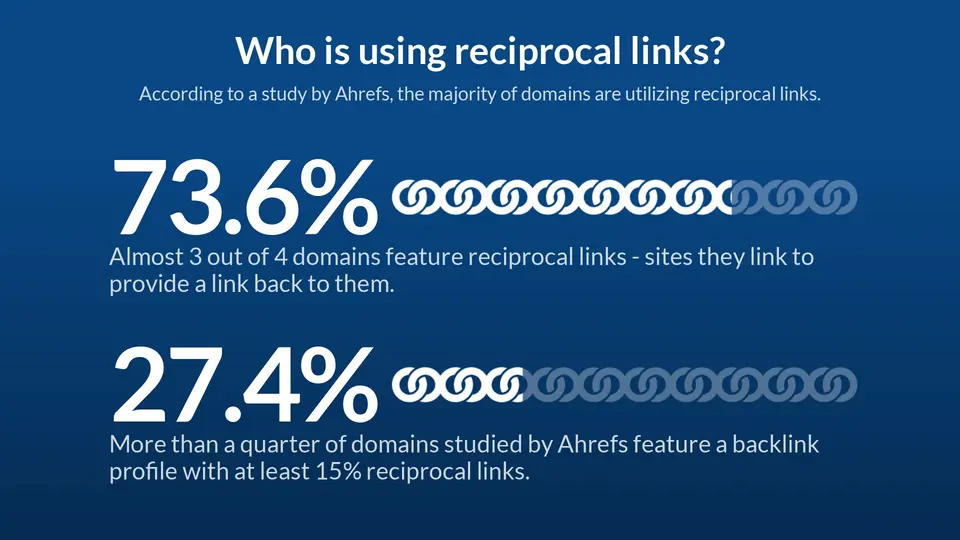 Through meticulous analysis, you can analyze link quality, discover ways to leverage your existing backlinks and find potential growth areas. Plenty of opportunities might exist, including:
Broken Links: Identifying and fixing dead backlinks that lead to your site can reclaim lost link equity and improve user experience.

Common Links Between Your Competitors: Analyzing the shared links between your competitors can reveal potential linking opportunities for your own website.

Content That Can Be Improved: Understanding which conents is featured on your linked pages and how it can be enhanced can significantly boost your site's authority and relevance.

Unlinked Mentions: Tracking brand mentions that are not linked back to your site offers a chance to request those links, thus increasing your link profile.

Partnerships and Collaboration Opportunities: By observing the sites that link to you and your competitors, you may find opportunities for partnerships or collaborations to increase your brand's reach and authority.
At Vazoola, we recommend actively seeking these opportunities as part of a well-rounded SEO strategy. This proactive approach contributes to a more dynamic and influential backlink profile.
7. Form a Plan to Execute
Formulating a strategic plan is the cornerstone of successful backlink auditing and the subsequent improvement of your profile of backlinks.
This plan should encapsulate various aspects:
Types of Links Needed: Understanding the nature of links that resonate with your target audience and industry is paramount. When buying backlinks or using other methods to build them focus on cultivating a mix of both high-authority links and relevant niche-specific links to construct a balanced profile.

Number of Links Required to Rank: Analyzing competitors' profiles can provide insights into the number of quality backlinks needed to rank within your industry. The quantity isn't the only factor; the quality and relevance of these links are crucial as well.

Tracking Progress and Benchmarking Against Competitors: Utilizing professional SEO tools such as Ahrefs or Google Analytics, coupled with setting clear KPIs, enables precise tracking of your backlinking progress. Regular comparison against competitors' strategies ensures you stay aligned with industry standards.

Regular SEO link Audits as Part of Backlink Strategy: When it comes to periodic backlink audits SEO strategies need them. This continuous monitoring of your link profile's health and effectiveness. Regular audits allow for timely adjustments and reinforce the alignment of your backlink strategy with your business objectives.
Working with a white label link building company who can help plan and execute a strategy is a great way to start improving your backlink profile and rankings fast.

How an SEO Link Audit Impacts Strategy
Performing a backlink audit can have a profound impact on a website's overall SEO and link building strategy. Backlinko gives us a clear data point on why backlinks matter to your site, below: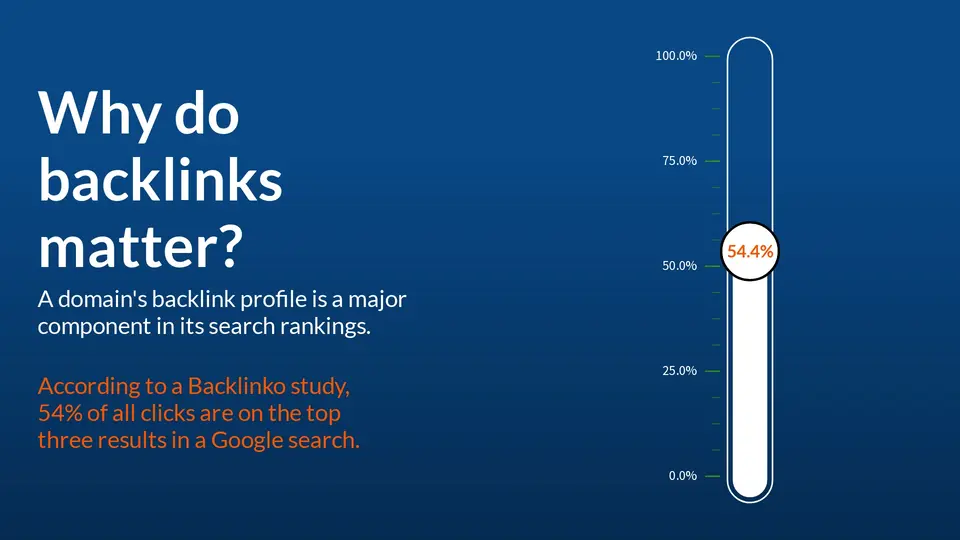 By analyzing the intricacies of a website's link profile, businesses can uncover valuable insights that directly influence their search engine rankings and online visibility.
Here are five ways a healthy backlink profile audit can impact SEO:
Enhanced Link Quality: A backlink audit enables businesses to identify both positive and negative backlinks. By removing or disavowing toxic links and nurturing high-quality, authoritative ones, a website's link profile becomes more credible and relevant in the eyes of search engines.

Improved Search Rankings: Eliminating harmful links and optimizing anchor text distribution can lead to higher search engine rankings. A clean and relevant link profile signals to search engines that the website is a reputable source of information, resulting in improved organic visibility.

Optimized User Experience: Broken links can frustrate users and hinder their browsing experience. A backlink audit helps identify and fix broken links, ensuring seamless navigation on the website.

Competitor Analysis and Benchmarking: Analyzing competitors' backlink profiles provides insights into their strategies and areas of opportunity. By benchmarking against competitors, businesses can identify gaps and formulate strategies to outperform them in search results.

Strategic Content Development: Through analysis of anchor text variations and types of content attracting links, businesses can refine their content strategy. Doing so ensures that the website's content aligns with the desired backlink profile, attracting relevant and authoritative links.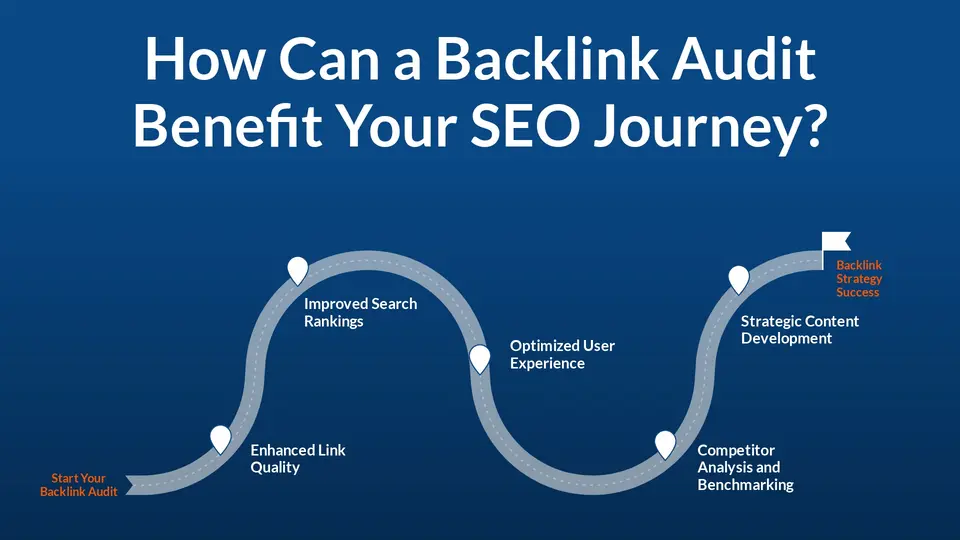 Tips From Our Backlink Audit Guide
Conducting a successful backlink audit can be difficult but is certainly worth the effort.
In a digital ecosystem characterized by its ever-evolving nature, a basic backlink audit stands as a crucial endeavor.
With almost 60% of marketers acknowledging that backlinks have a significant impact on search ranking, the importance of a well-executed basic backlink audit cannot be overstated.
How can you ensure you backlink audit is successful?
Consider these tips that not only unlock the comprehensive potential of an audit but also contribute to the overarching success of your strategy.
Define Clear Objectives: Just as a ship needs a destination, a backlink audit requires well-defined objectives. Whether the goal is to weed out toxic links, add more high quality backlinks, or benchmark against competitors, articulating clear objectives guides the audit's direction and the subsequent decision-making process.

Choose the Right Tools: The digital toolkit is essential for a precise audit, and reputable tools like Ahrefs, SEMrush, Majestic, or Moz offer telescopic insights into a website's link profile.

Segment Link Types: Imagine analyzing an intricate mosaic – segmenting backlinks into categories such as positive, toxic, and neutral is akin to distinguishing colors in the mosaic. This segmentation streamlines the analysis, making it more organized and conducive to strategic actions.

Prioritize Toxic Links: Toxic links are the equivalent of invasive weeds in a flourishing garden. Identifying and uprooting them promptly is vital. It's no secret that sites with toxic backlinks experience heavy declines in organic traffic.

Analyze Anchor Text Variation: A diverse repertoire of anchor texts is like a versatile artist's palette, painting an organic and balanced picture for search engines. Over-optimized anchor texts can raise red flags with algorithms.

Regular Audits: Just as regular exercise maintains physical health, periodic backlink audits preserve the digital health of a website. A website might notice, for example, a substantial increase in organic traffic after conducting quarterly audits to monitor its link profile's well-being.

Stay Abreast of Algorithm Updates: The digital landscape is characterized by its dynamic nature. Search engine algorithm updates often ripple through the link-building realm. Using tools like Google Analytics to learn about these changes and adapting the audit process accordingly is akin to weathering the tides of change successfully.

Utilize Competitor Insights: Competitors' backlink profiles can be a treasure trove of insights. A website operator potential could experience a significant boost in referral traffic by strategically leveraging linking opportunities gleaned from analyzing their competitors' profiles.

Collaborate Cross-Functionally: The audit process benefits immensely from cross-functional collaboration. Engaging content creators, web developers, and SEO specialists ensures a holistic approach, resulting in a more robust link management strategy.

Document Findings and Actions: As the saying goes, "The palest ink is better than the best memory." Detailed documentation of audit findings and the corresponding actions is invaluable. This recorded history not only tracks progress but also serves as a knowledge repository for future audits.
Conducting a backlink audit demands meticulous attention, strategic thinking, and a proactive mindset.
In a digital landscape where over 75% of search traffic goes to websites on the first page of Google search results, the significance of a strong link profile cannot be overstated.
Therefore, performing a backlink audit is an essential practice for businesses aiming to maintain or enhance their online visibility.
While seemingly complex, the process can be simplified and made effective with a well-structured approach and the use of specialized tools.
Regularly conducting these audits can safeguard a website's link profile against potential link penalties and provide insights into opportunities for growth.
Understanding the intricate facets of backlink audits, from the detection of toxic and bad backlinks to competitive analysis, can significantly contribute to a website's overall success in the dynamic world of online marketing.
At Vazoola, we stand ready to assist businesses in this critical endeavor, believing in the transformative power of a well-executed backlink audit.
Written by Casey Bjorkdahl

Casey Bjorkdahl is one of the pioneering thought leaders in the SEO community. In 2010, Casey co-founded Vazoola after working for a Digital Marketing Agency for five years in New York City. Vazoola is now one of the fastest growing and most widely recognized SEO marketing firms in the country.