The 2023 online landscape is a vast digital sea consisting of small and unseen currents that carry a website towards success.
Among these unseen factors, high-quality backlinks stand as the mighty undertow, a silent powerhouse that can skyrocket a website's performance.
What exactly is a high-quality backlink, and why do they matter?
As a link building service, we've spent over twelve years sourcing high quality backlinks that improve SEO, so we've got all the details to demystify the world of backlinks. We'll specifically focus on the variety of backlinks that will be useful to your SEO strategy and move the needle.
Through this guide, we'll illustrate how high-quality backlinks could be the secret ingredient to elevate a website's visibility, credibility and search ranking.
So, sit tight as we show you how to withstand the rough waters of competition, using the highest quality backlinks to reach the shores of SEO success.
Key Takeaways:
Higher quality backlinks tell search engines like Google that your content is valuable and reliable enough to be cited elsewhere, and they can significantly improve a website's SEO.

Backlinks of high quality come from a relevant and authoritative website, and they are placed naturally within the content.

Negative backlinks can cause significant harm to an SEO strategy, leading to a downfall in a site's reputation and ranking.

Building high-quality links involves a combination of strategic planning, quality content creation, and targeted outreach.

A variety of online tools are available to help build a strong and effective backlink profile.
Table of Contents
What Is a High Quality Backlink?
So, what makes a high-quality backlink?
Let's start by simplifying the core concept incoming backlinks. A backlink, also known as an inbound link (as opposed to external links), is essentially a link from one website to another.
For example, when website A links to website B, we say that B has received a backlink from A. While this may seem straightforward, the impact of these digital referrals on your website's SEO is profound.
Backlinks and SEO
Backlinks act as endorsements or votes of confidence from one site to another. They tell search engines like Google that your content is valuable and reliable enough to be cited by the site linking to yours.
Consequently, these votes of confidence from linking websites can significantly influence your website's SEO, affecting how search engines measure and rank your site on search engine results pages.
Google's Backlink Quality Levels
Google, the titan of search engines, doesn't just count backlinks; it evaluates them. Based on various factors, Google's algorithm ranks backlinks on a quality scale — low, medium, or high.
Low-quality backlinks usually come from either irrelevant websites or those demonstrating manipulative or spammy practices, medium-quality backlinks are from decent but non-authoritative sources, and the highest quality backlinks come from reliable, relevant, and highly authoritative domains.
Follow vs. No-Follow Links
Backlinks also come with "follow" tags or "nofollow" link attributes. A follow link attribute or attribution tells the search engine bots to follow the link, transferring link equity and potentially boosting the linked page's rank in search engine results.
On the other hand, a nofollow link attribute, as the name suggests, instructs the bots not to follow the link, thereby not passing significant equity from links.
Defining High-Quality Backlinks
So, what makes a high quality backlink? A backlink of high quality is one that comes from a relevant, authoritative website in your niche. These links are usually "follow" links, and they are placed naturally within the content, rather than being forced or sponsored.
Backlinks pointing to your site not only direct traffic to it, but also act as strong indicators to Google that your site is a trusted source of information, improving your website's overall SEO.
Benefits of High Quality Backlinks
A necessary element of search engine optimization is to check backlink quality. High-quality links are more than mere SEO tools; they serve as powerful catalysts that trigger a ripple effect of benefits for a website's organic rankings.
By providing these superior quality backlinks to our clients, we have seen websites routinely gain significantly on various fronts — from improved credibility and visibility to enhancing user perception and traffic.
Just a few of the benefits that high-quality backlinks bring to the table include:
Improved Search Engine Rankings - Backlinks signal to search engines that your content is reliable and authoritative. The perceived trustworthiness can result in higher rankings on SERPs, thereby driving more organic traffic to your website.

Increased Website Traffic - High-quality links from popular websites can direct a significant amount of traffic to your site. Such referral traffic can boost your overall visitor count and potentially lead to increased conversions.

Enhanced Credibility and Authority - Don't forget authority backlink quality considerations. When reputable websites publish backlinks pointing to your site, it can increase your website's perceived credibility and authority. Positive perceptions can help establish your site as a go-to resource in your niche, fostering trust among your audience.

Strengthened Brand Visibility - Backlinks also can help improve your brand's online visibility. When your website is linked by other authoritative websites, it can increase awareness and recognition of your brand.

Improved Indexing - Search engines use backlinks to discover new webpages and to help index your site more thoroughly. High-quality backlinks, in addition to internal links, help search engines better understand your site and index it more efficiently.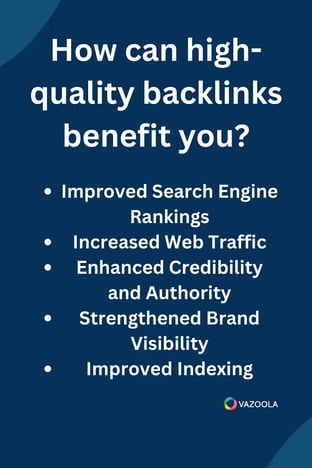 Whether you're a startup looking to gain a foothold in the digital space or an established business aiming to strengthen your online presence, investing in high-quality backlinks can give you a competitive edge.
What Makes a Good Backlink?
So, exactly what makes a high quality backlink?
High-quality backlinks are the digital equivalent of strong personal recommendations — they come from credible, relevant sources, add value to the user's experience, and align with the context naturally and authentically.
But what determines backlink quality?
Let's dissect the anatomy of these valuable assets to better understand their characteristics.
Anchor Text Relevance
Anchor text, the clickable text in a hyperlink, plays a pivotal role in backlink quality.
Relevant and descriptive anchor text can provide clear context about the content of the link, making it more useful for both the users and the search engines.
Over-optimized anchor text, however, can be viewed as manipulative and could potentially harm your site's SEO.
Linking Web Page Content Relevance and Quality
High-quality backlinks typically come from web pages with content that is relevant to your site.
The quality of the content also matters; backlinks from well-written, informative, and valuable content are more likely to be considered high quality. This relevance and quality add context and credibility to your backlink, enhancing its impact on your SEO.
For example, a high-quality backlink will comes from a website that not only is relevant to your website, but its main traffic source also should be aligned with the targets location.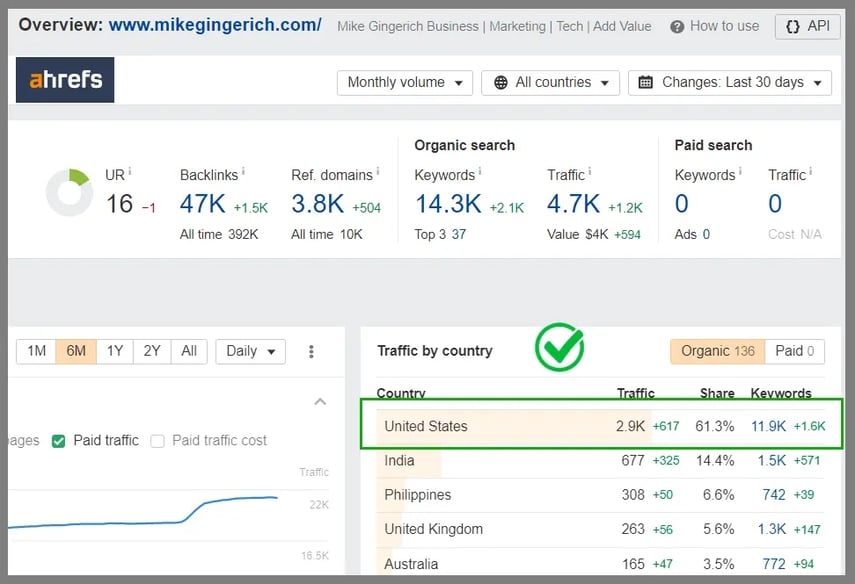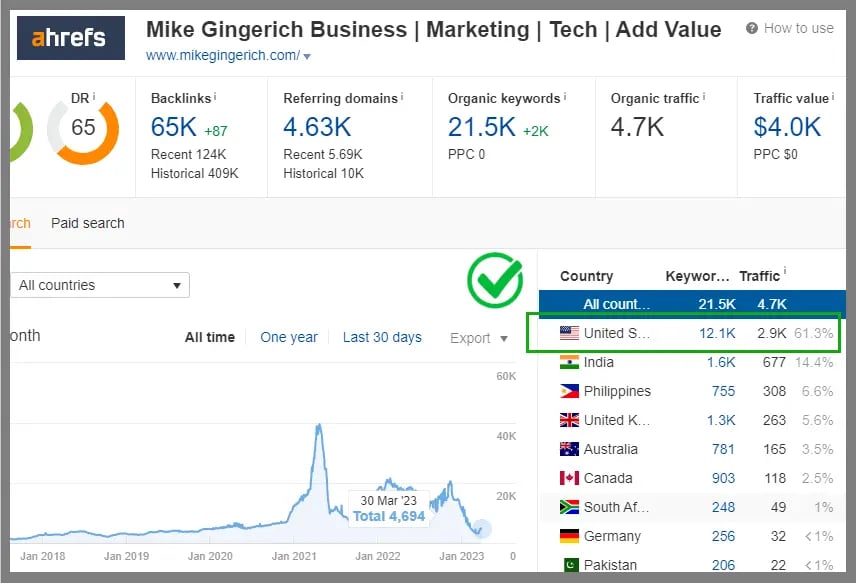 Other web page features indicating an external website's quality include:
The website has unique author names, images, and bios.

The website uses proper grammar and punctuation.

The About page and Contact us page include content.

The overall web page design is aesthetically pleasing and responsive.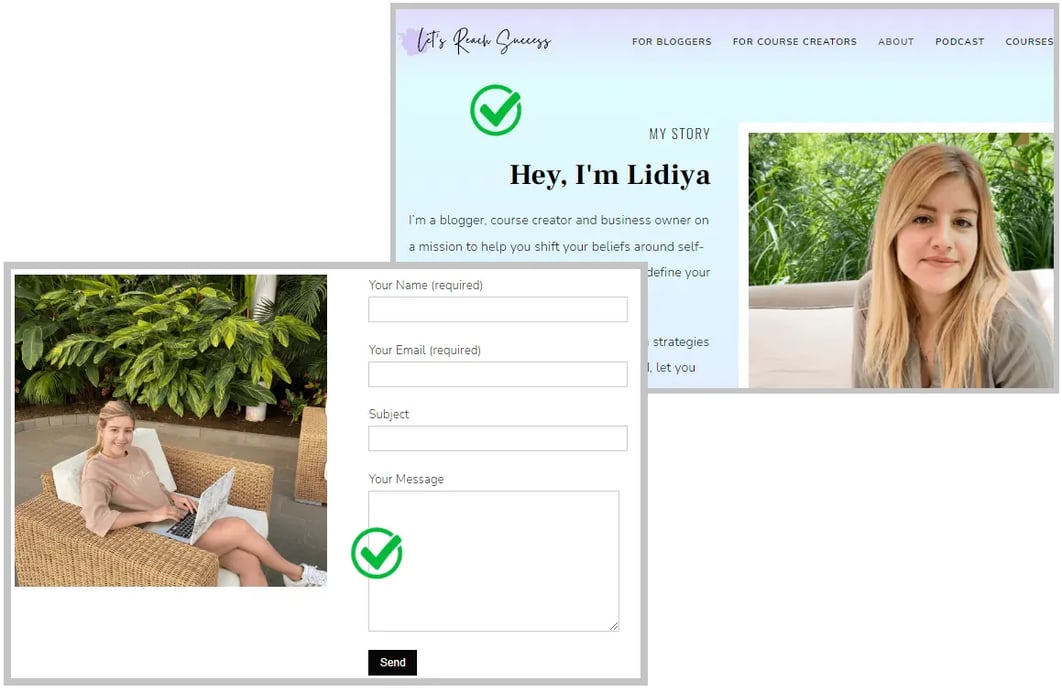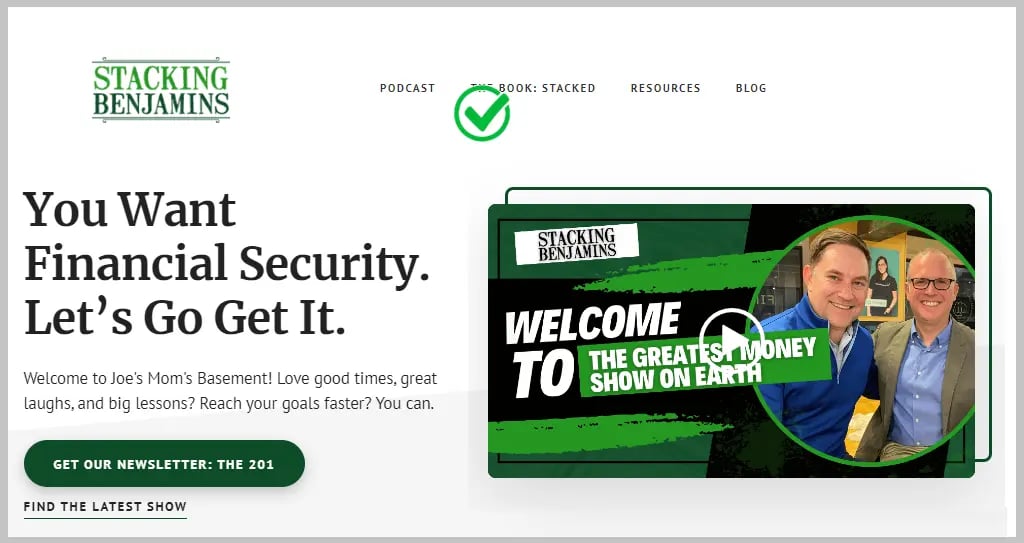 Linking Domain Quality and Relevance
The quality and relevance of the linking domain, or the overall site linking to your content, are equally critical.
A high-quality backlink often comes from a domain that is authoritative and holds a high domain authority. Moreover, if the linking domain is in the same or a related industry, it creates relevant backlinks.
How do you know if a domain is authoritative? The DA is a search engine ranking score developed by Moz that predicts how likely a website is to rank in Google. The domain authority scale ranges from 0 to 100, with higher scores representing greater authority.
Moz considers quite a few factors when assigning a DA, including the number of quality incoming links a website has, the quality of content on the site, and the domain's age.
Meanwhile, domain rating is a metric created by Ahrefs that shows the relative strength of a website's backlink profile and overall authoritativeness. A website's domain rating also can range from 0 to 100.
Ahrefs also rates websites based off of their monthly organic traffic. This is an estimated traffic number created by Ahrefs based on how many keywords a website ranks for with Google.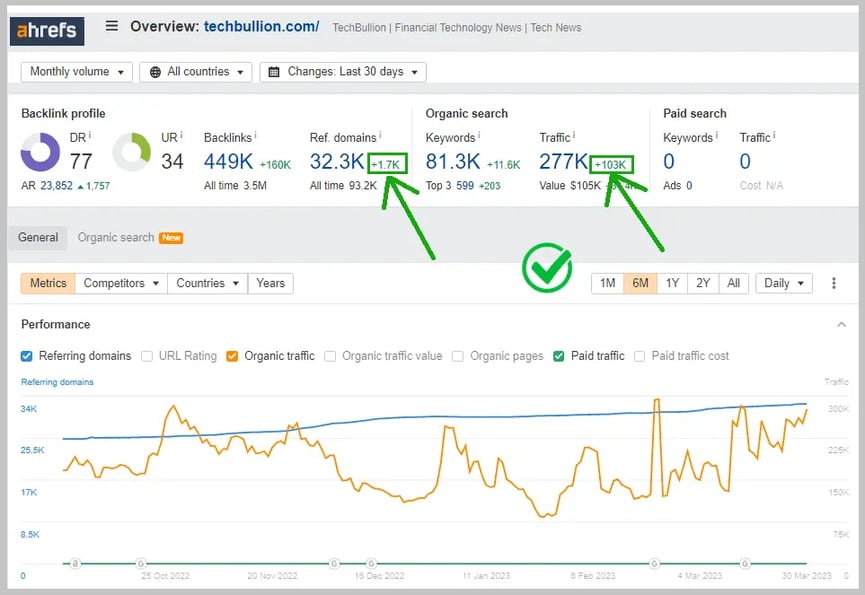 Linking Page Authoritativeness and Metrics
Backlinks from authoritative web pages carry more weight.
A web page boasting strong metrics, such as high search rank or domain authority, signals to search engines that your site is endorsed by trusted sources, thereby bolstering your website's authority and rankings.
Google and other search engines also rank websites based off of security. If a website isn't secure, meaning it lacks an SSL signified by the URL prefix "Https," it should be omitted from a backlink profile.
Likewise, if a website features posts in multiple languages on the same page, it can be a sign of a lower quality website.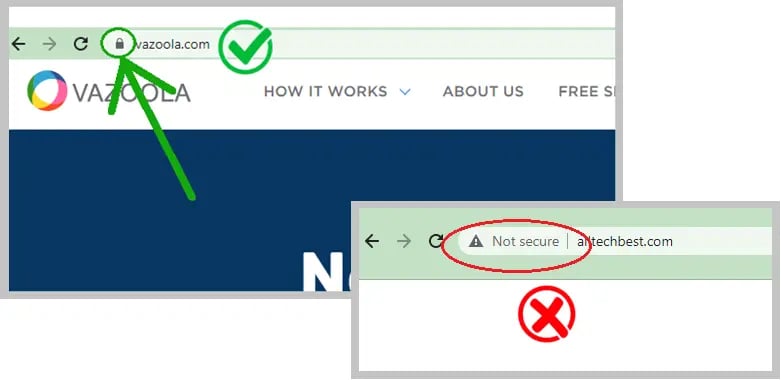 IP Address
The IP address of the linking domain can also influence the quality of a backlink. Diversified IP addresses suggest a wider range of endorsements, and more links from unique IP addresses can be viewed as more credible than multiple links from the same IP.
When creating your backlink profile, make sure you don't use publisher sites that share the same C-Class IP (except for sites hosted on CDNs like Cloudfare) with more links than two in the same backlink profile. We employ this strategy to avoid creating patterns that might get flagged by Google as unnatural and therefore low quality.
Link Location
Google considers link placement when evaluation backlinks. In other words, where the link is placed on the page matters. Links embedded within the main content of a page are typically considered higher quality than those in the footer or sidebar.
The reasoning is simple — main content links are more likely to be closely tied to the content, hence more relevant and beneficial to the user.
For example, when evaluating a link's quality, check the publisher's homepage to see if it is selling text links. These are external links usually located on the sidebar or the footer, and site's featuring them are best to avoid in a backlink strategy. Also be aware of banner ads or terminology on the site advertising accepting payment for backlinks.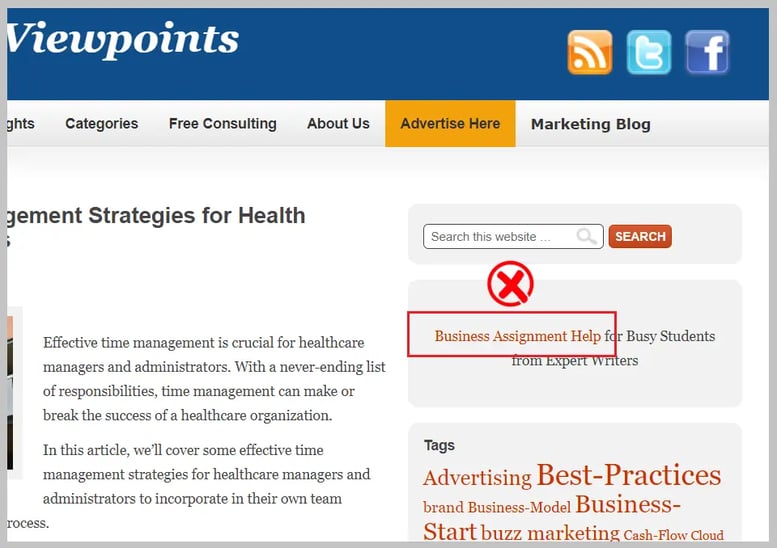 Outbound vs. Inbound Links
The balance between outgoing links and inbound links can reflect the quality of a backlink. If a page has too many outgoing links, it dilutes the value or link equity of each outgoing backlink.
On the other hand, if the page has a greater number of relevant inbound links, it signals that the page itself is a trusted source, and has enough link equity to pass onto the targets it links out to.
A useful ratio for determining the quality and value of a backlink is the link equity ratio, or the number of domains linking to the page versus the number of domains the page's outgoing links direct to. In general, this ratio should exceed 1. This ratio is useful on the page level as well as the domain level.
To check this ratio on the domain level using Ahrefs, enter the website you are considering getting a backlink from into the Site Explorer. Select the Domain including subdomains from the dropdown.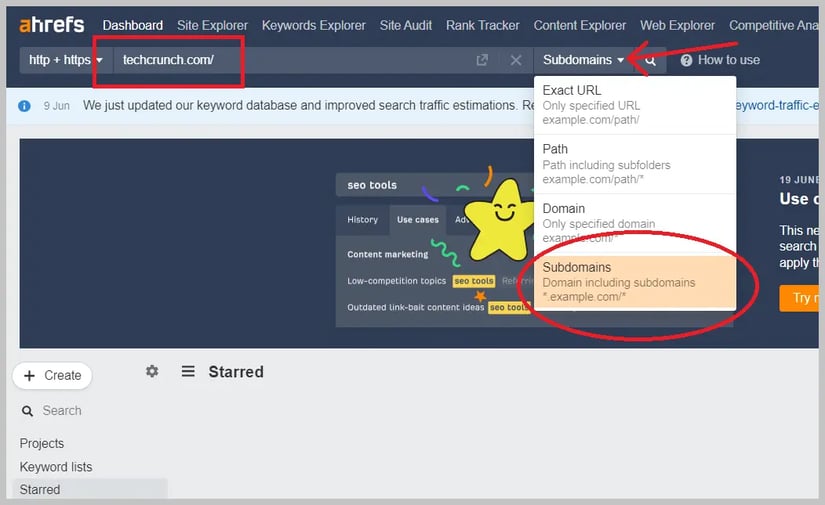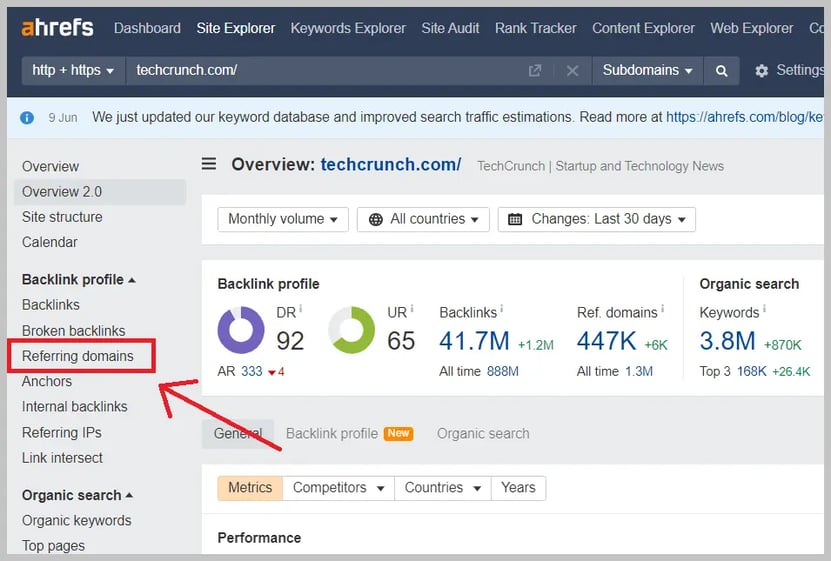 Then access the referring domains report in the left menu, and choose Dofollow > Show results at the top of this report. Record the number of domains shown and use this as the numerator of the ratio. This value represents the number of other websites that direct to your site with a good do follow link.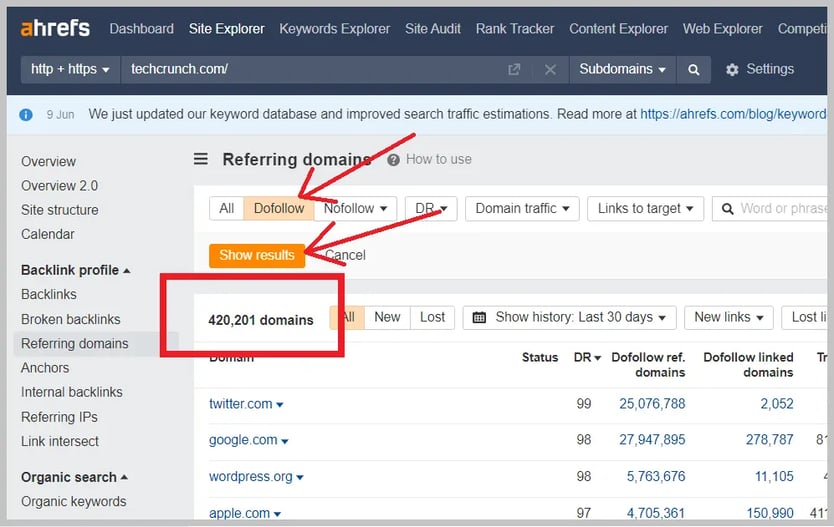 To see the number of linking root domains for target website, next go to the Linked domains report in the left menu and again choose Dofollow > Show results. This value represents how many domains the target website links out to with do follow links. Record the number of domains shown and use this as the denominator of the ratio.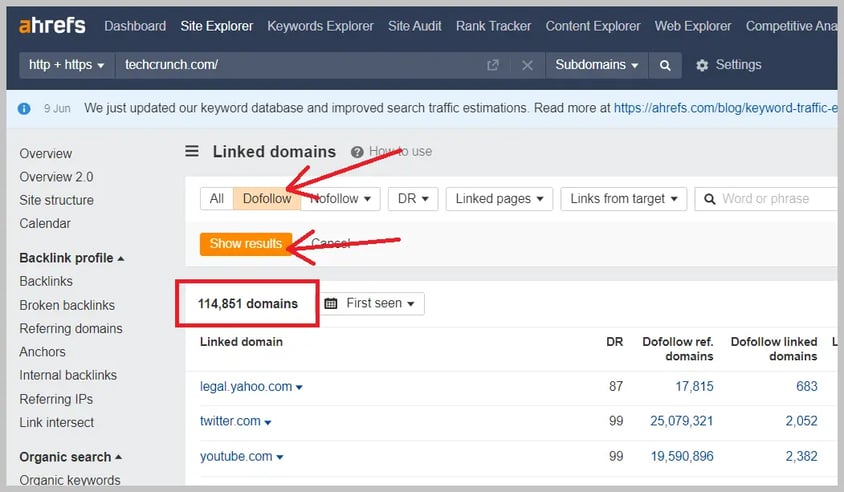 Now we have the values we need and can make a simple calculation! This ratio is above "1" which means the domain in our example, techcrunch.com, has more individual domains sending a do follow link to it than the number of the domains it sends out to with do follow links. Generally, the higher this value the more link equity available to be send by this website.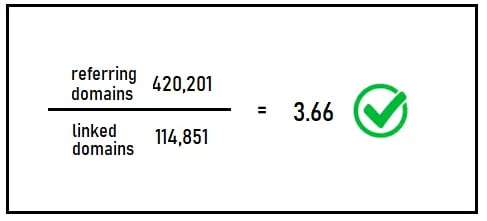 Pro Top: While assessing sites in ahrefs look out for signs of website owners using low quality tactics to manipulate search metrics such as this example of potential Domain Rating pumping.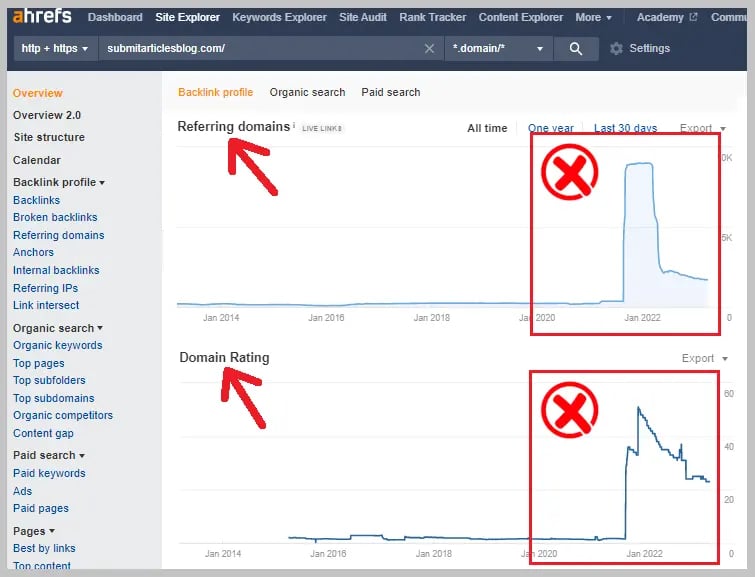 Natural Looking Placements and Earned Links
Google's algorithm also considers link placement when ranking websites. Backlinks should appear natural, not forced or bought. High-quality backlinks often look organic, fitting seamlessly into the content. Moreover, "earned" links — those given by other sites due to the quality of your content — are typically seen as high quality.
Determining Backlink Quality
Determining the quality of a backlink often is akin to solving a complex puzzle, where every piece adds to the bigger picture. While the process may seem daunting, a structured approach can make it significantly simpler and more efficient.
Assess Link Relevance
When evaluating the quality of a backlink, assess the relevance of the site linking to you, as well as its content. A high-quality backlink originates from a website that's in your niche or a related industry.
The content surrounding the backlink should be topical and provide value to the reader. If the link is embedded naturally within the context of valuable content, that's a positive signal.
While it's important to include links from websites in a related niche in your backlink profile, there are a few topics that almost always should be avoided. Exclude backlinks from any sites featuring content focused on or selling products related to the adult, gambling, or pharmaceutical industries.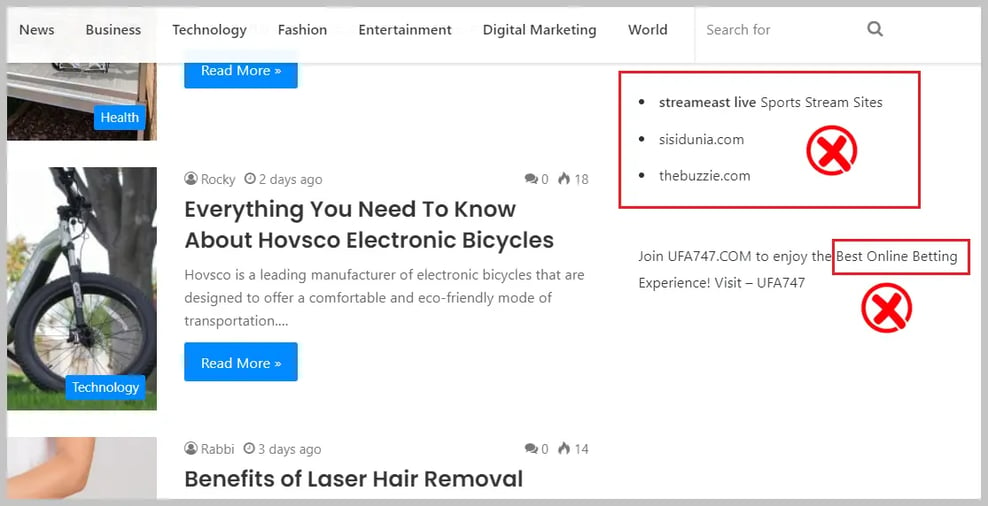 Check Link Authority
You'll also want to check the authority of the linking domain and the specific web page. Tools like Moz's Domain Authority can help gauge this metric. High scores suggest that the site or page is well-regarded, and a backlink from such a source carries more weight.
Don't stop with checking the site's DA, however. You can evaluate the domain yourself by looking over the page. If the publishing website mentions anything about buying blog posts, soliciting guest posts, selling social media followers, or purchasing backlinks, it should be omitted from a backlink profile.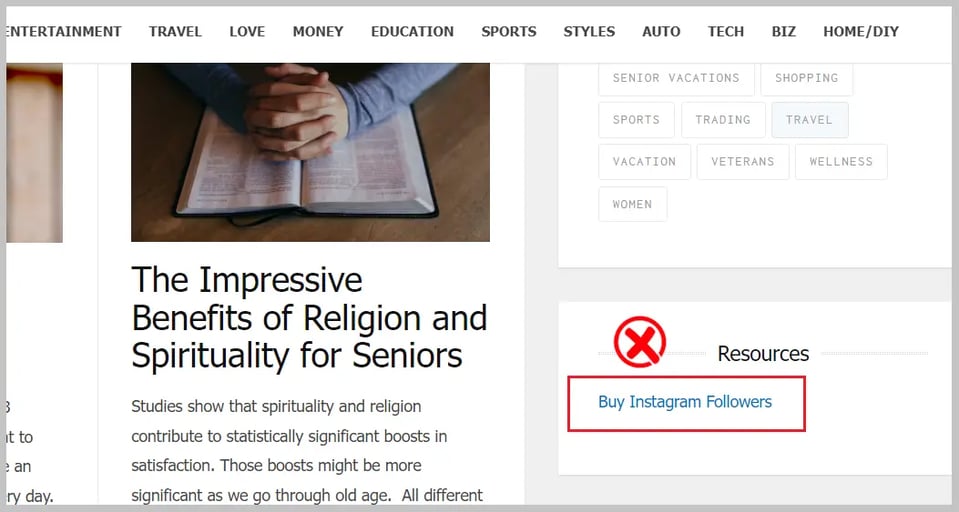 Evaluate Link Quality
Backlink quality analysis is a key element of a successful backlink strategy. Evaluate the link itself. Is the anchor text relevant and descriptive? Is the link a "follow" link, allowing link equity to be passed to your site?
Further, where is the link placed? A link within the main body of the content often is considered higher quality than one in the footer or sidebar.
When assessing backlink quality, don't forget to consider the nature of the link. Does it look natural, with earned or organic backlinks or does it seem forced or purchased? Organic, earned links are typically regarded as high quality over sponsored links.
What Is a Negative Backlink?
Not all backlinks are created equally.
Just as high-quality backlinks can propel your website's SEO forward, low quality links and negative backlinks can cause significant harm, leading to a downfall in your site's reputation and ranking.
Negative or low quality backlinks, often come from spammy, irrelevant, or low-quality websites, and they can signal to Google and other search engines that your site is associated with suspicious practices, thereby adversely affecting your SEO.
Some of the telltale signs of negative backlinks include:
Links from Irrelevant Websites - Backlinks from websites that have no relevance to your niche can be seen as suspicious and negatively impact your SEO.

Paid Links - While not all paid links are harmful, those that don't comply with Google's guidelines (such as not being tagged as sponsored links) can negatively impact your site.

Links from Penalized Websites - Backlinks from websites that have been penalized by Google or other search engines can bring down your website's SEO standing.

Excessive Reciprocal Links - While some reciprocal linking is natural, excessive link exchanges can be seen as an attempt to manipulate ranking and may result in SEO penalties.

Over-Optimized Anchor Text - If the anchor text for a large number of your backlinks is excessively optimized with keywords, it may be seen as manipulative and negatively affect your SEO.

Links from Low-Quality Websites - Backlinks from low-quality or spammy websites, especially those known for distributing malware or inappropriate content, as well as those that appear to stuff backlinks can harm your site's reputation and SEO. These sites are also often insecure and use unnatural tactics to boost domain authorty metrics

PBNs and Link Farms - PBNs are groups of blogs that are owned by a single entity and are used to unnaturally build links to target websites. Link farms are a single website that exists solely to sell backlinks, and don't provide any other value. Link farms are often part of PBNs, but not always.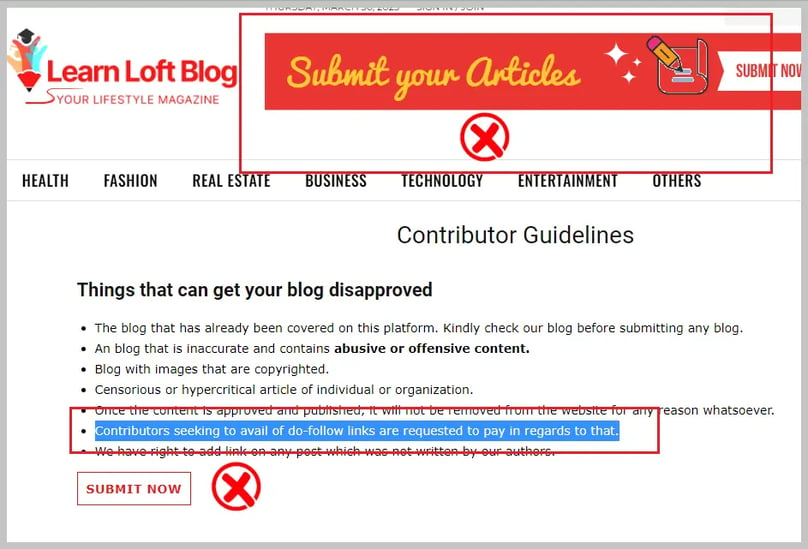 Unsure if a backlink is coming from a high quality website or a low-quality website?
The spam score is a metric created by Moz that represents the percentage of sites with similar features that have been penalized or banned by Google. The higher the spam score, the worse the website. While the spam score ranges from 0 to 100, we recommend remaining below 30.
Since Google released their Penguin Algorithm Update that was aimed at discrediting spammy sites and negative backlinks, penalties have become much less common, but still exist. Therefore, if you discover that your site has negative backlinks, it's crucial to take swift action.
You can contact the website owner and request removal of the link, or use Google's Disavow Tool to ask Google not to take those backlinks into account when assessing your site. In most cases, the disavow tool is unnecessary, but check out this article by SEO Expert Marie Haynes to give more insight on when its a good idea to use the tool.
It is also very important to be adding new high quality backlinks to your site continuously to dilute the impact of negative and spammy backlinks.
Regular monitoring of your backlink profile can help identify and mitigate potential issues before they escalate, thereby protecting your site's SEO health.
We've shared a lot of our knowledge and expertise so far and have covered a lot of ground. To recap, Ahrefs gives a nice summary that we agree with, here:
How to Build High-Quality Backlinks
Building high-quality backlinks is a crucial yet often challenging aspect of SEO. It involves a combination of strategic planning, quality content creation, and targeted blogger outreach.
However, the payoff — improved website authority, higher search rankings, and increased traffic — makes the effort worthwhile.
By employing the following options, you can build a strong network of high-quality backlinks that bolster your site's authority and ranking.
1. Create Quality Content
Quality content is the foundation of any successful link-building strategy. Create informative, engaging, and unique content that provides value to your audience. The value increases the chances of other websites offering backlinks pointing to your content, thereby earning you high-quality backlinks.
2. Conduct Competitor Analysis
Look at where your competitors are getting their backlinks. Tools like Ahrefs or SEMrush can help you analyze competitor backlink profile examples. This analysis provides you with a starting point to identify potential sites to target for your own link-building efforts.
3. Guest Blog
Submitting a guest blog post to reputable sites in your industry allows you to share your expertise with a larger audience, establish your authority, and earn high-quality backlinks.
4. Engage in Relevant Forums and Discussions
Participate in industry-related forums or discussions like Quora or Reddit. By providing valuable insights, you can earn natural backlinks and attract traffic to your website.
5. Use Social Media
Share your content on social media platforms. While most social media links are carry a nofollow attribute, they can still drive traffic to your site and increase the likelihood of others linking to your content.
6. Reach Out to Influential Figures in Your Niche
If you've mentioned an influencer or cited their work in your content, let them know. They might share your content with their audience, potentially earning you valuable links.
7. Submit to Directories
Submit your website to online directories and review sites, ensuring they are reputable and relevant to your industry. This can help improve your online visibility and generate more backlinks.
Tips for a Successful High Quality Backlink Strategy
Strategizing your backlink approach is as important as building the relevant backlinks themselves. A robust and thoughtful SEO strategy can help streamline your efforts, focus your resources, and ultimately, boost the effectiveness of generating backlinks.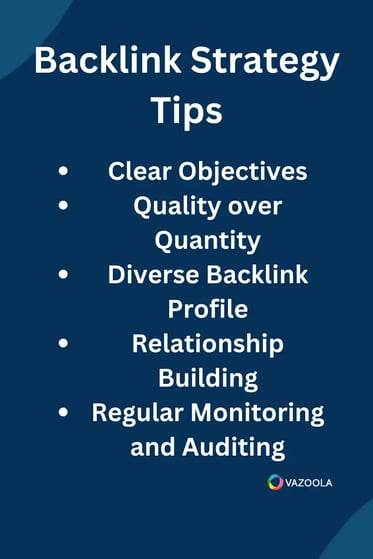 Remember the following key tips when crafting a successful high-quality backlink strategy:
Set Clear Objectives - Be clear about what you want to achieve with your backlink strategy. Whether it's increasing website traffic, boosting search engine rankings, or enhancing site authority, having a clear goal can guide your strategy and measure your success.

Quality over Quantity - Instead of focusing on obtaining a large number of backlinks, prioritize getting high-quality ones. Backlinks from reputable, authoritative sites in your niche are more valuable and have a greater impact on your SEO. White hat links are your friend here.

Diversify Your Backlink Profile - Aim for a diverse range of backlinks from different websites, covering different topics, and placed in different locations within the content. This diversity can help increase your site's resilience to algorithm changes and improve its overall authority.

Prioritize Relationship Building - Building relationships with influencers, bloggers, and other businesses in your niche can open doors for guest blog post opportunities, collaborations, and mutual promotions, leading to high-quality backlinks. Considering offering external links from your site in exchange for inbound links.

Regular Monitoring and Auditing - Regularly monitor and audit your backlinks to keep track of your link profile's health. Tools like SEMrush or Ahrefs can help identify potentially harmful backlinks, monitor changes, and gauge the effectiveness of your backlink strategy.
It's easy to check if a site might offer a negative backlink using a tool such as the Backlink Blacklist. Remember, a successful backlink strategy is as much an art as it is a science. It takes time, effort, creativity, and strategic thinking.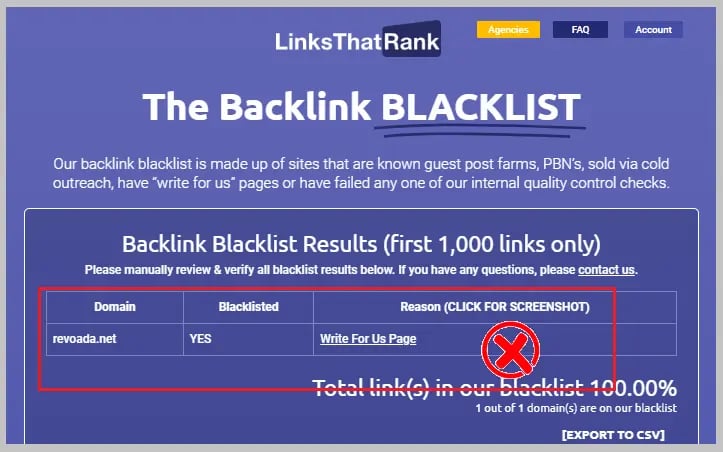 Optimizing Backlinks with AI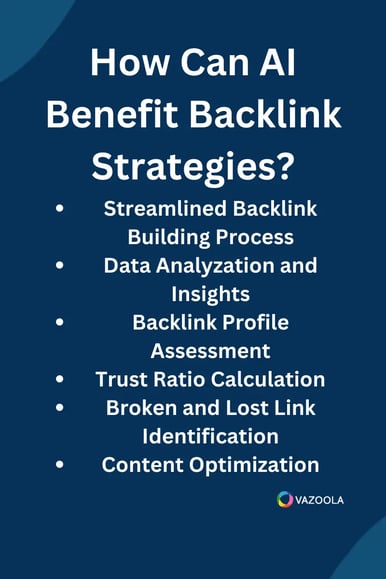 Artificial Intelligence now is a powerful tool in the digital marketing landscape, and its impact on SEO and backlink strategies is no exception.
AI's ability to analyze vast amounts of data, identify patterns, and provide actionable insights can significantly enhance your backlink and search engine optimization efforts.
AI tools can help streamline your backlink building process in several ways. They can analyze large volumes of backlink data swiftly and accurately, helping you identify prospects for high-quality links based on parameters like domain authority, relevance, and traffic.
AI-driven SEO tools can also monitor and assess your existing backlink profile, identifying potentially harmful links or areas for improvement.
For example, the trust ratio, created by Majestic, is a recent addition to the Vazoola marketplace. It calculates the trust flow by citation flow.
Trust ratio is a metric provided by Majestic that measures the perceived trustworthiness of a website based on its backlinks. Citation flow is from Majestic and measures the overall amount of links coming to a website. Both are scored from 0 to 100.
'Ideally, trust flow should not be dramatically smaller than citation flow. A counterbalance might indicate that incoming backlinks or links pointing to a website are untrustworthy. Publishers should aim for a minimum .15 Trust Ratio score.
AI also can automate the process of identifying broken links or link loss, which can be a cumbersome task when done manually. With AI, you can quickly rectify these issues and maintain the health of your backlink profile.
AI's capabilities even extend to content creation and optimization. By identifying trending topics, user intent, and popular keywords in your niche, AI can help you create content that's more likely to attract high-quality backlinks.
Myths About Backlinks
The landscape of SEO and backlinks is shrouded in numerous myths and misconceptions, often leading to ineffective strategies and missed opportunities.
Clearing the following misconceptions is crucial to understanding the true nature of high-quality backlinks, avoiding unsafe SEO strategies, and harnessing their potential for your website's SEO.
All Backlinks Are Created Equal - Contrary to common belief, not all backlinks carry the same value. The most valuable links come from authoritative and relevant linking sites and are logically placed in the content there.

More Backlinks Mean Better SEO - This myth suggests that the sheer quantity of backlinks determines SEO success. In reality, quality links are far more critical than their quantity.

Only Do-Follow Links Matter - While do-follow links pass on link equity and contribute to SEO, links with a nofollow attribute also hold value. They can drive traffic, increase visibility, and even lead to more do-follow links.

Link Building Is a One-Time Task - Many believe that building a set number of backlinks is sufficient. However, link building is an ongoing process. Constant efforts are required to maintain and improve your link profile.

Any Link Is a Good Link - Contrary to this dangerous myth, links from spammy or low-quality sites can harm your SEO. It's crucial to pursue outgoing links from reputable, high-authority websites.

Paid Links Always Work - While paid links with a sponsored link attribute can sometimes boost your SEO, they can also lead to penalties if they don't comply with search engine guidelines.
Understanding the realities of higher quality backlinks and steering clear of these myths can help you develop more effective link-building strategies and propel your website towards superior SEO outcomes.
Written by Andrew Sperl

As Vice President and a Partner at Vazoola, Andrew has his hands in all aspects of the business from sales to marketing to employee development and much more. He has passion for all aspects of building and growing a business, and has devoted himself to becoming an expert on off-page SEO.