Navigating the digital world can often feel like walking through a minefield, especially when it comes to practicing optimizations for search engines . One wrong step -- like engaging in backlink spam -- can severely impact your website's ranking in search engine results pages.
We at Vazoola prioritize high-quality practices, natural placements, and manual quality assurance to ensure your digital presence remains strong and reputable. Here's everything you need business owner and website operators to know about link spam.
Key Takeaways
Table of Contents
What Is Link Spam?
Link spamming, also known as spamdexing, black hat SEO, or link spam refers to artificially inflating the number of backlinks to a website in an attempt at link manipulation.
The tactic is often done through a variety of black hat SEO link schemes, such as posting more links in public discussion forums, blog comments, or guest books -- types of web pages that are common targets for such link schemes and link spammers because they have low barriers to entry.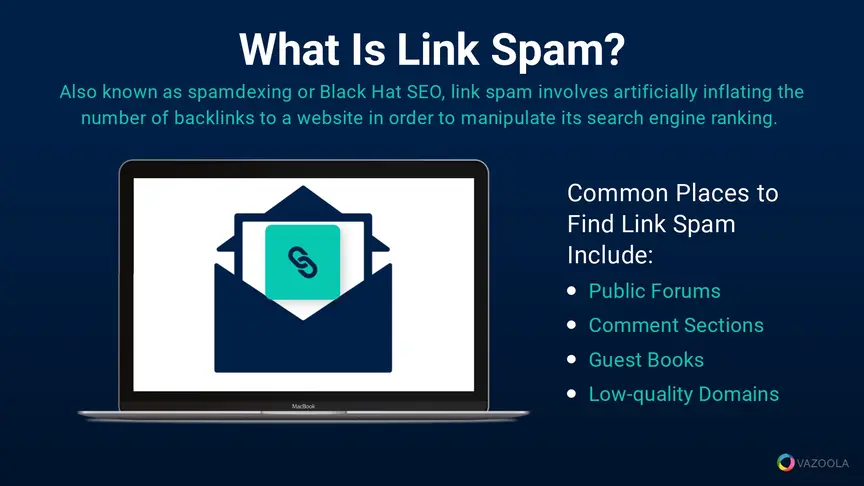 In addition, linkspam refers to low-quality domains and unnatural practices. Link spam can manifest in several forms. For instance, spam posting is a prevalent form where a black-hat link builder posts solo links in public forums, blog spam, user comments, or guest books. These platforms are often targeted because they have low barriers to entry, making it easier for spammers to infiltrate them.
At Vazoola, we take a strong stance against link spam. Our company is committed to high-quality practices, natural placements, and manual quality assurance.
Later in this article, we will go in-depth into what practices to avoid and how to build links properly to ensure your own site and digital presence remains strong and reputable.
What Are Examples of Link Spam?
below are some common examples of link spam that should be avoided in two ways. You should not build these types of links for your website. You should also not receive links to your website from sites that are engaging in these practices.
Home Page Links, spammy topics, hidden links: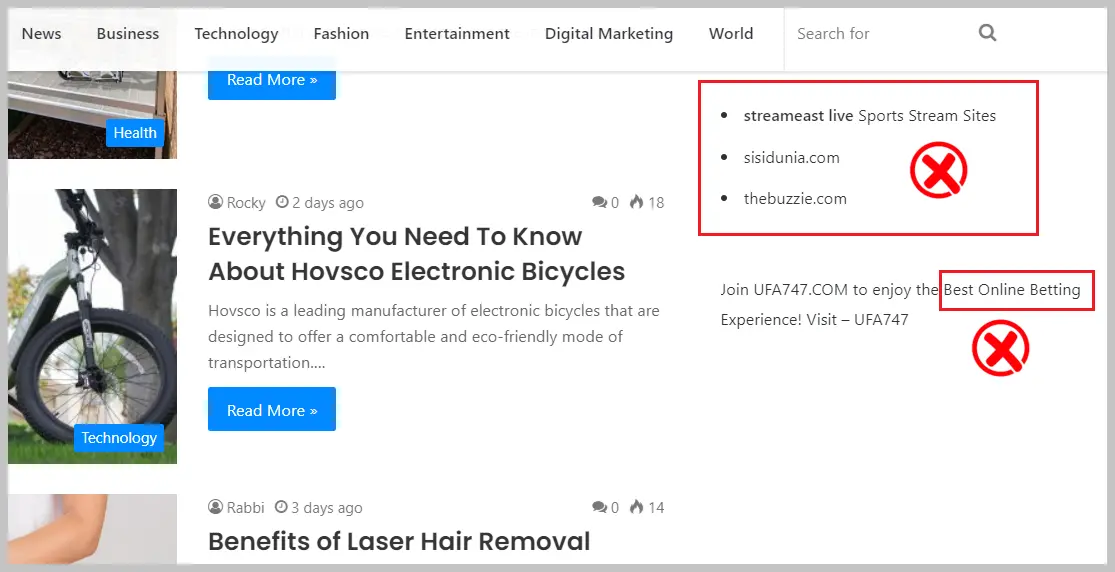 Website clearly advertising dofollow links for sale: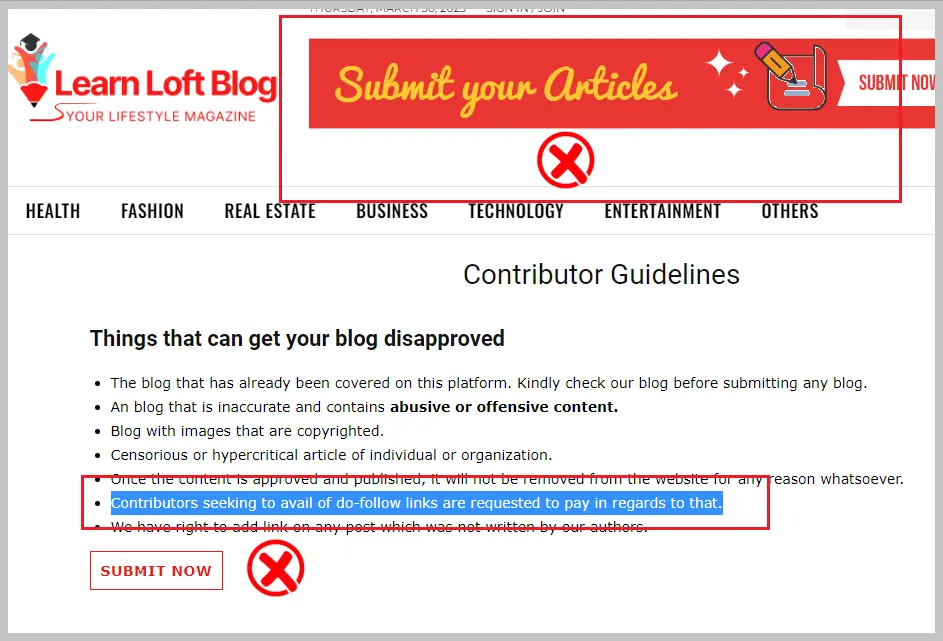 Low quality websites that are included on spam blacklists: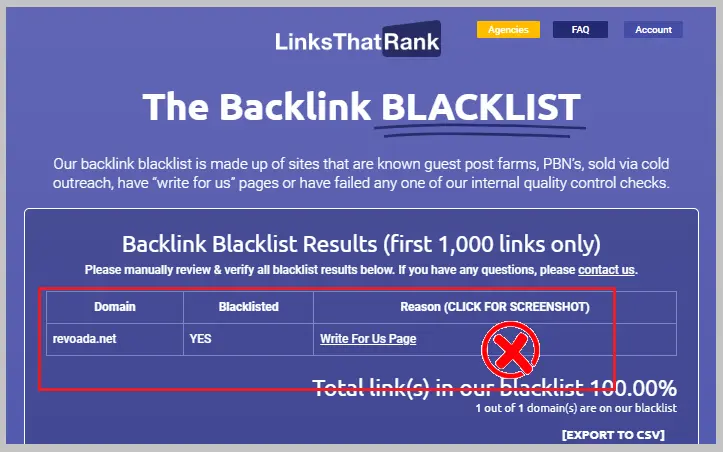 Google's Stance on Spammy Links
Understanding Google's stance on link spam is crucial for anyone looking to maintain or improve their website's ranking, even someday ending up on the first page. Google has been a pioneer in combating link spam, continually updating its algorithms to ensure a fair and high-quality user experience.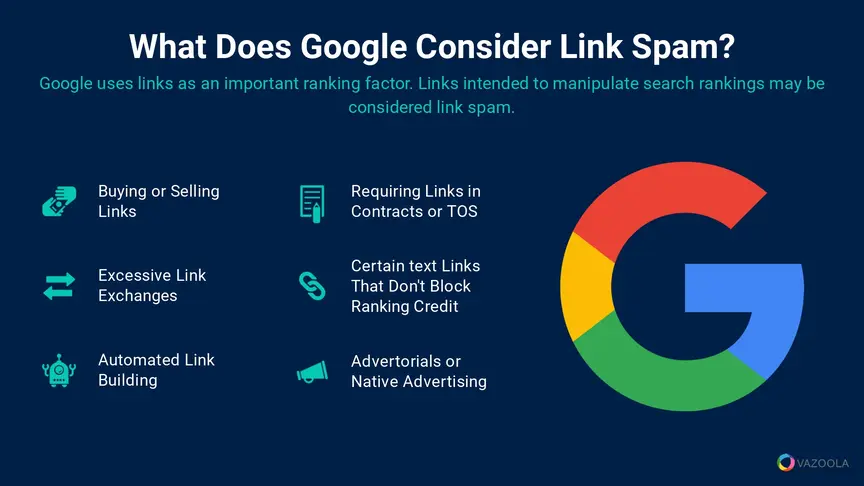 The Penguin Update
In its ongoing battle against link spam, Google introduced 2012's Penguin update, a significant algorithmic change designed to penalize sites engaging in manipulative web spam practices.
Rather than merely penalizing a spammy website, the Google update focused on devaluing link spamming, thereby encouraging webmasters to adopt more organic growth strategies.
The introduction of Penguin signaled Google's commitment to prioritizing quality over quantity when building links. This update was a watershed moment in optimizing for search, as it forced many businesses to reevaluate and adjust their link-building strategies to abandon black-hat SEO and align with Google's quality guidelines.
Since 2016, Penguin was integrated into Google's core algorithm, and penalties are assigned in the same manner as other elements of the search giant's primary algorithm.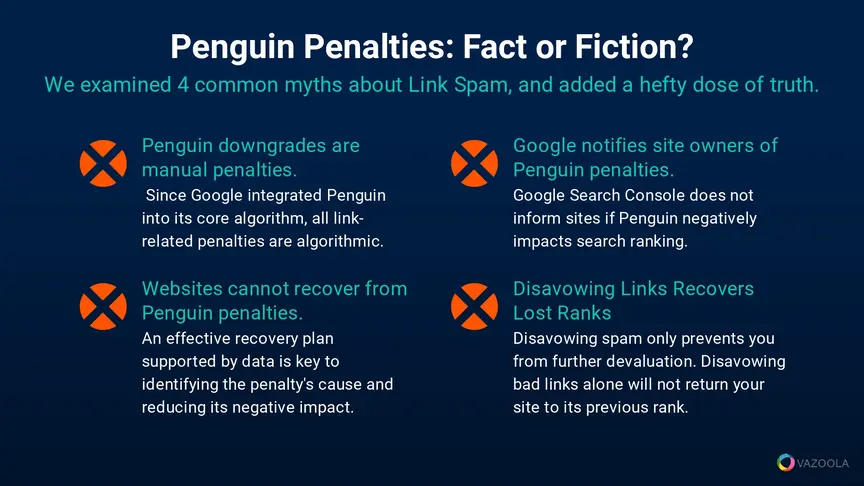 December 2022 Link Spam Update
In December 2022, Google unveiled another critical update specifically targeting link spam. While the algorithm had been in place to some extent for a few years, it wasn't until 2022 that Google identified it.
Utilizing an AI-based system known as SpamBrain, Google's update aimed to neutralize the impact of unnatural links on search results. The Google system is capable of detecting both sites that buy links to manipulate search engines and those that serve as conduits for passing outgoing links.
The rollout of this update took only about two weeks, but it quickly made a global impact, affecting search results in all languages. The focus remains on identifying and nullifying links primarily obtained for artificially manipulating rankings.
Some of the SpamBrain results shared in Google's 2022 Webspam Report were positively shocking, as demonstrated below: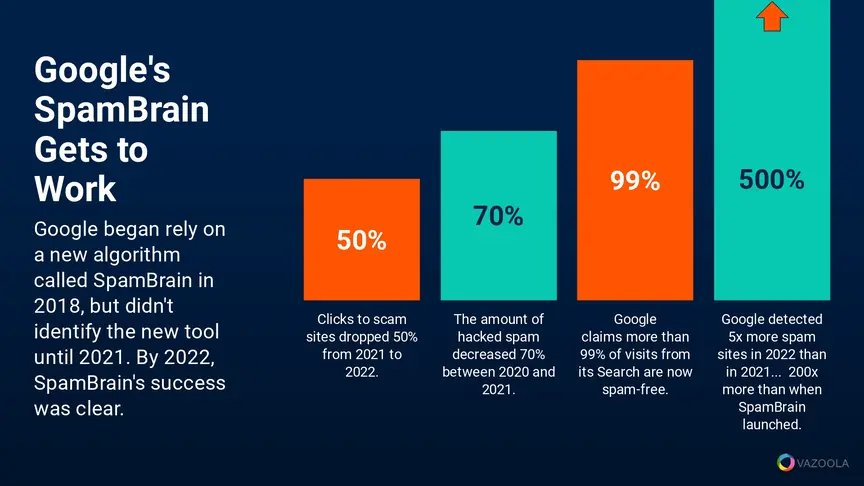 Most recently Google has made an announcement about its October 2023 Spam Update that started on October 4th:
We're releasing an update to our spam detections systems today that will improve our coverage in many languages and spam types: https://t.co/g5yWWqvypR

— Google Search Central (@googlesearchc) October 4, 2023
Google regularly updates its spam systems as a way to improve the search results and devalue sites using low quality practices.
Our team at Vazoola's adherence to Google Search Essentials (formerly Google webmaster guidelines) has always been a cornerstone of our approach to building links. We have been building links to our clients sites for over 10 years and have carefully watched as Googles algorithms and guidance has changed over the years.
Our recommendation: A focus on high-quality practices, natural placements, and manual quality assurance aligns well with Google's and other search engines' evolving policies, ensuring that your own business' digital presence remains strong and reputable.
How to Avoid Spam Links
Search engine optimization can be complex, especially when it comes to the pitfalls of link spam.
At Vazoola, we've seen the detrimental effects of spam backlinks on website rankings and credibility. We're here to guide you through the essential steps to avoid falling into the link spam trap.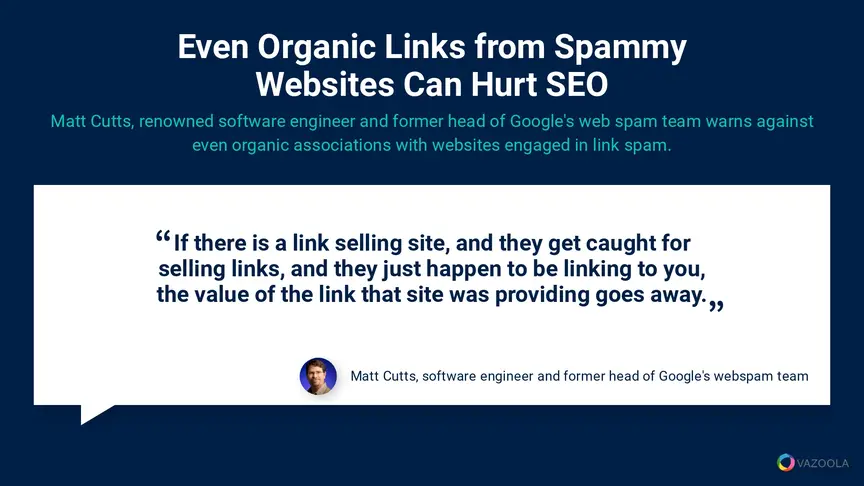 To steer clear of spam and bad links, it's crucial to know what to look for. Understanding the difference between high-quality and lower-quality links can save your website from penalties and ensure a robust link profile and SEO strategy.
High-quality links usually come from reputable sites with high domain authority, while low-quality links often originate from dubious sources with little to no credibility.
Link spam comes in various forms, each with its own set of challenges and risks. Below, we delve into some common types of link spam that you should be aware of.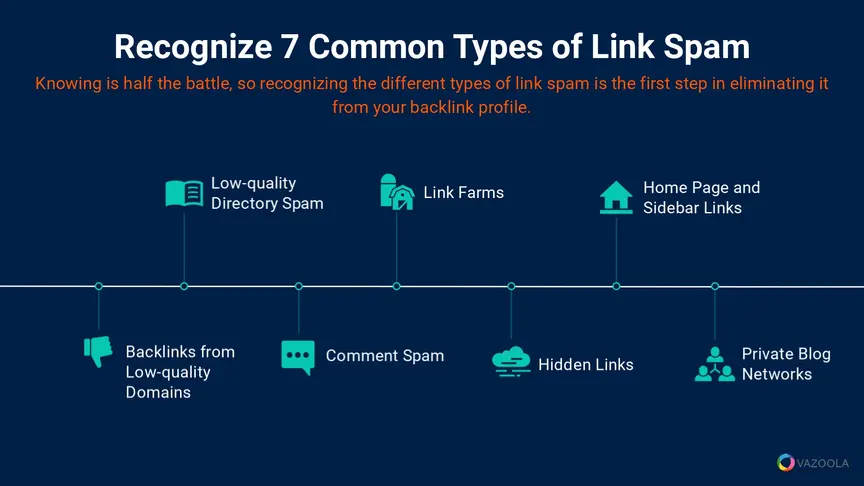 Link Farms
Link farms are networks of sites that interlink with each other for the sole purpose of increasing their rankings. A spam link example from a link farm might involve a website about gardening linked to unrelated web pages about finance, technology, and health, all of which are part of the same link farming scheme.
Private Blog Networks
PBNs are a collection of blogs or sites owned by the same entity, used to build links to articles on a target site. These private blog networks are often made up of expired domains or pages that have existing authority, making it easier to manipulate search engine rankings.
Hidden Links
Hidden links are links that are invisible to users but can be crawled by search engines. These links are often hidden in the website's code or made the same color as the background. For example, a white link on a page with a white background would be invisible to the user but not to search engines.
Comment Spam
Comment spam involves posting irrelevant or inappropriate links in the comment sections of blogs, forums, or social media posts. These external links are often generated by automated systems and can quickly fill up a comment section, detracting from meaningful discussion.
Backlinks from Low-Quality Domains
These are links coming from websites with thin content, or those associated with casino, pharma, or adult content. Such domains usually have low SEO metrics and little to no organic traffic, making them detrimental to your site's SEO.
Low-Quality Directory Spam
Directory links come from sites like blog networks that exist solely for SEO manipulation. Unlike reputable directories, many of these blog feed directories, these sites have no stringent criteria for listing, often display fake blogs, and are often filled with link spam.
What is SEO Manipulation?

SEO manipulation tactics include keyword spamming, generating massive numbers of low-quality pages, creating artificial link networks, and creating deceptive web pages that appear differently to users and search engines.

— Reyna Ramos || SEO & Digital Marketing Specialist (@reynaromosseo) October 11, 2022
Home Page Links and Sidebar Links
Widely distributed links placed indiscriminately on the home page or in the sidebar of a website, home page and sidebar links often are the result of buying links. They usually have no context or relevance within content, and they are a clear sign of spammy link-building practices.
How to Identify Link Spamming
Identifying link spam is not just a good practice; it's a necessity for maintaining a healthy website and robust SEO strategy.
Ignoring link spamming can lead to penalties from search engines, which can significantly affect your site's visibility and traffic, ultimately make you lose more visitors.
Here at Vazoola, we've seen firsthand the negative impact that bad links can have on a website's SEO performance.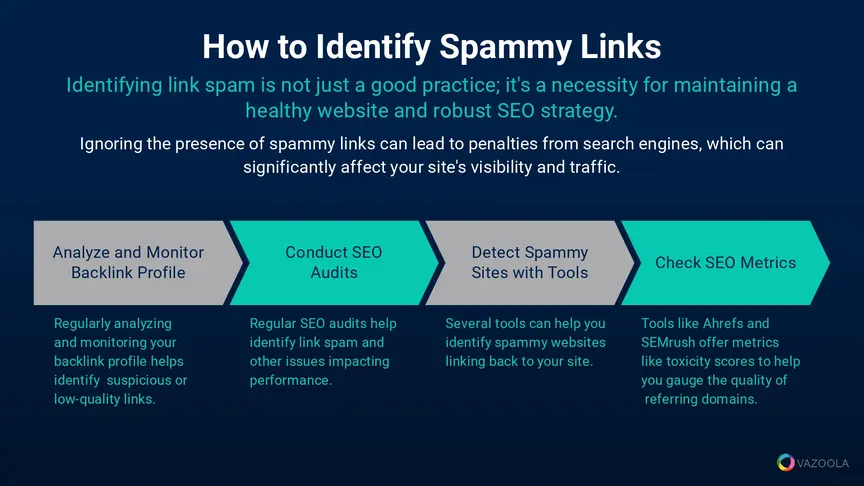 Analyze and Monitor Your Backlink Profile
Regularly analyzing and monitoring your backlink profile can help you spot any suspicious or low-quality links that could harm your website's SEO. We recommend monthly checks as a best practice, as this allows you to catch and address issues before they escalate.
Pro Tips

Employ a dedicated SEO security software that can automatically flag and quarantine suspicious backlinks, saving you the manual labor and reducing the risk of human error.
Conduct SEO Audits
Our experience has shown that regular SEO audits can help you identify not just link spam but also other issues that could be affecting your website's performance. An SEO audit can also provide insights into your site's overall health, including on-page factors, technical issues, and content quality.
Pro Tips:

For site owners who manage multiple websites, consider using an SEO dashboard that aggregates data from various tools. Automated solutions will give a holistic view of your backlink profiles across different platforms, as well as a broad view of search results altogether, making it easier to spot anomalies.
Use Tools to Detect Spammy Websites
Several tools can help you identify spammy websites that link back to your site. Many of these tools also offer metrics like toxicity scores that can help you gauge the quality of the websites linking back to you.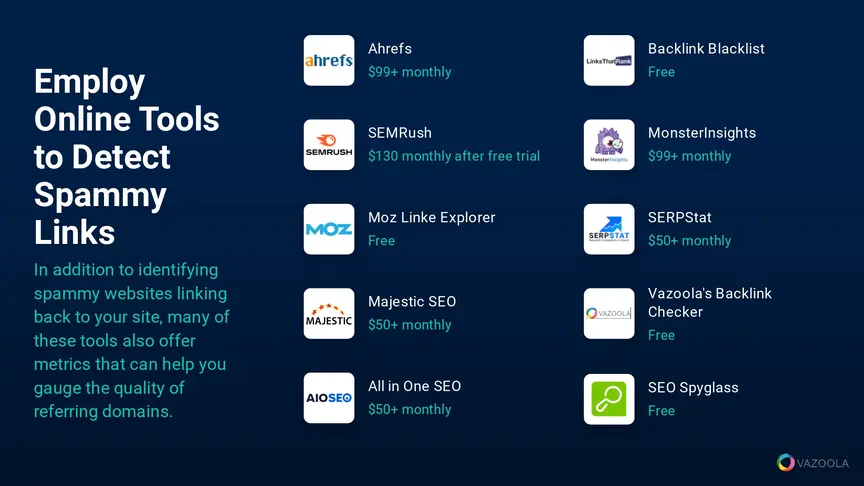 While there are too many backlink tools to count, let alone list, here are a few we recommend for identifying spammy backlinks:
Pro Tips:

If a site owner is managing a large-scale website, it's wise to consider investing in enterprise-level SEO tools that offer API access. This allows integration of the tool's functionalities into their own systems, enabling more streamlined and automated backlink analysis.
Check SEO Metrics
Tools like Ahrefs, Moz, and SEMrush also offer metrics like toxicity scores and spam scores that can help you gauge the quality of the websites linking back to you.
These metrics can serve as early warning signs, allowing you to take corrective action before your site's SEO is negatively impacted.
Monitoring these metrics over time can help you identify more links, trends and patterns, giving you a more comprehensive understanding of your backlink profile. For instance, a sudden spike in spamming links or in toxicity scores could indicate a targeted spam attack, necessitating immediate attention.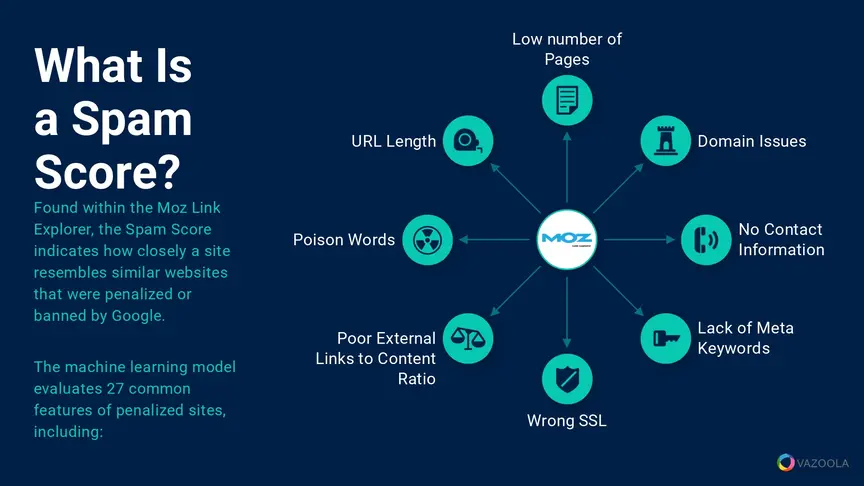 How to Recover from Link Spam
Imagine the stress and panic that sets in when a website owner discovers their site has fallen victim to a spam attack. Rankings plummet, traffic dwindles, and the integrity of the website is compromised.
What's the next course of action? We've guided numerous Vazoola clients through the recovery process, and we're here to share our insights on how to bounce back.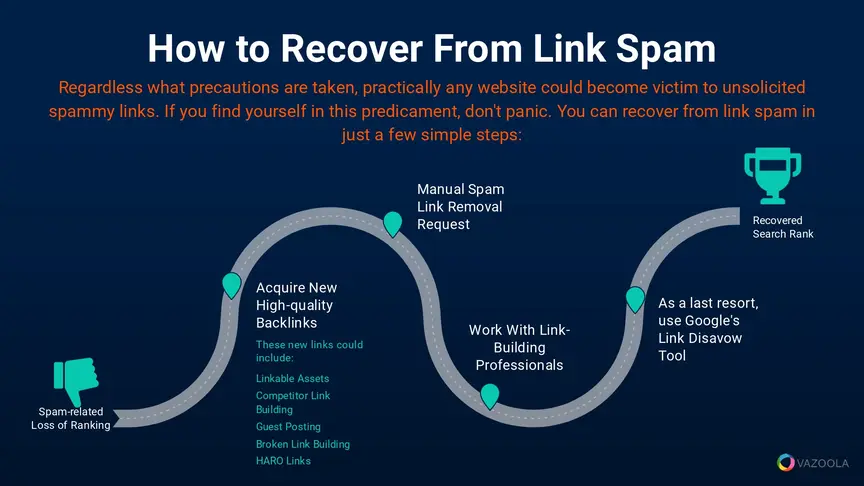 Acquire New Quality Backlinks with White Hat Methods
The first step in recovering from a link spam attack is to offset the damage by acquiring new, high-quality backlinks.
Our recommendation: White hat methods are the most effective and sustainable way to do this. Here are some white hat backlink options we suggest:
Reach Out and Get a Spam Link Removed Manually
Another effective strategy is to reach out to the site owners of the pages where the spammy links are located and request their removal. We suggest being polite and straightforward in your request, as this increases the likelihood of a positive response.
Use Google Disavow Tool as a Last Resort
The Google Disavow Tool allows you to inform Google that certain links should be ignored when assessing your site.
However, we recommend using this tool within the Google Search Console only as a last resort and specifically if you've received a penalty from Google. Incorrect use can further harm your site's search engine optimization efforts.
Work with Link Building Professionals
When faced with the aftermath of malicious content or a spamming links attack, it's often best to consult professionals.
Here at Vazoola, we specialize in building only high-quality links, natural placements, and manual quality assurance.
Our link building services team has the expertise to guide you through the recovery process and ensure that your web page regains its lost credibility and search rankings.
Pro Tips:
When selecting an SEO agency for building links, site owners should ask for case studies that specifically show recovery from link spam attacks. This will boost their confidence that the agency can handle not just building links but also crisis management.
Written by Casey Bjorkdahl

Casey Bjorkdahl is one of the pioneering thought leaders in the SEO community. In 2010, Casey co-founded Vazoola after working for a Digital Marketing Agency for five years in New York City. Vazoola is now one of the fastest growing and most widely recognized SEO marketing firms in the country.