Do you want your website to be more visible in Google search results? Or other search engines, for that matter? Are you looking to improve your site's ranking and attract more organic traffic? If your answer is yes, then understanding Domain Authority will be important for you. In this essential guide we'll show you how to increase domain authority, the crucial role it plays, and provide you with valuable insights and strategies to boost your website's Domain Authority.
Key Takeaways to Increasing Your Domain Authority
Domain Authority is a 0-100 metric created by Moz that estimates the authoritativeness of your site and predicts its ability to rank against other sites, but it is not a direct ranking factor.

While "Domain Authority" is a Moz metric, other companies offering similar metrics to measure authoritativeness also exist.

The best way to improve your Domain Authority is to get quality backlinks from high-authority sites.

You can check your own domain authority using free tools from companies like Moz, Ahrefs, Majestic, and more.

Backlinks are a the strongest factor for each company's unique Domain Authority calculation.

It is possible to increase your Domain Authority in a matter of 30 days or less, but be patient. Improving Domain Authority should be a long term pursuit for sustainable results.

Generally, a Domain Authority of 50+ is considered strong regardless of niche and vertical, but a "good" Domain authority allows you to outrank your closest competitors.
Table of Contents
The Importance of Increasing Your Website's Domain Authority
What Is Domain Authority (DA)?
Factors Influencing Domain Authority
Steps to Increase Domain Authority
How to Use Domain Authority for Your SEO Strategy
Domain Authority vs. Page Authority
Make Your Brand an Authority Website
How to Check your Domain Authority Score
The Importance of Increasing Your Website's Domain Authority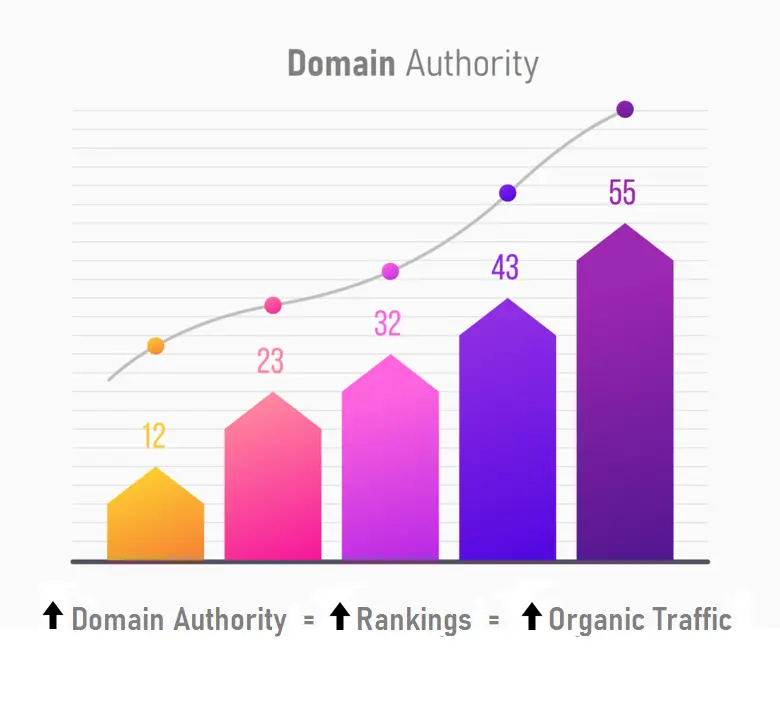 Studies reveal that over 70% of SEO professionals diligently monitor their website's Domain Authority on a monthly basis. This statistic underscores the pivotal role that DA plays in the digital landscape.

We at Vazoola can observe a clear correlation between high domain authority and understanding top-ranking results on Google. Websites with higher domain authority consistently outperform their lower-ranking counterparts, even thought DA is not used by Google to rank websites.
By prioritizing effective strategies to boost your site's Domain Authority, you can position your website for long-term success.
What Is Domain Authority (DA)?
If you want to know how to increase domain authority, it's essential to understand what it is and how it's helpful. Moz created the Domain Authority Metric to help business owners assess their website's strength and ranking potential in search engines. It aims to evaluate the website's relevance and authority on search engine result pages (SERPs). The metric itself, however, is not a ranking factor and isn't used by search engine algorithms.
The primary significance of Domain Authority lies in its ability to compare your overall authority, mainly through link equity, with other websites and identify your competitive position.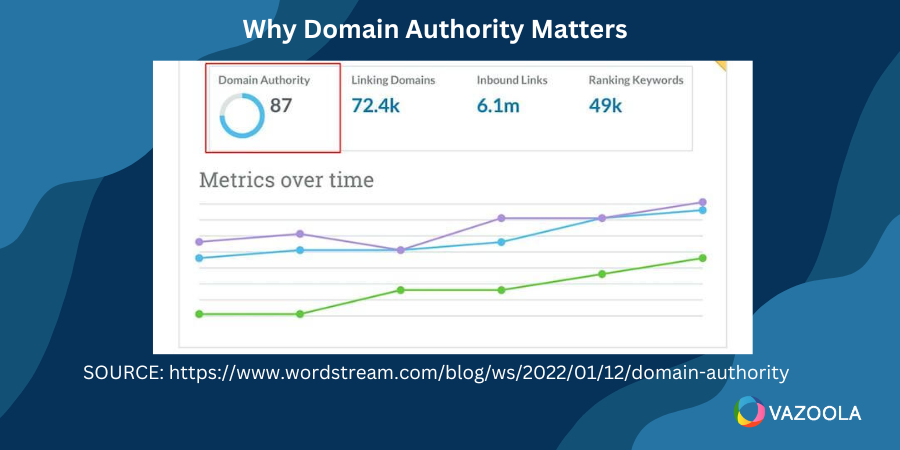 With a score ranging from 0 to 100, Moz Domain Authority serves as a predictive measure of a website's potential to rank effectively in organic search results. Websites with higher Domain Authority scores tend to be prioritized in search results, as they are seen as authoritative and trustworthy.
Here's a quick word from Moz on what Domain Authority is!
By analyzing Domain Authority in relation to other sites that compete with you or industry benchmarks, businesses can gain valuable insights, enhance their website's authority and credibility, and attract more organic traffic.
How is Domain Authority Calculated?
It's important to know that Moz DA is not the only metric used to measure the authoritativeness of domains. The term, in general, refers to the quality and depth of a website's backlink profile.
Several companies have created their own versions of the metric and have unique calculations. But they all are trying to measure the same thing – the relative authoritativeness of a website and its ranking potential.
So, just how is Domain Authority calculated for your website? The calculation of Domain Authority is complex, as it involves a myriad of factors, including linking root domains and the total number of links, into a single score.
To calculate Domain Authority, several companies and tools, such as Moz, Ahrefs, and SEMrush weigh various factors. For example, when calculating Moz Domain Authority, the company considers over 40 different variables.
Take a look at the screenshots we've pulled from these companies' blogs giving summaries on how they calculate their metrics.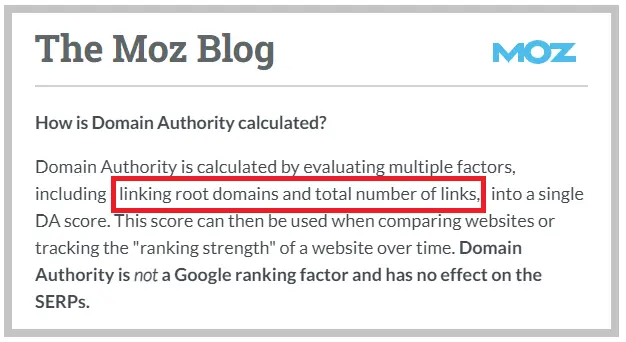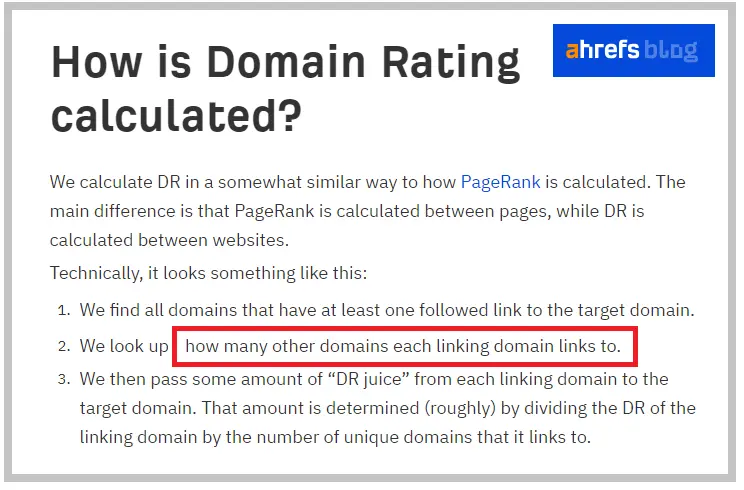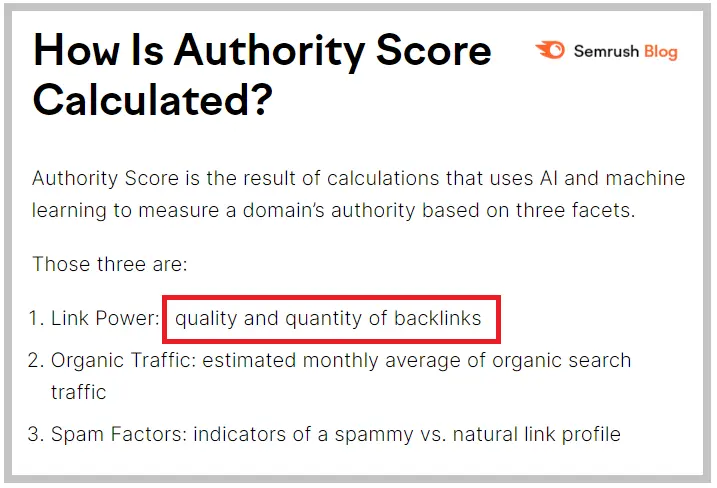 Notice anything in common? That's right! They all use backlinks as a foundational part of their complex algorithms. Also, note that Domain Authority and similar metrics are not actual ranking factors, but they are used to estimate and predict a site's ability to rank when compared to other sites measured.
By analyzing these factors, these companies and tools provide a quantitative measure of a website's Domain Authority.
Again, the most significant factor is the inbound links pointing to your site's domain. Moz's DA score actually takes into consideration the quality and traffic of the domains that link to you. High quality, legitimate sites carry more weight in contributing to your site's authority and positively impact your Domain Authority score.
Understanding the role of linking root domains and the overall link profile can provide valuable insights for optimizing a website's DA score and enhancing its search engine visibility.
What is a Good Domain Authority Score?
Domain Authority refers to a score that shows your website's authority and, as mentioned, it also predicts how well the site will rank on SERPs. Domain Authority Scores span from 0 to 100, with higher scores indicating a stronger online authority.
It's also good to note that Domain Authority scores are often calculated using a logarithmic scale, meaning that as the score improved, the larger the distance is between each increment. But what constitutes a "good" domain authority score?
Although there isn't a definitive answer to this question, it's generally accepted that a Domain Authority score above 50 signifies a well-performing website in terms of authority and search visibility.
That said, the evaluation of DA scores should be relative to other websites in the same industry or niche. In other words, to gauge your DA and benchmark, measuring your score against those of similar sites is a good idea.
Factors such as the competitiveness of the industry and the authority of the top-ranking websites can impact what is considered a good DA score in a specific field.
How to Check Your Domain Authority Score
Here are 4 options you can use to check a site's domain authority. Some tools also provide options for checking an individual web page as well.
1. Moz Domain Authority Checker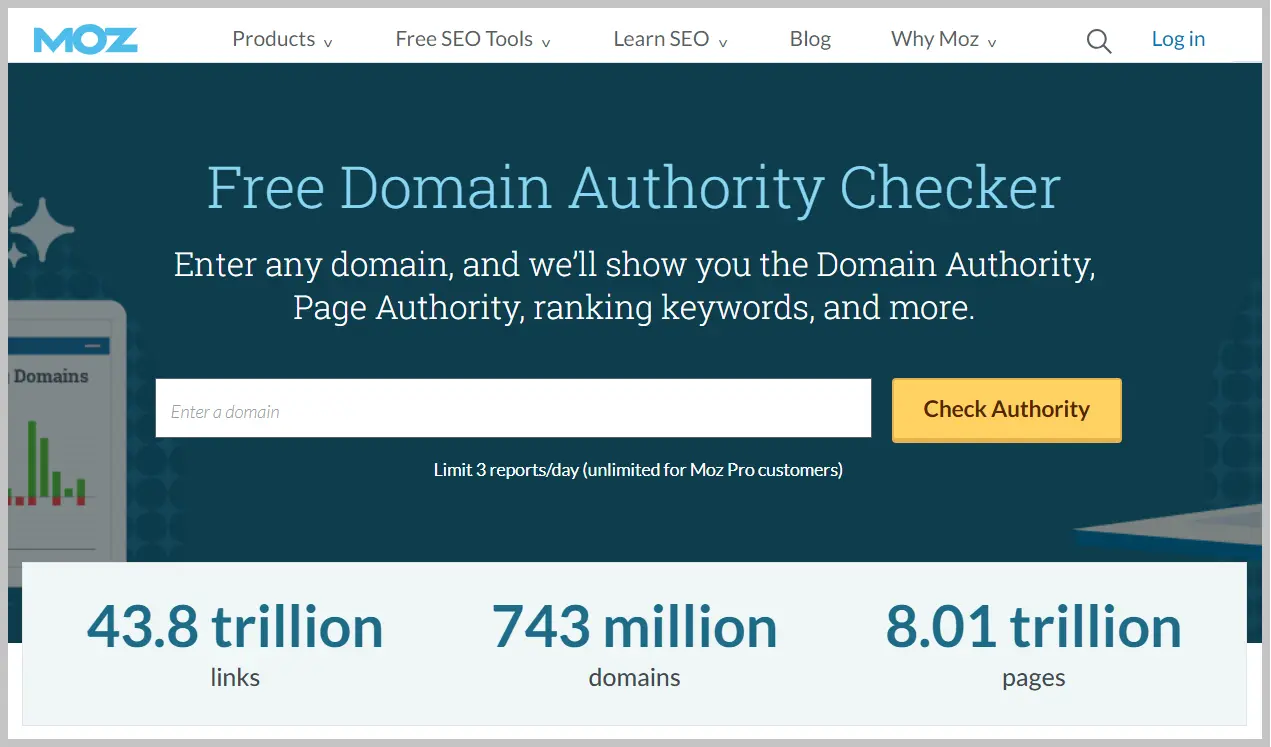 (Image Source: Moz.com)
2. Ahref's Domain Authority Checker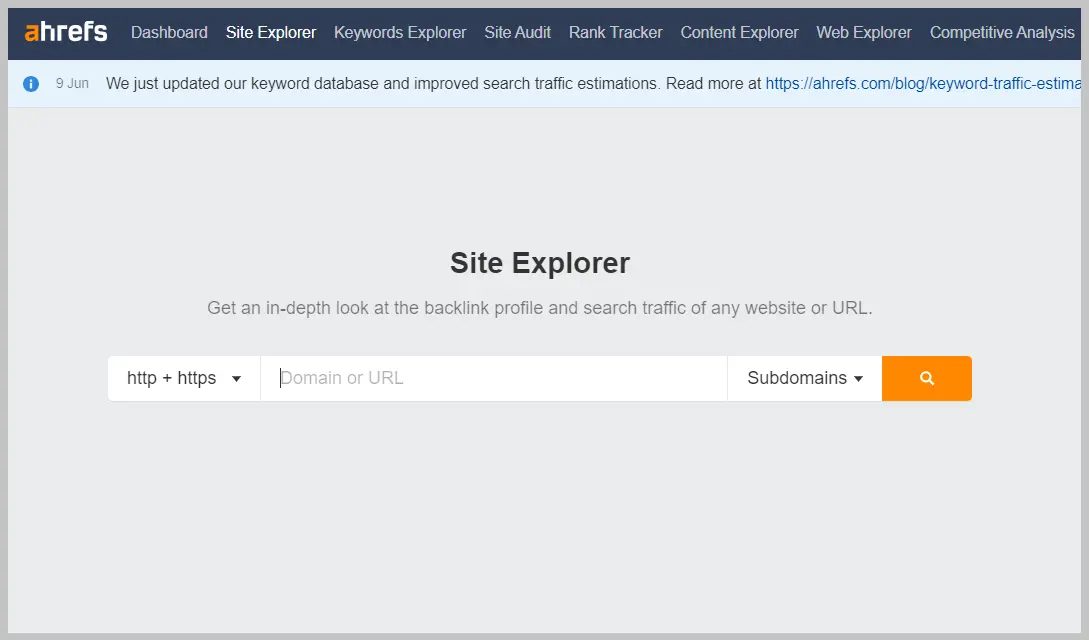 (Image source: Ahrefs)
3. SEMRUSH's Domain Authority Checker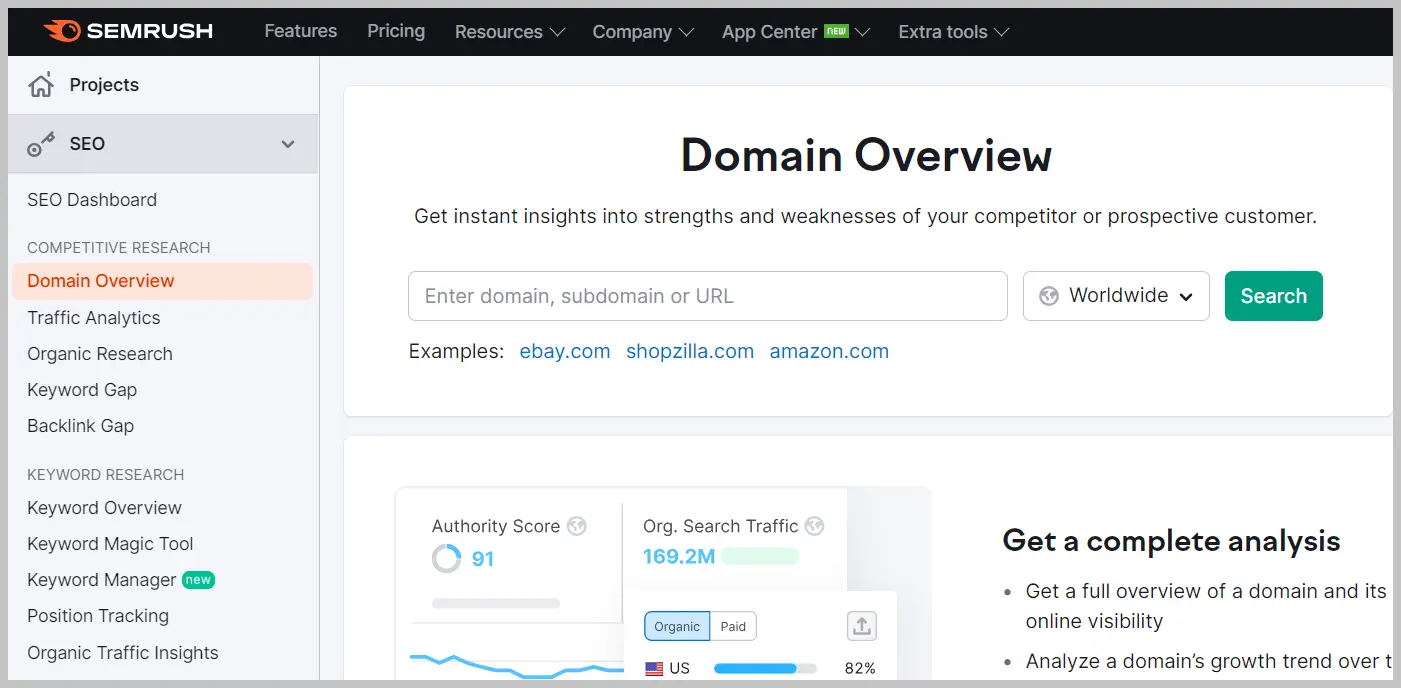 (Image source: SEMRUSH)
4. Ubersuggest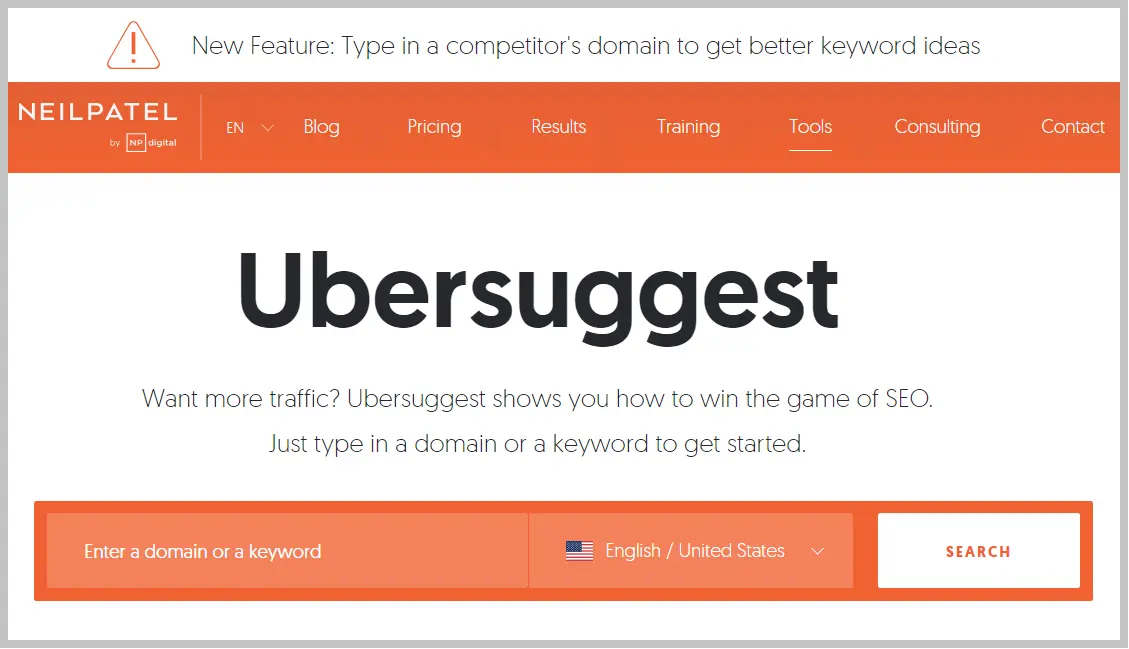 (Image Source: Neil Patel)
We also have our own domain authority checker and domain rating checker that you can check out!
Factors Influencing Domain Authority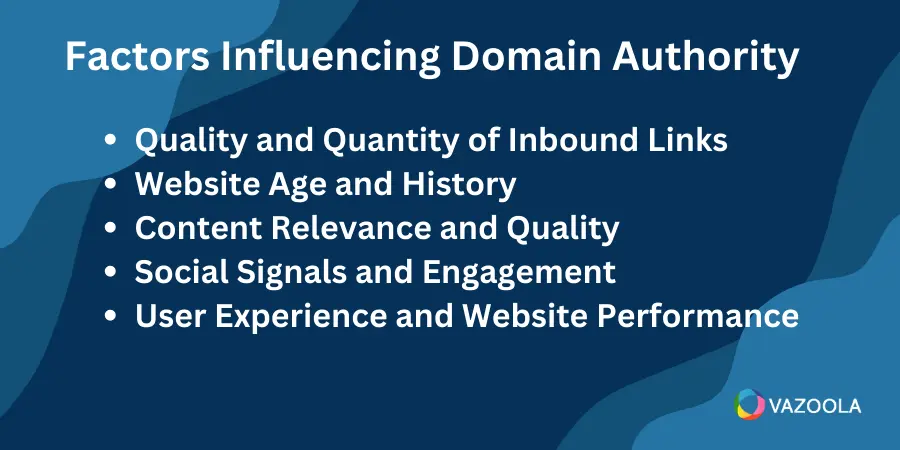 Domain Authority is a complex metric influenced by various factors. Understanding these elements can guide your strategies to improve your website's DA. Below are some critical aspects to consider.
Quality and Quantity of Inbound Links
The quality and quantity of inbound links significantly impact a website's Domain Authority (DA). Sites with a large number of high-quality, relevant backlinks from authoritative sources tend to have a higher DA.
It is extremely important to prioritize the quality of these links rather than just their quantity, as low-quality or spammy, bad links can harm your site's authority and lead to penalties. Generating relevant and high-quality backlinks should be an integral part of any strategy to enhance Domain Authority.
Website Age and History
The age and history of a website can greatly influence its Domain Authority. Older websites with a clean track record and no search engine penalties typically have higher authority. Search engines trust websites that have been around for a while and consistently adhere to best practices.
However, being old alone does not guarantee a high DA; avoiding penalties and demonstrating compliance with search engine guidelines are essential factors in determining authority.
Content Relevance and Quality
The relevance and quality of a website's content are paramount to improving its Domain Authority. Websites that regularly publish high-quality, relevant, and engaging content are more likely to attract high-quality backlinks. In addition to attracting backlinks, high-quality content keeps visitors on the site longer, reducing bounce rates and positively impacting DA. Consistency in publishing relevant and quality content signals to search engines that the website is active and dedicated to providing value to visitors, contributing to a higher DA over time.
Social Signals and Engagement
Social signals, such as likes, shares, and comments on social media platforms, indirectly influence a website's DA. High social engagement indicates to search engines that users find the content valuable, leading to improved DA. Content that gains popularity on social media often attracts high-quality backlinks, further enhancing authority. Genuine and organic engagement is paramount, as artificially inflated social signals can have negative long-term effects. The primary goal should be to create valuable content that naturally inspires user engagement.
User Experience and Website Performance
User experience and website performance significantly impact your website's DA. User-friendly, fast-loading, and mobile-friendly websites tend to rank well in search results, enhancing DA. Easy navigation, readability, and site security also contribute to a positive user experience, indirectly affecting DA. A smooth user experience leads to better engagement, lower bounce rates, and improved conversion rates, which can influence search engine algorithms and ultimately improve your DA. Optimal website performance, including page load speed and mobile responsiveness, is necessary for maintaining and improving your Domain Authority.
What You Can Expect from Different Domain Authority Ranges
Established websites of global giants such as Google, Apple, or Microsoft usually have Domain Authority Scores between 90 and 100 due to their extensive credibility and trustworthiness.
These websites have built a strong online presence over time and are widely recognized as authoritative sources in their respective industries.
However, for smaller businesses or niche websites, achieving a Domain Authority Score in the range of 30 to 50 is considered quite impressive. This indicates that the website has successfully established its authority and is performing well in terms of authority and search visibility within its industry or niche.
For brand-new websites, Domain Authority Scores typically range between 10 and 20. Starting with a lower DA score is common for new websites, as it takes time and effort to build authority and gain recognition from search engines.
It's important not to be discouraged by the initial lower scores, as improvement is possible with consistent Search Engine Optimization efforts. In fact, a Domain Authority of around 30 is a realistic score for many website owners to aim at.
Likewise, it's important to note that Google doesn't consider the Domain Authority score when determining a website's ranking on its result pages. While Moz evaluates around 40 factors, Google takes into account numerous other aspects.
Therefore, a low Domain Authority Score shouldn't get you down. In fact, the good news is that you have the potential to improve your domain authority over time.
Evaluating Your Domain Authority Score in Context
Websites within the range of 20 to 30 may find it relatively easier to improve their Domain Authority compared to websites with higher DA scores. As you work towards improving your website's authority, you can expect to see gradual progress in your DA score over time.
It's important to keep in mind that the significance of a good Domain Authority Score is relative to other websites in the same industry or niche.
Evaluating your Domain Authority Score in comparison to your competitors and the top-ranking websites in your field provides a more accurate understanding of your website's performance and potential for improvement.
How to Increase Domain Authority in 3 Steps
This is where the rubber meets the road! Here we show you steps to improve your Domain Authority with effective off-page, on-page, and technical strategies to inspire you and help you build Domain Authority. Here are some strategies at a glance that can help increase domain authority.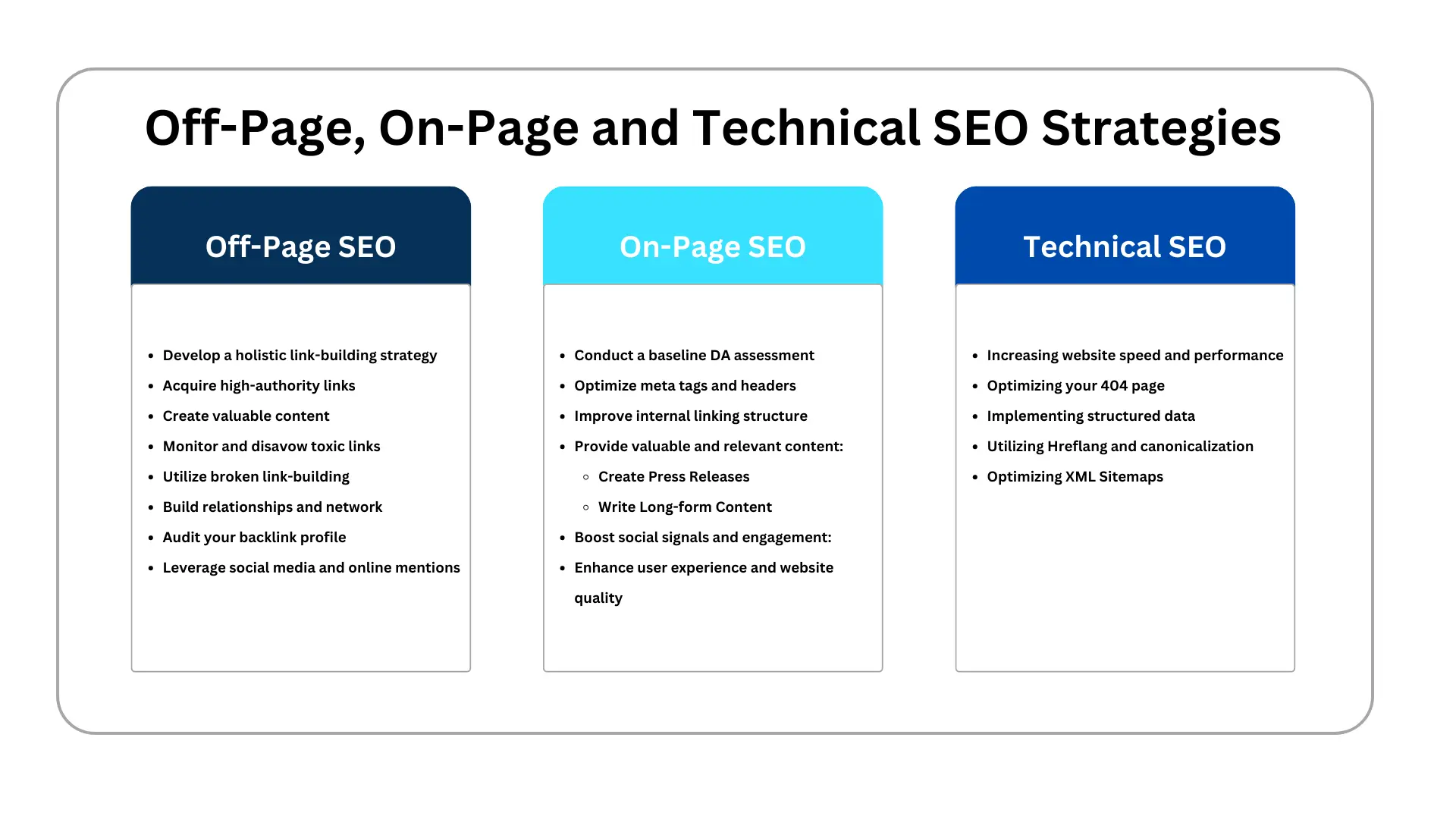 1. Enhance Your Off-Page SEO Strategy
Off-page SEO refers to the actions taken outside of your own website to improve its visibility and ranking in search engine results. Off-page SEO involves optimizing factors that are not directly controlled by your website, such as backlinks from other websites, social media signals, online mentions, and brand reputation.
Here are effective off-page SEO strategies to enhance your off-page optimization and boost your DA:
Developing a holistic link-building strategy
Building backlinks from high-authority sites will be the most important step to achieving a higher Domain Authority and improving your website's overall search engine performance. A comprehensive link-building strategy focuses on acquiring high-quality backlinks from authoritative and relevant websites. Seek opportunities to acquire backlinks from reputable and authoritative websites in your industry, building relationships with high DA sites and offering unique or innovative products or services that give them a reason to link to your site.
Acquiring high-authority links from authoritative websites
A study by Ahrefs showed that 90.63% of content gets no traffic from google stating that most of them don't have any backlinks. Therefore it's a good idea to seek opportunities to acquire backlinks from reputable and authoritative websites in your industry.
To start with, you can explore your top referral sources and then secure similar sites for backlink opportunities. Focus on building relationships with websites that have high authority, offering unique or innovative products or services that give them a reason to link to your site.
To get an idea of where you stand with backlinks, take a look at Google Search Console to see the quality and quantity of domains that link to you. In the left pane of the search console, scroll down to the "Links" report, then look at the reports on external links.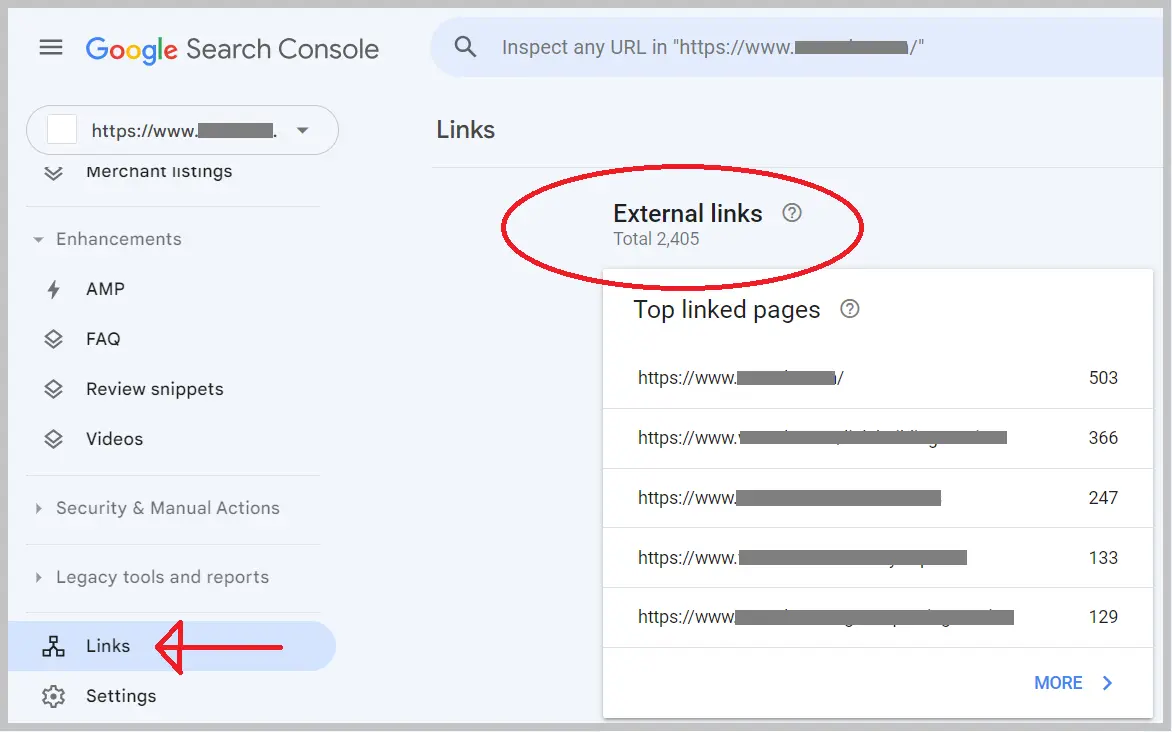 Another way we generally use to analyze a website's backlink profile is using Ahrefs to look at Referring Domains. You will need a paid Ahrefs account to check this for your website. Navigate to the Site Explorer and enter your website. Then in the menu on the left, choose "Referring domains". Finally, select "Dofollow" and "Show results." The number shown here is the total number of websites that link back to you using at least 1 do-follow link.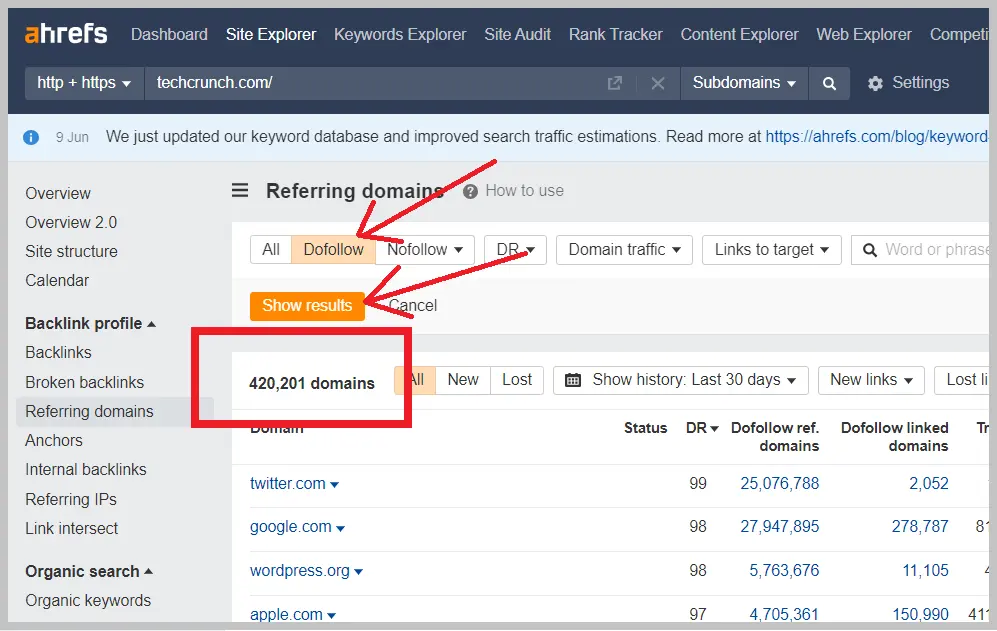 Referring domains is an important metric to focus on for improving Domain Authority. Let's say you have two websites ("A" and "B") that are similar in terms of quality, content, and authoritativeness. Your website already has a do-follow backlink from website "A". A second backlink from website "A" is less valuable in the eyes of Google and the various Domain Authority algorithms than getting a new backlink from website "B" (a brand new domain).
Niche Edit Backlinks
Niche edits go by a few different names. They can also be referred to as link inserts, curated links, or contextual backlinks. Each of these terms reffers to the process of getting a backlink that points to your site added into an existing piece of content. The best way to use this strategy is to find content that is relevant to your niche that ranks well on Google. Then, reach out the site owner in order to coordinate a link placement.
The benefit of this strategy is a powerful backlink that can provide value for your site in less time because the linking page is already indexed, has backlinks of its own, and performs well in Google. Other strategies that involve getting a backlink place in a new piece of content can take longer to build up the SEO value for your site when compared to a niche edit placement.
Engaging in guest blogging
One surefire way to hit your DA goals is by curating guest posts for high-authority sites. Collaborate with other sites that have high authority in your niche through guest blogging. By contributing valuable content through guest posts to these sites, you can build relationships and earn valuable backlinks from referring domains, demonstrating the authority and relevance of your website.
Creating link worthy content
When aiming to increase your domain authority, it's essential to target high authority websites that are relevant to your industry. By producing first-class content that would capture the interest of such sites, you can attract good backlinks, drive referral traffic, and enhance your online visibility. Another effective strategy is to create high-quality, informative, and engaging content that is genuinely link-worthy and provides substantial value to your target audience. By offering valuable insights and solutions, you increase the likelihood of naturally attracting links from these high authority sites, generating relevant backlinks from referring domains, and ultimately contributing to the growth of your Domain Authority.
Monitor and disavow toxic links
Regularly monitor your backlink profile to identify any toxic or spammy links that can harm your site's Domain Authority. Utilize tools like Google's Disavow Tool to remove or disassociate from such links, ensuring that your backlink profile consists of high-quality links from trustworthy referring domains, safeguarding the authority of your website.
Note that you should use caution when using these advanced tools. If you don't use them the proper way, it could potentially harm how your site performs in Google Search results. In other words, you may need some expert help if this is your first disavowing endeavor.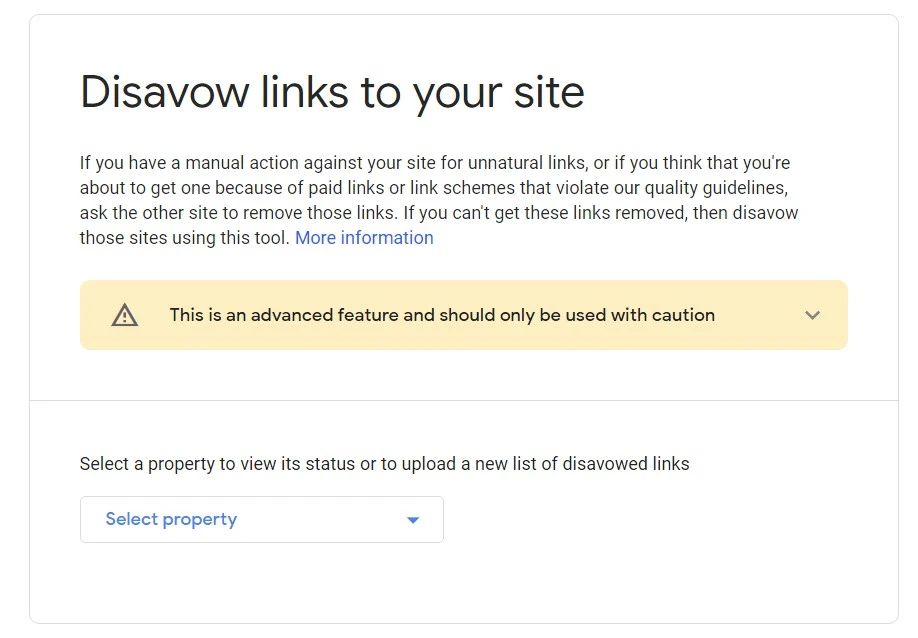 Utilizing broken link-building
Utilizing broken link-building is another powerful strategy to increase your Domain Authority. Broken link building involves finding broken or dead links, 404 errors or otherwise, on other websites and reaching out to the website owners to suggest replacing those broken links with links to your own relevant and high-quality content.
By identifying broken links on authoritative websites within your industry, you can offer a valuable solution to the website owner while also gaining a high-quality backlink for your website. Many companies even have helpful templates for doing this outreach that can help you.
Fixing your own broken links help keep your website healthy, potentially leading to a better DA score. You can easily check your own site and others with Ahref's Broken Link Checker, depicted below.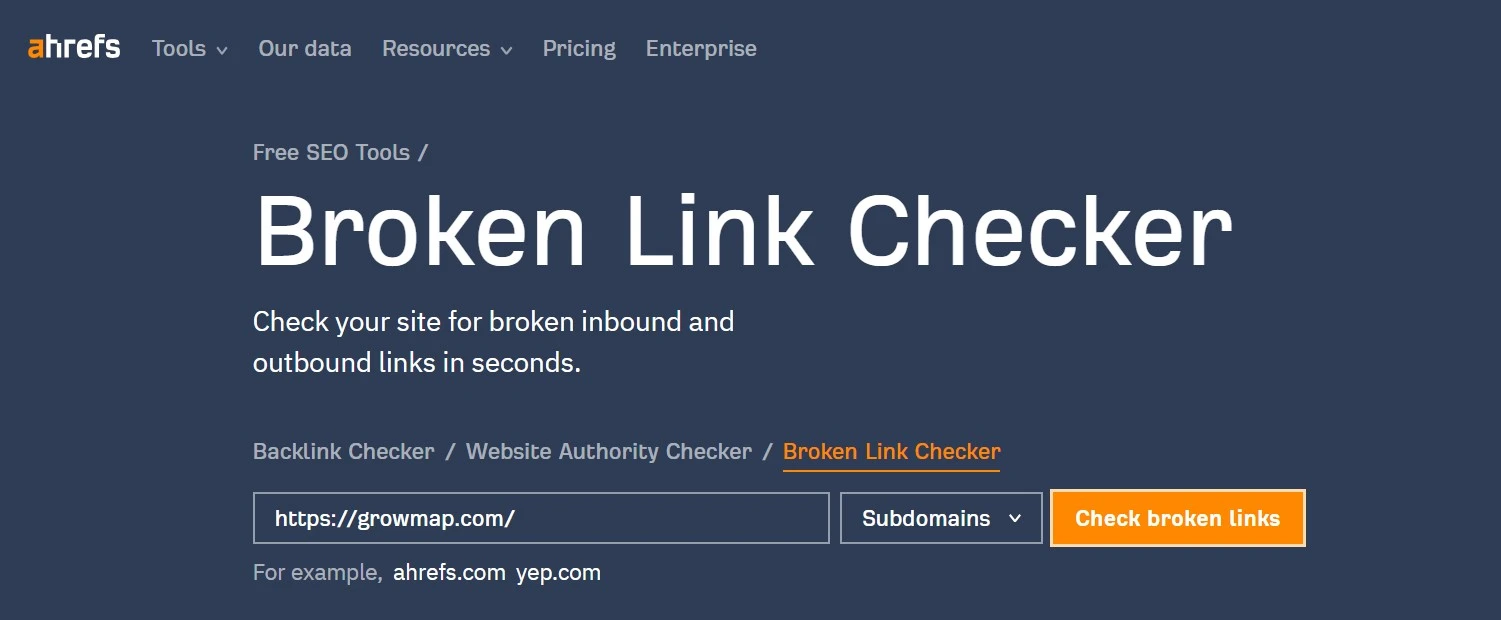 After inputting the URL, you can see the number of broken outbound and inbound links. Through the premium version of Ahrefs, you can access an array of advanced statistics, providing an excellent resource for optimizing your website's DA score.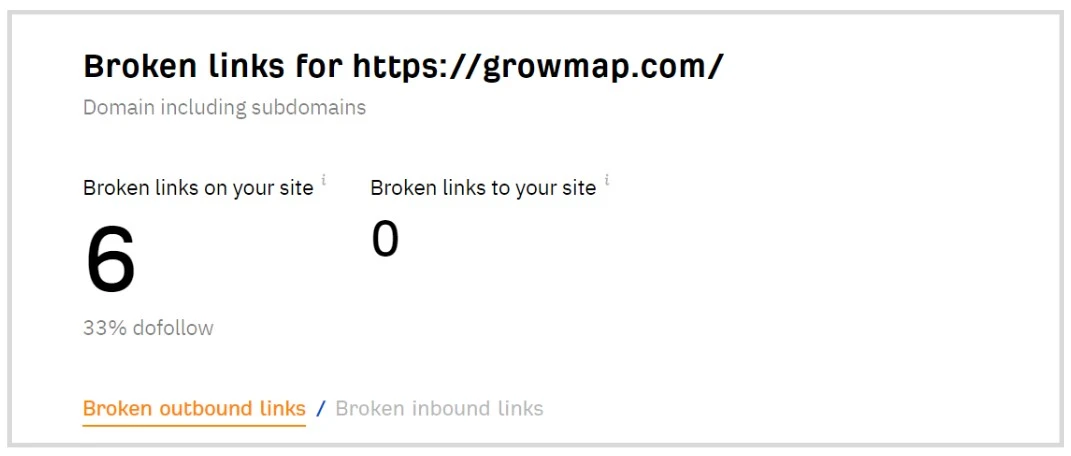 Building relationships and networking
To elevate Domain Authority, establish connections and build relationships with influencers and industry experts. Collaborate with them on content creation, seek their endorsement, or participate in industry events to gain valuable backlinks from reputable referring domains. Building strong relationships can lead to backlink opportunities that enhance your Domain Authority and strengthen your link profile.
Auditing your backlink profile
Regularly review and evaluate your backlink profile to examine the quality and pertinence of the links directed to your website. You can identify any low-quality links by logging into your Google Webmaster Tools account and selecting traffic. Evaluate the traffic, looking for toxic links that can potentially lower your DA. Then, take the necessary actions to enhance the overall integrity of your backlink profile. A thoroughly audited backlink profile contributes to an elevated Domain Authority.
Additionally, it is extremely important to conduct site audits to identify and remove any detrimental links. While backlinks are essential for your website's Domain Authority and search engine rankings, the presence of bad links can have a detrimental impact. Links originating from spammy websites can decrease your website's Domain Authority and, in severe cases, may even result in penalties imposed by search engines like Google.
Remember, you don't want this to happen to you (Source: SEO.com).

Leveraging social media and online mentions
Actively engage on social media platforms, build a strong social media presence, and encourage social sharing of your content. Online mentions and social signals can contribute to your website's authority and improve your Domain Authority. Engage with your audience and encourage them to share and interact with your content.
Blogger outreach
Blogger outreach is a common technique that simply refers to the practice of coordinating and organizing outreach campaigns specifically designed to earn backlinks for your site. These campaigns are targeted towards blogs and other publications that may be willing to place backlinks to your site.
Blogger outreach services are an easy way to get backlinks to your site, but its also possible to do this manual outreach on your own! We recommend trying tools like Pitchbox that help you organize and execute outreach campaigns.
2. Improve your On Page SEO
On-page SEO strategies are those that can be managed within your site to elevate search engine rankings and enhance the comprehension of your content. These tactics include optimizing your site's content, title tags, keyword usage, URLs, internal links, and other elements that contribute to on-site optimization.
In other words, optimizing your website's on-page elements can positively impact your DA. Pay special attention to the following:
Conducting a baseline DA assessment
Begin by assessing your current Domain Authority as a starting point. Use reputable SEO tools such as Moz's Link Explorer or Ahrefs to determine your baseline DA score and compare it to competitors or industry benchmarks. These tools provide comprehensive insights into your website's backlink profile, Domain Authority, and other relevant metrics, enabling you to make informed decisions and track your progress over time.
Optimizing meta tags and headers
Optimizing meta tags and headers plays an essential role in improving your domain authority correctly. Craft compelling meta tags and headers that accurately describe your content, incorporate relevant keywords and provide concise summaries. This strategic approach helps search engines understand the relevance and value of your pages and enhances your website's visibility and click-through rates in search engine results. By effectively optimizing meta tags and headers, you can increase the likelihood of attracting targeted organic traffic and improving your overall domain authority.
Improving internal linking structure
Improving internal linking is another essential tactic for boosting Domain Authority. Implement a well-structured strategy to guide users and search engines effectively. Ensure relevant anchor texts and links to enhance user experience and crawlability. Internal links are vital for search engines like Google to crawl and index your content, making them essential for boosting Domain Authority. Use accurate anchor text for consistency, relevance, and improved SEO and user navigation.
Providing valuable and relevant content
Consistently create high-quality, informative, and engaging content that aligns with your target audience's needs and interests. Focus on user intent and ensure your content provides useful insights, answers questions, and solves problems. You can also:
Creating Press Releases: Utilize press releases to promote your website. Many publishing platforms have high Domain Authority, making them valuable for securing quality backlinks. Obtaining links from reputable sources contributes to your link-worthy content and improves your Domain Authority.

Writing Long-form Content: Invest in creating comprehensive articles, blog posts, or guides that exceed 1,500 words. Long-form content provides in-depth information, addresses audience pain points, and offers valuable insights. Optimize headings, incorporate relevant keywords, and use visual elements to enhance readability. Long-form content boosts organic traffic, earns backlinks, and enhances Domain Authority.
A MOZ survey of digital marketers reinforces this assertion. When asked, they attributed long-form content and press releases, along with the following types of ideas, as effective in generating links.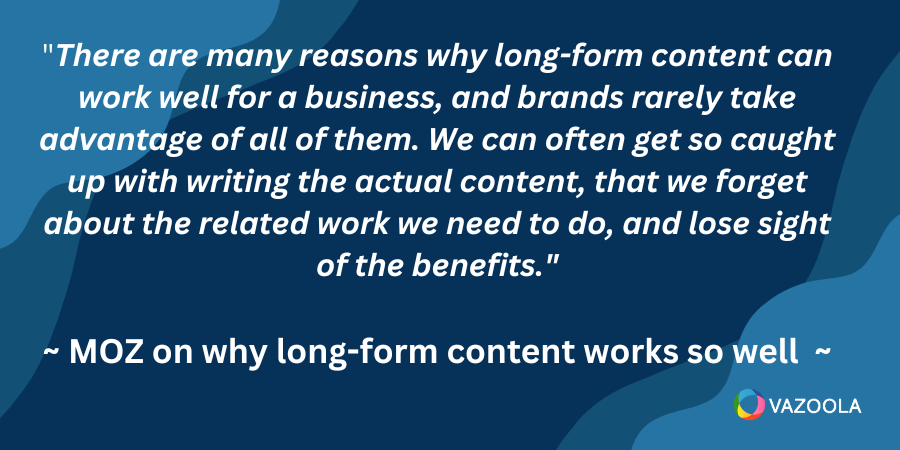 Boosting social signals and engagement
Social signals play a role in search engine rankings and can positively impact your DA. Consider doing the following to boost social signals and engagement:
Encouraging social sharing and interaction: Include social sharing buttons on your content to make it easy for visitors to share your content across social media platforms. Encourage social engagement and interactions to increase visibility and social signals.

Building a strong social media presence: Establish a robust presence on relevant social media platforms. Share your content, engage with your audience, and build a community around your brand. This can amplify your reach, attract followers, and strengthen your website's authority.
Enhancing user experience and website quality
Providing a seamless user experience and a high-quality website positively impact your website Domain Authority. Focus on:
Improving website design and navigation: Ensure your website has an intuitive and user-friendly design, making it easy for visitors to navigate and find information. A well-designed website enhances user experience and signals credibility.

Optimizing for mobile responsiveness: Optimize your website for mobile devices to cater to the increasing number of mobile users. A mobile-responsive website improves user experience and can positively influence your DA. Also, not having a mobile-friendly version of your website or a responsive website has a negative impact on your overall Domain Authority Score.

Providing valuable and relevant content: Continuously deliver valuable and relevant content that meets the needs of your target audience. Focus on user intent and ensure your content provides useful insights, answers questions, and solves problems.
Monitoring and measuring progress
Regularly monitor and measure your progress to track improvements in your DA. Use the following strategies:
Utilizing tools to track DA and SEO metrics: Take advantage of SEO tools that provide insights into your DA, backlink profile, and other relevant metrics. Monitor changes and trends to understand the impact of your strategies.

Analyzing data and making necessary adjustments: Analyze data from various sources, including website analytics and SEO tools, to identify patterns, strengths, and weaknesses. Make data-driven decisions and adjust your strategies accordingly to continuously improve your DA.
3. Improve Technical SEO
Technical SEO encompasses activities that directly influence how search engines index and crawl your website. This entails optimizing various technical aspects such as site speed, implementing structured data, and implementing other technical enhancements that can improve the overall visibility and accessibility of your site to search engines.
Increasing website speed and performance
Slow sites have massive bounce rates, which sounds the alarm to Google and other search engines. Optimize your website's speed and performance by minimizing page load times, optimizing images, and utilizing caching techniques. A fast and responsive website provides a better user experience, contributing to improved DA.
Optimizing your 404 page
When website owners delete pages or users mistype URLs, it leads to the display of a 404 error page. As part of technical SEO, optimizing the 404 page becomes vital. An optimized 404 page informs users that the requested page doesn't exist and provides helpful guidance or alternative suggestions. This optimization enhances the user experience, reduces bounce rates, and contributes to improving technical SEO by ensuring a seamless website navigation experience.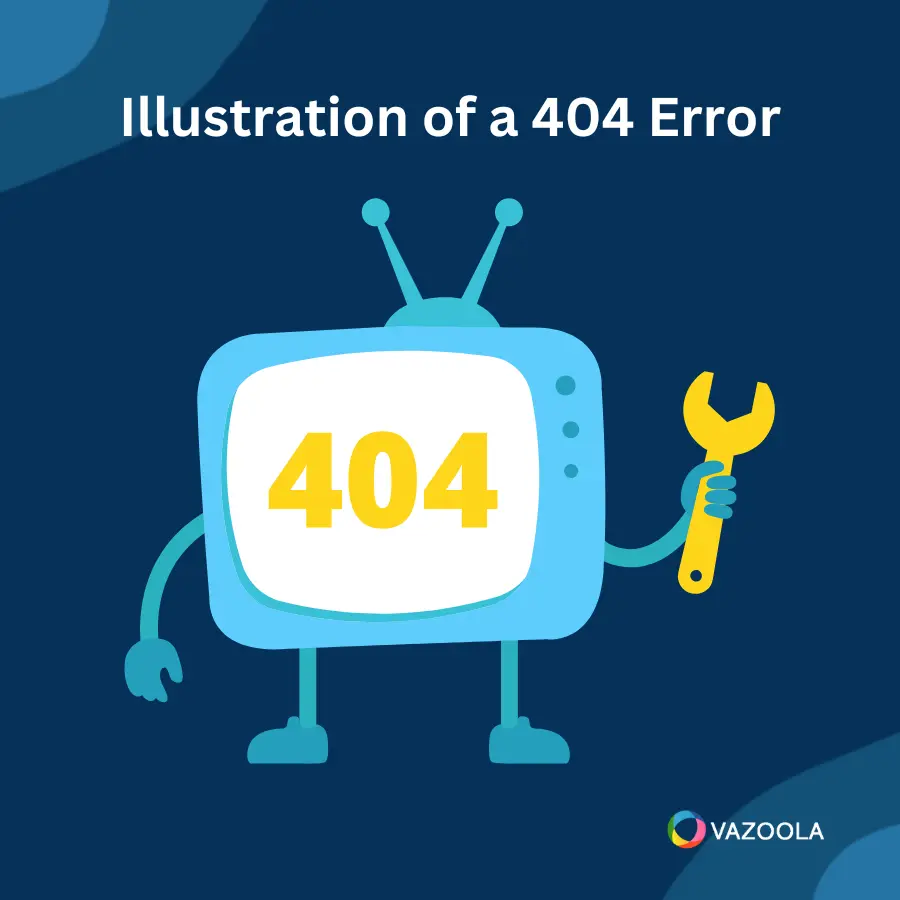 Implementing structured data
Adding structured data markup, such as Schema.org, provides additional information to search engines about your website's content. It helps search engines understand the context and meaning of your pages, enhancing visibility and attracting more targeted traffic.
Utilizing Hreflang and canonicalization
Hreflang tags help optimize international SEO efforts by specifying which language or regional versions of your content to display to users in different countries. Canonicalization, on the other hand, helps consolidate duplicate or similar content under a preferred URL, preventing issues with duplicate content penalties and improving SEO.
Optimizing XML Sitemaps
XML sitemaps serve as a guide for search engines, indicating the structure and organization of your website's content. Regularly updating and optimizing your XML sitemap ensures that search engines can easily discover and index your pages, improving crawlability and indexation.
How to Use Domain Authority for Your SEO Strategy
There are a number of practical applications for domain authority when working on SEO. Let's say we have two websites that are trying to rank for the same keyword, "CRM software benefits", which has a difficulty of 46. Website "A" has an Ahrefs Domain Rating of 48. Website "B" has a Domain Rating of 25.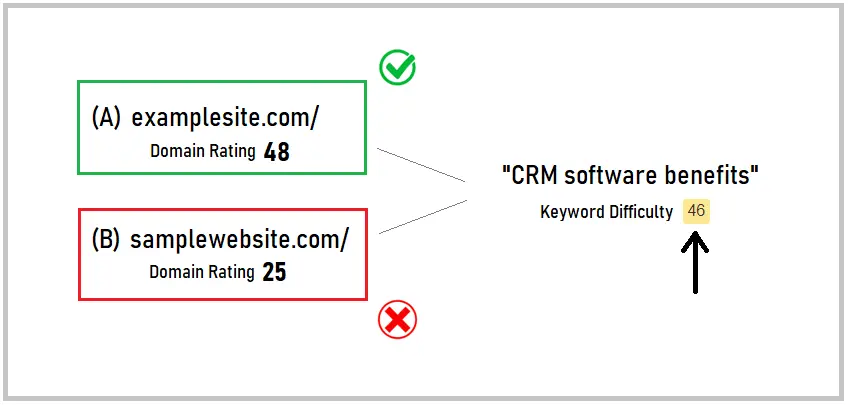 You can see from the visual above that website "A" is more likely to rank for the target keyword. This is because domain authority scores are useful for making informed SEO strategy decisions, like targeting appropriate keywords. In this case, Ahrefs assigns keyword difficulties that are calculated by assessing the backlinks of the top 10 results for any given keyword. This makes for a metric that works synergistically with Domain Rating. A similar concept applies to Moz as well.
Another way to use Domain Authority is to identify who your closest competitors are. This can help you identify targets for you to overtake in the SERPs and the right strategies to pursue.
While Domain Authority can also be used when link building to help determine the quality of a potential backlink. You can download free SEO toolbars that allow you to quickly reference the Domain Authority of any site you are visiting.
It can also be used as a benchmark when assessing your link-building efforts over time. The more high DA sites that link back to you, the higher your scores should go.
While doing this, you can use SEMRush's Backlink Analytics Tool to quickly view the unique domains that link to your website.
Simply enter a domain or URL and click the "Analyze" button.

The dashboard will quickly show the number of referring domains.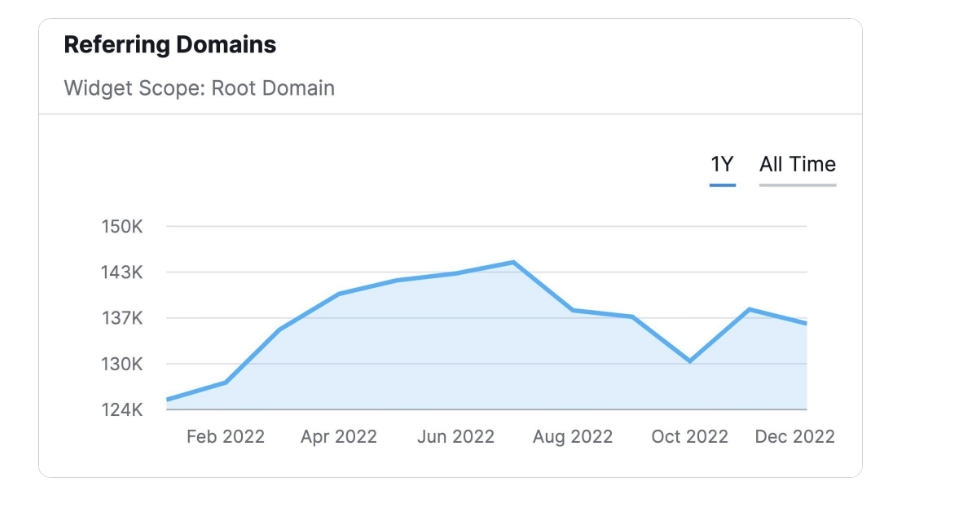 Source: https://www.semrush.com/blog/off-page-seo/
Domain Authority vs. Page Authority
You might have heard about something called Page Authority (PA). It is very similar to DA, but it refers to the authority of a single page instead of an entire domain. You need to care about both scores. Like DA, PA is a metric created by Moz.
For example, if you notice that you have one page that appears to be doing better than the others, there is a chance that the authority of that page is higher than the authority of the other pages on your website. As a result, you should take a look at why that page is doing so well.
Then, you want to do everything in your power to increase the authority of your other pages by duplicating the design of the pages that are currently doing the best.
Meanwhile, understanding the differences and relationship between DA and PA is essential for optimizing your website's performance in search engine rankings. Let's explore these concepts and learn how to effectively increase both DA and PA simultaneously.
Definition of Page Authority
Page Authority is also a metric developed by Moz. It provides insights into the likelihood of an individual web page ranking well in search engine results.
Although they focus on different scopes (individual pages vs. entire domains), they provide complementary insights into the overall SEO performance of a website.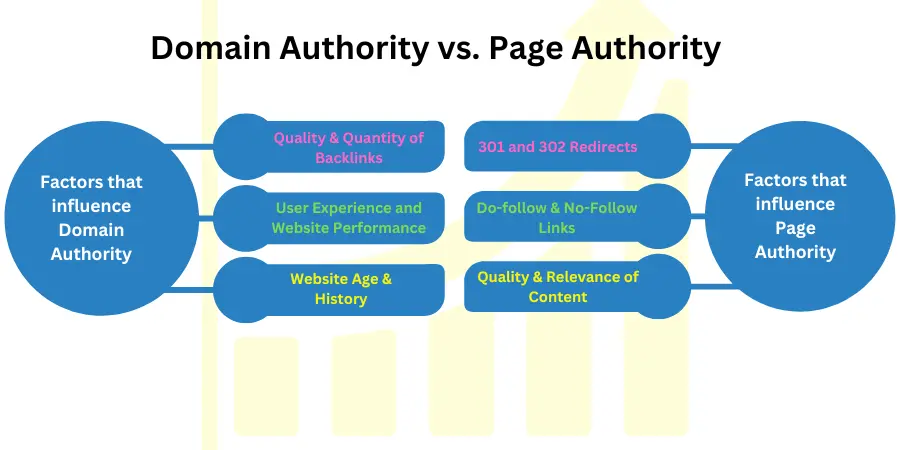 PA serves as a valuable tool in assessing the ranking potential of a specific page. It does this by considering various factors such as the quality and relevance of its content, 301 and 302 redirects, the quantity and quality of its backlinks, and other SEO-related indicators.
It provides website owners and SEO professionals with an indication of how well a particular page is optimized and positioned to compete in search engine rankings.
How is a Site's Page Authority Calculated?
Page Authority (PA) is calculated using a methodology similar to that of Domain Authority but at the individual page level.
It leverages data from the Mozscape web index and considers various factors, including link counts and more than 40 other considerations. However, it does not take into account specific on-page elements such as keyword usage or content optimization.
Similar to DA, PA is calculated using a machine learning algorithm, which means it will fluctuate as the data being fed into the algorithm changes. This makes PA best used as a relative metric for comparing against other pages rather than as an absolute value that determines the rankability of a single page.
Key Differences between DA and PA
While both DA and PA are metrics developed by Moz to assess a website's ranking potential, there are some key differences between the two: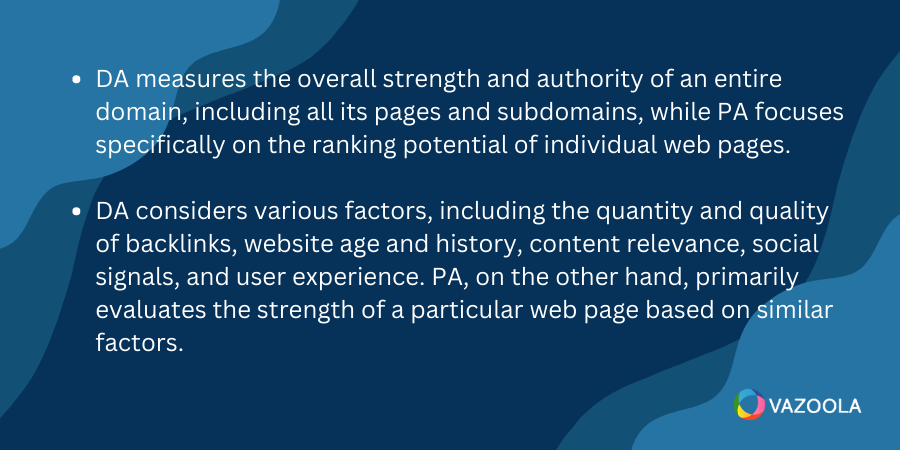 How to Increase Domain Authority and Page Authority Simultaneously
You may wonder if you should prioritize either DA or PA to enhance your website's performance. However, the best strategy is to focus on improving both metrics simultaneously.
By implementing effective SEO practices and optimizing your website and individual pages, you can enhance both DA and PA, leading to improved search engine performance overall.
For instance, research conducted by Ahrefs indicates that the number of links pointing to a page is a better indicator of its ranking potential on Google compared to Domain Rating (DR). Moz also considers the links pointing to a page when evaluating its Page Authority. As you build your Page Authority, your Domain Authority will typically increase as well.
You can implement several strategies, including:
Building high-quality and relevant external and internal links to both your domain and individual pages.

Performing on-page SEO optimizations, such as adding more images, creating comparison tables, updating content with new information, and expanding the depth and relevance of your content.

Creating exceptional and optimized content that attracts natural backlinks and engages users.

Optimizing on-page elements, such as meta tags, headers, and internal linking, for improved search visibility.

Providing an excellent user experience and ensuring your website performs well in terms of speed, mobile responsiveness, and usability.
As you can see, PA and DA serve different purposes but work together to improve a website's search engine performance.
While DA provides an overview of a website's overall authority, PA focuses on individual page rankings. Both metrics should be considered and improved to achieve a well-rounded SEO strategy.
Making Your Brand an Authority Website
We hope you enjoyed reading about how to increase Domain Authority and found it helpful.
To recap: To increase your DA and establish your brand as an authority website, it's important to position yourself as an expert in your industry. Conducting regular link audits is essential to gain insights into the sources and quality of your backlinks, ensuring they align with your brand's reputation and goals. By doing so, you can improve your online visibility and attract high-quality websites to link to your products and services, which significantly contributes to your DA.
In addition, maintaining consistency and relevance in your link-building efforts is key to further strengthening your website's authority and Domain Authority. By consistently providing valuable and relevant content, engaging with your audience, and fostering meaningful relationships with authoritative sources, you can enhance your brand's credibility and solidify your position as an industry leader.0
Remember to regularly audit your links to track their origin and quality, allowing you to maintain a clean and reputable backlink profile. By implementing these strategies, you can boost your website's authority, increase your Domain Authority, and establish your brand as a trusted influencer in your field.
FAQs
Here are some of the questions we receive frequently at Vazoola.
How long does it take to increase domain authority?
Increasing your website's Domain Authority can take up to 9 months or even longer before you start seeing noticeable improvements in your DA. However, this does not mean that progress cannot be made within a shorter timeframe.
When you implement effective strategies and follow best practices, it is possible to increase your Domain Authority in a matter of 30 days or less.
Unfortunately, there is no magic formula to increase your Domain Authority straightaway. Increasing it is a long-term process that depends on several factors, including:
Current Domain Authority Score: The starting point for improving your DA is your current score. If your website already has a higher DA score, it may take relatively less time and effort to see further improvements. However, if your DA score is low, it may require more time and focused strategies to increase it.

Competitiveness of the Industry: The competitiveness of your industry or niche can influence the time it takes to improve your DA. In highly competitive industries, where many websites are vying for top positions, it may take longer to build a strong backlink profile and establish authority. On the other hand, in less competitive industries, you may see quicker progress in improving your DA.

Quality and Quantity of Existing Backlinks: The quality and quantity of your existing backlinks are critical factors that influence the timeline for increasing your Domain Authority (DA). It's important to monitor the links pointing to your site and ensure they are of high quality. If your website has a significant number of spammy linking domains, it can negatively impact your DA.

On the other hand, if your website already has a strong portfolio of good-quality backlinks from authoritative websites, you may experience faster improvements in your DA.

However, if your backlink profile is lacking or consists of low-quality links, it will require more time and effort to acquire good-quality backlinks and build a robust backlink profile. Focus on gradually improving the quality of your backlinks to positively impact your DA over time.

Consistency and Effectiveness of SEO Efforts: Consistency and effectiveness in implementing SEO strategies are essential for improving your DA. Regularly publishing high-quality content, acquiring relevant and authoritative backlinks, and optimizing your website's on-page elements contribute to your overall SEO efforts. Consistent and effective SEO practices can help expedite the process of increasing your DA.
It's important to note that the timeline for increasing your DA is not set in stone and can vary based on these factors. It requires patience, consistent efforts, and a long-term approach to see significant improvements. But by focusing on these factors and implementing effective SEO strategies, you can gradually enhance your website's Domain Authority and improve its search engine performance over time.
What is the Best Way to Increase Domain Authority?
Making sure your site is technically sound, has good content, and fast page load speeds are a good foundational steps. Then, we have found that getting high quality backlinks pointing to your domain to be the best way to increase Domain Authority.
One clever strategy is building a strong and diverse link profile through link-building. Of course, you'll also want to take a proactive approach to gain success with your link-building.
To do this, contact authoritative sites and ask them to link to you. Through effective link-building, you acquire high-quality links from authoritative and relevant websites by building relationships with industry influencers, engaging in guest blogging opportunities, and consistently creating valuable content.
Actively seek opportunities for collaboration and secure backlinks to your site. Additionally, internal link-building helps strengthen your website's link profile by properly interlinking webpages and guiding users and search engine crawlers to relevant content.
Ensure your link profile consists of diverse and authoritative sources. Monitor and manage your link profile regularly, identifying and disavowing any toxic or spammy backlinks. Analyze the performance of your backlinks and focus on other aspects of SEO and website optimization, such as creating high-quality content and enhancing user experience.
Page Authority vs. Domain Authority: Which Should You Use?
Page Authority (PA) and Domain Authority (DA) are two crucial metrics to use in your SEO strategy, as each serves a distinct purpose. PA focuses on the authority of individual web pages, predicting their ranking potential. Meanwhile, DA assesses the overall authority of an entire website or domain. Both metrics offer valuable insights into your website's performance.
While PA allows you to evaluate and optimize specific page performance, DA provides a broader assessment of your website's overall authority and competitiveness. By considering both metrics, you can gain a comprehensive understanding of your website's SEO strength.
To achieve success in search engine rankings, it's important to focus on improving both PA and DA. Enhancing individual page authority through quality content, relevant keywords, and optimized on-page elements can improve your website's overall performance. Simultaneously, building a strong and authoritative domain through a diverse and high-quality backlink profile contributes to higher DA.
By implementing strategies that boost both PA and DA, you can enhance your website's search engine visibility, attract traffic that's organic, and establish a solid online presence. Remember that SEO is a holistic approach, and optimizing both page authority and domain authority is key to achieving long-term success in your online endeavors.
Do you have to use Moz for domain authority metrics?
No, you don't have to use Moz specifically for domain authority metrics. Although Moz created the domain authority metric, there are other SEO tools that have developed their own versions to assess website authority. For example, Majestic offers the Domain Authority metric Site Explorer, and Ahrefs provides Domain Rating. These alternative tools can be used to analyze and track your website's authority if you prefer them over Moz.
While Moz's domain authority is widely recognized and utilized in the SEO industry, Majestic's Site Explorer and Ahrefs' Domain Rating offer alternative perspectives and calculations of website authority. These tools consider various factors such as backlinks, link quality, and website performance to determine the domain rating or authority.
The choice of which tool to use ultimately depends on your preferences, needs, and familiarity with the interface and features offered by each tool. It's important to explore and compare the capabilities of different SEO tools to find the one that aligns best with your goals and provides the most accurate and valuable insights for your website's domain rating.
Remember, the goal is to assess and track your website's authority accurately, regardless of the specific tool you choose. Whether you use Moz, Majestic, Ahrefs, or another reputable SEO tool, the key is to utilize a reliable and comprehensive metric to gauge your website's domain rating effectively.
How Many Links Do I Need to Increase Domain Authority?
The exact number of linking domains required to increase Domain Authority (DA) cannot be determined as it is not solely based on the number of linking domains. Leading SEO tools like Ahrefs and Moz consider various factors beyond just the number of linking domains to calculate website authority rankings.
While the specific number of linking domains may vary, it is important to focus on the quality and relevance of linking domains rather than solely aiming for a specific quantity. Search engines prioritize authoritative and trustworthy backlinks from reputable sources. It is better to have a few high-quality linking domains than a large number of low-quality ones.
What are the most important factors for Moz Domain Authority?
The Moz algorithm is comprehensive and complex, but some of the most important factors it considers are:
Link Profile - This includes both the internal and external links from your webpage. If your content links to high authority websites and is also linked back to other reputable sites, you're likely to achieve a higher Domain Score.

Content Quality and Relevance - The quality and relevance of your website's content are another essential factor in the calculation of DA. Content that is valuable, high-quality, and directly relevant to your audience can attract more quality backlinks and keep visitors engaged, which boosts your Domain Score.

Social Signals - Although not directly related to the technical aspects of your website, social signals (likes, shares, comments, etc.) on platforms like Facebook, Twitter, and LinkedIn can also influence your Domain Authority Score. High engagement levels on social media can suggest to search engines that your content is valuable and authoritative, leading to an increase in your DA.

Site Structure and User Friendliness - Aside from links, the user experience offered by your website and its structure are vital factors in achieving a high DA. It's essential for your site structure to be easily crawlable by search engines like Google and for the site to provide an engaging and navigable experience for visitors.

MozTrust - This factor evaluates the trustworthiness of websites linking to your page. For instance, receiving a link from a university webpage, governmental site, or a large organization's website will likely boost your Domain Authority Score.

Root Domains - In analyzing your link profile, Moz also scrutinizes the number of unique backlinks. Even with 100 links from a single website, Moz considers this as just one root domain. As a result, earning backlinks from a variety of websites is essential to enhancing your DA.

MozRank - This metric accounts for the number of websites linking to a specific webpage, as well as the quality of these websites linking back to yours.
Moz's proprietary algorithm evaluates these factors and more to determine the overall authority of a website. It's important to remember that Domain Authority is a relative metric, meaning its value is best understood in comparison to other websites rather than in isolation.
Written by Andrew Sperl

As Vice President and a Partner at Vazoola, Andrew has his hands in all aspects of the business from sales to marketing to employee development and much more. He has passion for all aspects of building and growing a business, and has devoted himself to becoming an expert on off-page SEO.