When it comes to link building the options are simple. You can outsource link building or do it in house (or a combination of both). As far as we're concerned, not building links at all is NOT an option! So many companies choose to outsource link building as a strategy to improve their backlink profiles because it saves them time and money while improving results.
Brian Dean's Backlinko analyzed 11.8 million search results on Google. Backlinko confirmed that links and the number of domains linking to your site matter most.
Top ranking results on Google have 3.8 times more links. Your competitors are building links. So if you want to keep up, you will need to do it, too.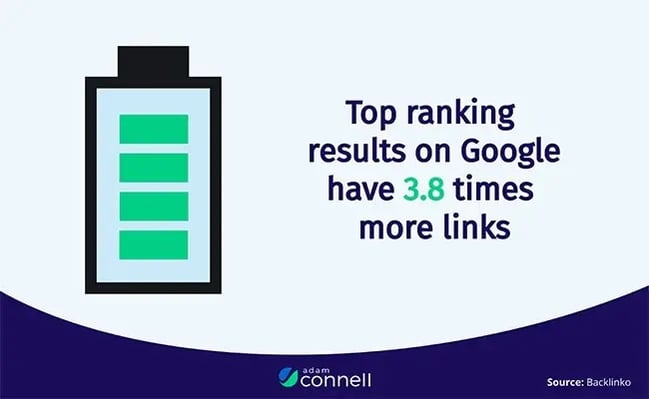 Key Takeaways for Outsourcing Link Building
To Outsource Link Building means to hire an agency or professional outside of your organization to build links for you.
Outsourcing link building to a reputable agency is faster and better because you benefit from the scale, quality, expertise, and technology agencies provide.
Results from outsourced link building can often be seen in just 3 months.
When outsourcing, beware of link building scammers and low quality backlinks!
Link building budgets are often set based on competition.
Table of Contents:
- What is Outsource Link Building?
- Why Outsourcing Link Building is Faster and Better
- How Long Before Link Building Efforts Impact Rankings and Traffic?
Examples Showing Traffic Growth Due to Link Building
- Major Link Building Mistakes You Must Avoid!
- Beware of Outsource SEO Link Building Scammers!
- How Much Does Link Building Outsource Service Cost?
How to Set Your Outsource Link Building Budget
- Step-by-step Process: How Many Links Do You Need to Outrank Your Competitors?
How to Examine the Page Level Link Gap
How to Tell That You Need More Links
How Targeted Does Your Anchor Text Need to Be?
Pros of Using Outsourcing Link Building
Outsource Links to Get Results in Search Engine Rankings
- Link Building Campaign Process Failures
Cons of In House Link Building
When Should You Outsource Link Building?
Pro Tips on How to Outsource Link Building with Ease
What Is the Best Way to Outsource Link Building for Your Brand?
- How to Outsource Backlinking with Our Team
What is Outsource Link Building?
To outsource link building is simply to hire someone outside of your organization to work on securing new backlinks to your site. For example, you can hire a link building agency, a freelance SEO, or even a low cost gig on Fiverr (we highly recommend against this). When you hire someone to get backlinks you outsource link placement. In short, instead of putting in the effort to build links yourself, you pay someone else to do it for you.
First, learn a little about the basics of link building. You need to understand what quality backlinks are. This Neil Patel content on the right way to do link building and video explain:
Next, decide who will set your SEO strategies. Is that something your in house digital marketing team can handle?
Do you have an SEO on board who can run your link building campaigns? Consider having your SEO do on-page SEO and outsource your link building activities to a white label link building service.
There are many types of link builders. Make sure you know what you are getting. Are you hiring the person performing the services or a middle man?
Ask anyone you plan to hire whether they are outsourcing to other link builders or vendors.
There are also link building agencies specializing in only link building. And, finally, you could outsource link building to a link building vendor yourself.
Why Outsourcing Link Building is Faster and Better
Once you learn how to outsource link building, you may wonder why you did not do so sooner!
We doubt that you want to spend your time focusing on link building for SEO. There is a steep learning curve involved in doing it yourself.
Do you have the talent in-house? What about the premium tools required to vet sites and set strategy? Do you have the experience to use these tools and the budget for subscribing?
Also, to build links at scale, you need connections. How many relevant relationships do you already have? Link building platforms have spent years growing the ability to get links quickly!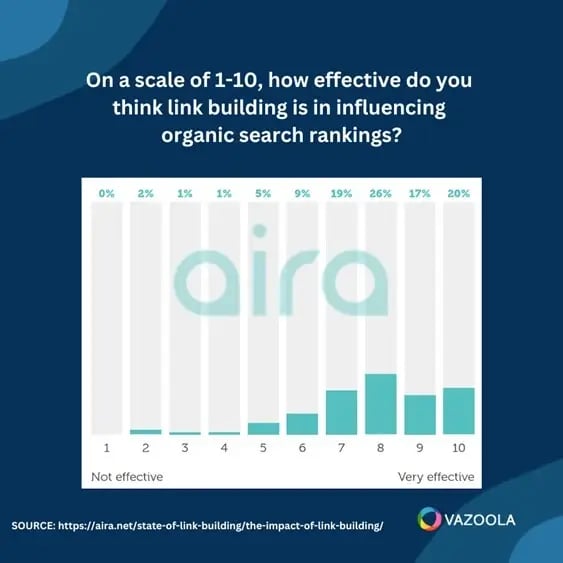 Aira asked respondents how effective link building is in influencing organic search rankings. In their State of Link Building Study, 82% of respondents chose effective or very effective (7-10/10).
The link building process is a critical component to any successful SEO campaign. It is also a must-have for any branding campaign.
But getting the incoming links you need can be a challenge even in the best of situations.
By outsourcing at least some of your link building processes, you can be getting new links in just a few days.
That is why the use of outsourcing link building tends to be the fastest, most effective solution. And it can cost less than doing it in-house.
How Long Before Link Building Efforts Impact Rankings and Traffic?
Search Engine Journal contributor Alexandra Tachalova explained the factors influencing link building effectiveness.
She recommends giving your link building 3-12 months to see the full results. Additionally, Krestina Kledzik explains this in her Moz case study:
"It seems that each link has a small to medium effect initially, but that effect increases over time. If you add a lot of links at once, you're not only going to see faster results, you're going to see much bigger results over time."
In their State of Link Building Study, Aira asked marketing agencies how long it took to begin to see results. They answered:
10% within 1 month
49% chose 1-3 months
30% mentioned 3-6 months
11% said within 6-12 months
0% mentioned it taking over a year
Are your competitors doing link building? If they aren't, your link building efforts can pay off faster. If they are, you will need to get serious about your link building!
Examples Showing Traffic Growth Due to Link Building
Here are some examples of sitewide traffic increases achieved by Vazoola clients. They can give you an idea of potential link building results.
The graphs show the traffic growth rates of four different domains. Notice that the growth trends vary, but always in an upward direction.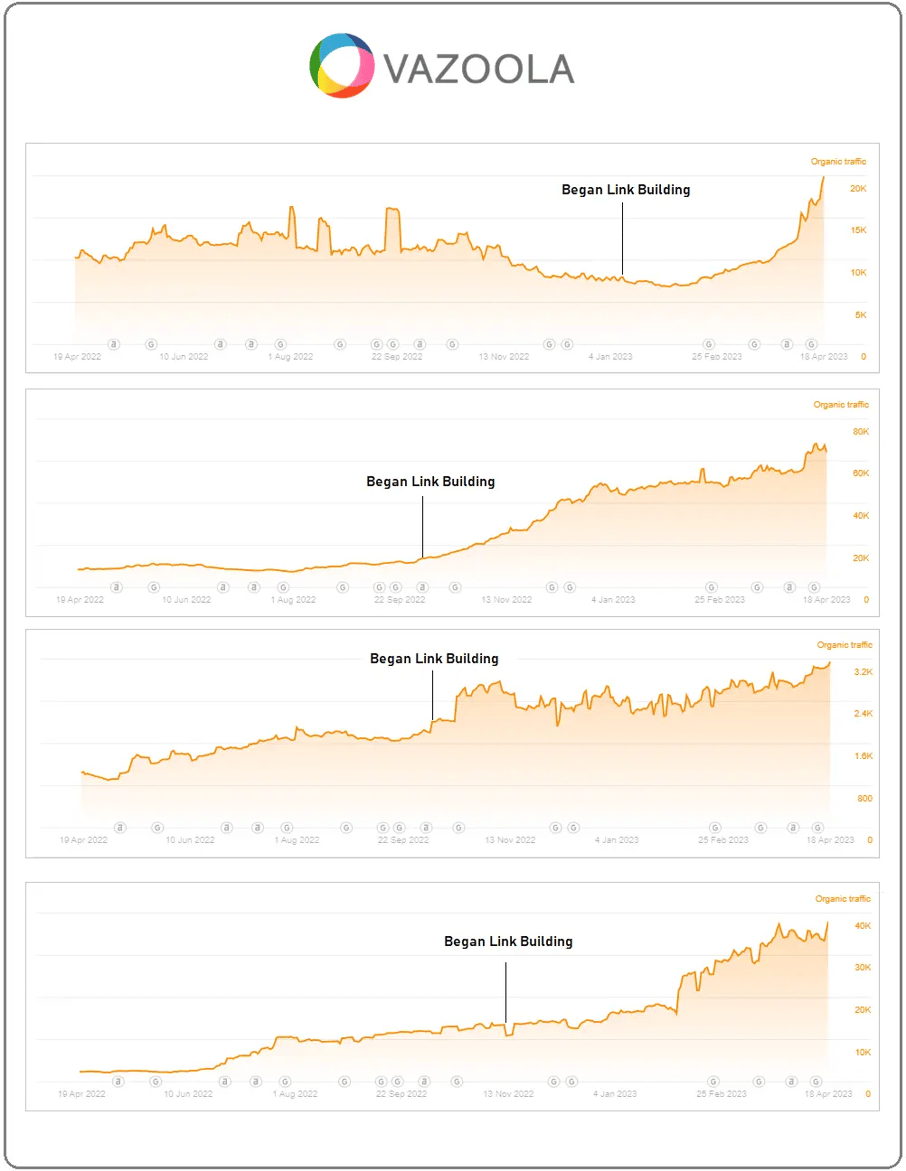 And it is worth noting that the lower your site currently ranks, the more effect each link has. The Moz Kledzik case study mentioned above showed this.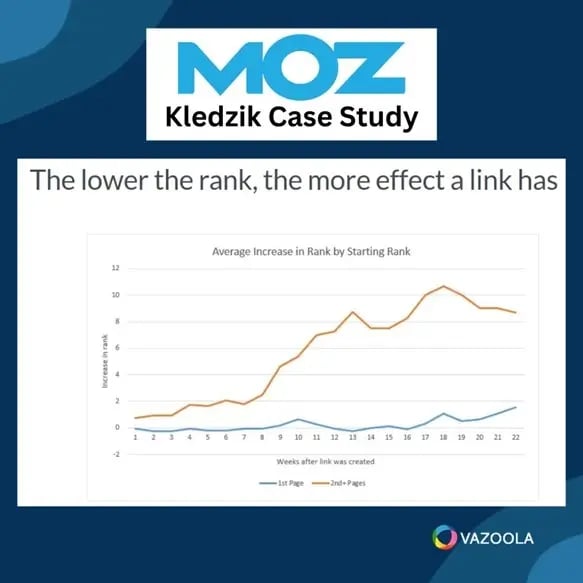 Whether your site is currently ranking well or not at all, link building will work for you! But make sure you avoid the common link building mistakes that many make.
Major Link Building Mistakes You Must Avoid!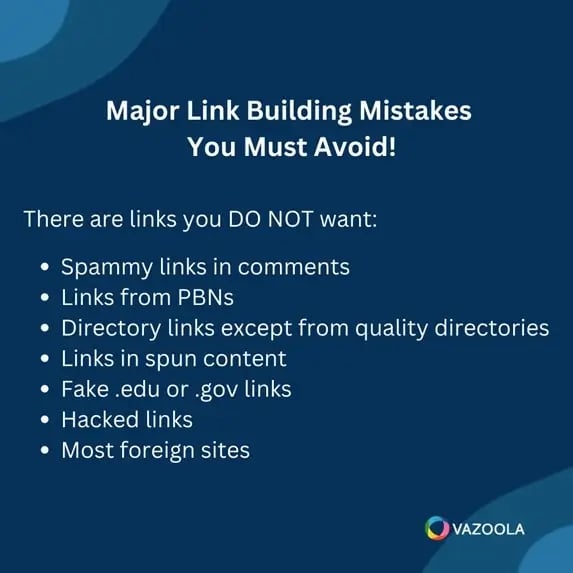 The only thing worse than no backlink profile is bad links. Beware of poor quality and black hat link building agencies and freelancers.
Many link building companies are little more than spammers. Most of these people know very little about search engine optimization.
They find plenty of naive site owners willing to pay them to leave spammy comments. Comment links by default should be nofollow. And even if they are dofollow, you don't want them.
Links You Do NOT Want!
Spammy links in comments
Links from PBNs
Directory links except from quality directories
Links in spun content
Fake .edu or .gov links
Hacked links
Most foreign sites
It is hard to believe that spinners still exist. Google made article spinning ineffective over ten years ago. Always avoid it and other link schemes.
Search Engine Journal agrees that some directories are still worth using. But always avoid directories that are generic or fail to moderate submissions.
Never deal with hackers selling links on sites the owners of those sites haven't seen, yet. They will get deleted.
Don't waste your link building efforts! You only want relevant links from real sites that have traffic and at least some site authority, and white hat link building services can help you achieve this.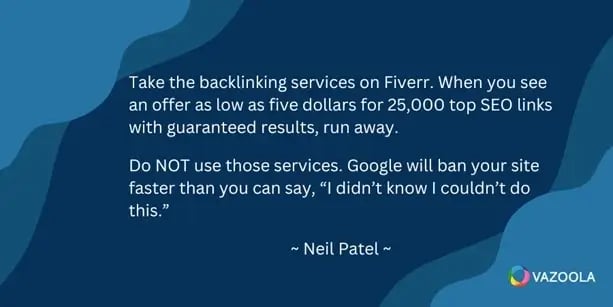 Beware of Outsource SEO Link Building Scammers!
There is a major difference between a high quality link building agency and a scammer. There are probably more scammers masquerading as link building agencies than actual link building agencies.
Make sure you aren't outsourcing link building efforts to thieves! Do your due diligence and investigate any link building agency before you contract with them.
They often claim to have sites they do not have. And they charge in advance hoping you won't know how to reverse the charges when they don't deliver!
That is one of many known scams.
How Much Does Link Building Outsource Service Cost?
How much you choose to spend on link building depends on what your goals are and how tough your competition is.

How strong is the site authority of your competitors' domains? And how many incoming links do they have? Also, how powerful are those links?
What keyword phrases do you want to outrank them on? Your budget must align with your goals. Vazoola has experience working directly with clients to establish budgets and pricing so they know exactly what your costs will be ahead of time!
The bottom line is that even investing a small amount is better than building no links. If you are very serious, read on for how to determine how many and what quality of links you need.
How to Set Your Outsource Link Building Budget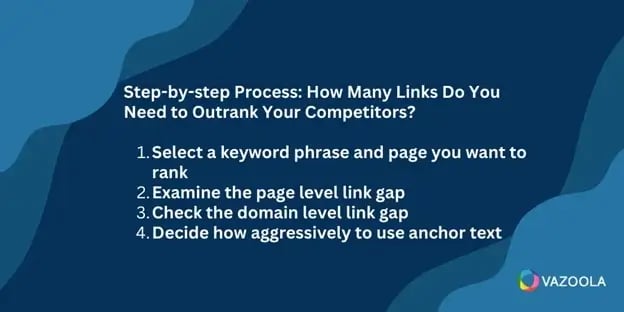 Good link building strategy starts with studying your backlink profile. Determine how many links of what quality you are likely to need.
Nathan Gotch, Founder of Gotch SEO shares how in this video:


Step-by-step Process: How Many Links Do You Need to Outrank Your Competitors?
Select a keyword phrase and page you want to rank.
Examine the page level link gap.
Check the domain level link gap.
Decide how aggressively to use anchor text.
We'll elaborate on each of those steps below. Building backlinks to content or linkable assets is safest. Links to sales, category, and lead generation pages are riskier.
How much are you willing to invest to rank? To determine that, follow the steps below.
How to Examine the Page Level Link Gap
Look at your competitors to find out how many links they have to the page on their sites that you want to outrank.
Average the DR of the links your competitors have. Is the DR of your site similar to the DR of your competitors?
The higher yours is, the easier it will be for you to outrank their content.
Check the Domain Level Link Gap
Look at each individual competitor's page. Filter to dofollow links only. Sort by Ahrefs Domain Rating (DR). How many links higher than DR40 do they have?
Get a good idea what type and quality of links your competitors have. Then go after similar links for your own site.
Focus on relevant links in the DR ranges required to outrank your competitors. Focus on relevant links in the DR ranges you need to outrank the other content.
How to Tell That You Need More Links
You need more links any time you see stagnation in your:
Ranking (unless you're #1)
Traffic
Incoming links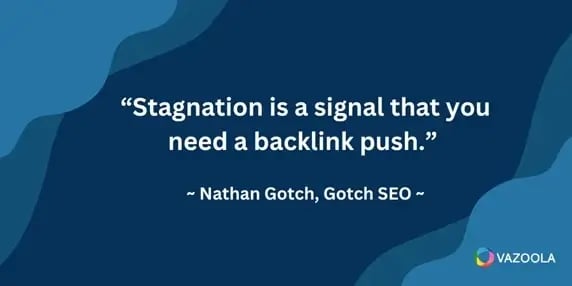 How Targeted Does Your Anchor Text Need to Be?
Are your competitors using aggressive, exact match anchor text? If they are, consider using similar anchor text a few times.
Be strategic in what sites you want your commercial money phrases on. Don't waste them on the smallest value links you build. Use less important anchor text on those.
And do what you can to get your best anchor text on the highest DR incoming links you build!
Should You Go for Higher Risk or Editorial Links?
Keep in mind that you want to acquire high quality relevant links. It is safest to link to your very best content and linkable assets.
Then link those pages internally to your sales, category, and lead generation pages.
Although you can build links to those pages, they will always appear to be less organic. This is because most writers do not link to sales or category pages.
Understanding Editorial Links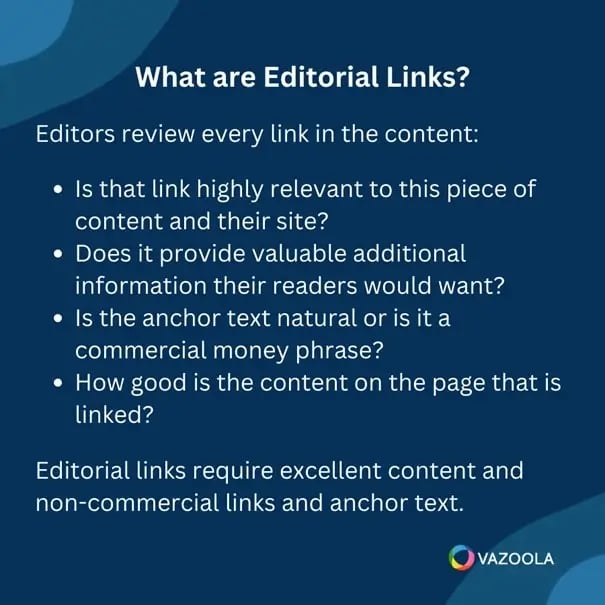 Do you want organic traffic? If yes, you need to understand why writers and editors would link to your content.
Imagine you're the editor of a major site. You're reviewing content one of your writers submitted. Editors scrutinize every link in the content.
Is that link relevant to this piece of content and their site?
Does it provide valuable information their readers would want?
Is the anchor text natural or is it a commercial money phrase?
What is the quality of the content the writer chose to cite by linking to it?
Good editors will remove links that are not relevant. They often change anchor text to avoid commercial pages and money phrases.
Commercial Pages, Search Intent or Buying Intent
A "commercial page" is any page that offers your products or services. Editors feel that any anchor text that has a search intent or buying intent is commercial.
"Commercial anchor text" is also referred to as "money phrase anchor text". And, an organically given editorial link will not usually link to any commercial page.
The rare exception would be to an exceptional informational page that also has commercial intent.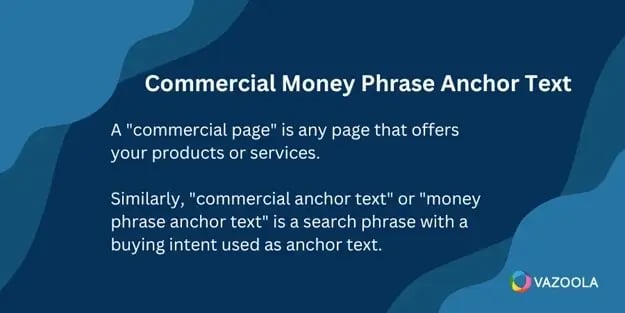 Should You Risk Linking to Commercial Pages?
Only you can decide how much risk in link building you want to take. There are ways to create content that makes linking to a product, category or service page logical.
For example, if someone is writing about the type of products you sell, they might want to mention and link to your product or category page.
Similarly, a publisher might be writing about SaaS platforms. In that case, it could make sense for them to link to your pricing page if it contains information for making a decision between your service plans.
Ranking Your Money Making Pages
Nothing will convert better than ranking your money making pages. So you do want to take this risk IF you do it wisely.
Align your link building and content creation with search intent. Do it well, and you can even attract links that bring you more organic traffic.
TIP: Think about how sites linking organically would use links. Then tailor your link building efforts to a similar way of linking.
AVOID: Don't put commercial links randomly into any old content where they would not naturally occur.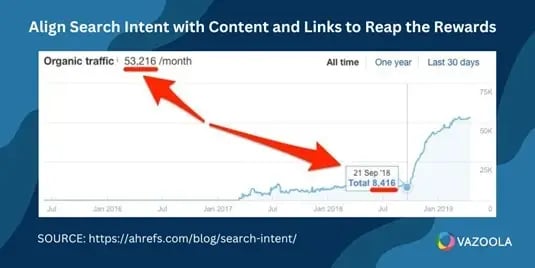 Pros of Outsourcing Link Building Needs
The major advantage an experienced link building provider has is relationships. They may already have access to thousands or even tens of thousands of websites.
An in house link builder is often starting from scratch. Unless they're well known in your industry, it will take an in-house team many times as many hours to build links.
Unless you can afford an in house specialist and others to support their efforts, you're better off outsourcing your link building.
Just one person cannot:
Create the strategy
Find the placements
Do the pitching
Write all the guest posts
That is, if you want them to do a great job for you. When guest blogging is a major part of your strategy, take on a link building partner. Or at least hire a freelance writer. Or do both.
In house link building can make sense for a corporation. But for a small business, using in house link builders usually does not make sense.
It is likely that outsourcing your link building work is a better idea.
Outsource Links to Get Results in Search Engine Rankings
Why are links so important? Relevant and high-quality backlinks tell search engines that your website is valuable.
That is why having backlinks – those that are on other sites that point to your website – is so valuable. But obtaining them can be a huge challenge.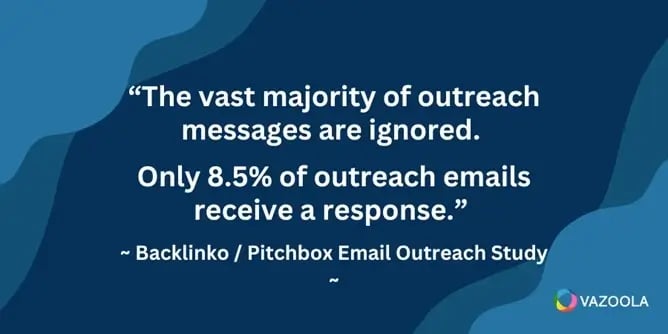 Link Building Campaign Process Failures
Did you know that according to the email outreach study done by Backlinko and Pitchbox:
"The vast majority of outreach messages are ignored. Only 8.5% of outreach emails receive a response."
Site owners complain about inboxes full of pitches. And they say they ignore them or mark them as spam.
That issue is worse for high authority sites. So over time, your pitches won't even land in their inboxes!
A link building strategy helps ensure the search engines can see your website's value. When it does, it will rank higher in the search engine results pages.
Links are not an optional component of SEO. They are a big part of your success in most cases.
Why Outsource Backlinks?
You know you need backlinks to your site. Yet, what you may not know is why you should outsource backlinking.
The key reason to turn to a link building agency for this is to save time and to experience the best ranking results.
When you use an agency or link building platform, you save yourself ample time during the entire process of building links. Use it to focus on your core business and earn more money!
Outsource Link Building Tips
There's a lot of work that goes into getting high quality links that provide value – that's not just any link.
It is a set of links that elevate your website's value in the view of the search engines. To do this, you need to think about:
Determine what pages you want the backlinks to target
Evaluate the other authority websites available where you can secure backlinks
Propose a way of getting those links
Use links in a non-spammy way
Keep the content and links relevant to your industry and customer needs
That's a lot to do. That's also why an agency or link building solution is the better option for securing strong backlinks for your website.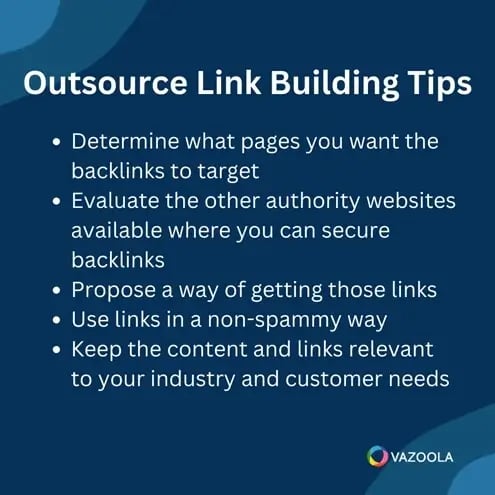 Cons of In House Link Building
Hiring in house link builder talent is costly. Typical salaries can range from a median of $52,945 up to $83,000 to hire a specialist per annum.
This amount does not include your entire overhead cost. What about health insurance, retirement benefits, office space, and premium software?
The firm might have to hire extra staff in house if its business is aiming for growth. They will need more specialist assistants and freelancers.
The in-house team needs time to create the most appropriate strategies. Hiring an expert doesn't mean they will have a good outcome immediately.
Do you want to pay to build those link building relationships? Unless you hire someone with decades of experience, you will.
When Should You Outsource Link Building?
So, what if your company does not have link building talent in-house? Doesn't it make sense to outsource link building services?
Building a team takes time. You could be benefiting from having links built for you right away!
There is no time like the present to get results. And 94% of the SEOs Aira surveyed believe links will still be important five years from now.
It is better to invest in having links built for you right away. That way, you can start growing your traffic and sales faster!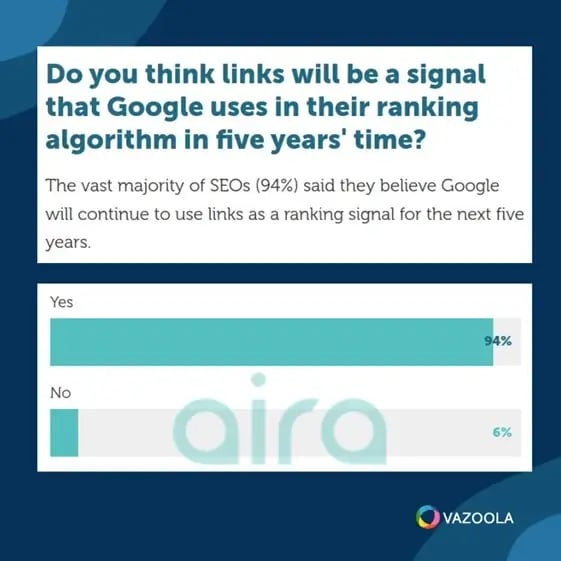 Pro Tips on How to Outsource Link Building with Ease
Before you hire an outsource link building agency, get to know the company. Ensure they can provide you with a relevant and high quality links service.
It is not only about getting many links. Rather, it is about getting the right type of links. You need to make the right decision.
So, consider a few of these outsourced link building tips.
Outsourced Link Building Tips
Ask the agency if they handle link building strategy in house. You don't want them to have to use someone else to do this work for you. That slows things down and may reduce some of the quality and increase the cost.
How much experience does the company or agency have in backlink development?
Can they share case studies?
Will they let you speak with past clients?
Do they have proven experience with link building strategies?
Not all companies do their own link building. This is because it is one of the more difficult SEO and digital marketing tasks.
Ask what it will take to get those high-quality, authoritative backlinks. If the company isn't sure what the strategy is or how to put a plan in place for you, that's problematic.
Find out if they have experience in your niche.
Review the digital marketing agencies' case studies.
Think of outsourcing backlinks as a way to introduce the world to your products or services. If the service you hire is inferior, it's going to impact the results you get.
What Is the Best Way to Outsource Link Building for Your Brand?
To make the right decision when you outsource link building, remember a few things. Look at the case studies, testimonials, and reviews for the company.
Are they doing this type of work regularly? If so, are they getting good results? Are their clients satisfied with them?
Also, be sure to:
Avoid all black hat SEO methods. These unethical methods could backfire and negatively affect your SEO. Plus, they are also costly to your marketing budget.
Know the costs to outsource link building. It should be a situation where you are likely to get a return on your investment.
No company should make grand promises or guarantees. Over-promising like this tends to indicate the company is inexperienced or not truthful.
Always ask what their process of link building campaigns is. Does the company really get to know your brand and personalize a plan for you?
Set the rules in terms of goals for the company to achieve. Ensure communication remains open.
Outsource Link Building Companies Save You Time
Google's algorithm constantly changes. Are you continually monitoring those changes? And are you verifying that they have not harmed your rankings?
Do you have anyone monitoring inbound links? Do you know when you gain links or linked pages lose links?
All this is part of your off page SEO strategy. Many link building agencies offer monthly reports. Use them to stay on top of your link profile.
Always review monthly reports as soon as they come in. They won't do you any good sitting around collecting dust!
Tap Deep SEO & Link Building Expertise
Our link building company, Vazoola, has spent several decades building relationships. We specialize in outsource links development.
It is only natural for our company to have excellent knowledge in this area. And that it is broader than any marketing agency.
This explains why the links we offer provide a high quality, more reliable result.
How to Outsource Backlinking with Our Team
If you are looking to outsource backlinks and do so in a cost-effective manner, put your trust in our team.
When you outsource links, who you turn to for help matters. Our service is for you.
That's why we recommend working closely with our team for the best results.
Written by Casey Bjorkdahl

Casey Bjorkdahl is one of the pioneering thought leaders in the SEO community. In 2010, Casey co-founded Vazoola after working for a Digital Marketing Agency for five years in New York City. Vazoola is now one of the fastest growing and most widely recognized SEO marketing firms in the country.